With Q1 earnings releases from most US banks completed, it's time to assess the progression of loan loss rates from 2007 through the first three months of 2008 and what it implies for the rest of the year. We'll do this by looking at some names that don't get as much attention as, say, the happy campers at Freddie Mac (NYSE:FRE).
The folks at FRE got a bit testy last week when we suggested that their earnings and accounting don't matter given the implicit (and soon to be again explicit) backing from the US Treasury. Regardless of how many times the GSEs say that they are not government backed, investors won't take notice - in part because officials of the Fed and Treasury are constantly telling their counterparts at foreign central banks precisely the opposite!
It's all about the dollar, you understand. The US government could never really say that it would not stand behind all GSEs because then foreign governments would be unwilling to hold the paper. Bad. Both FRE and Fannie Mae (NYSE:FNM) are too big and too lightly capitalized to be truly credible as private obligors. Thus our belief that the Congress should end the costly pretense of privatization and buy-back the equity of both of the "public" GSEs, especially now that housing asset valuations are depressed.
If private investors want to support the good work of FNM or FRE, then they should buy the bonds. Giving FRE and FNM shareholders supra-normal returns for taking no risk is public policy idiocy. A perfect time to launch the Mandatory Exchange Offer would be Q1 2009, right after the inauguration of John McCain (R-AZ). BTW, if you missed our rant on FRE last week in The New York Times, click here.
Let's look at some financial entities that don't enjoy a government guarantee. Comerica Inc. (NYSE:CMA), the bank formerly located in Detroit, MI and now comfortably domiciled in Dallas, TX, saw gross defaults jump from 38bp for 2007 to an annualized rate of 88bp in Q1 2008. Charge-offs equaled $115.6 million vs. provisions of $159 million. Note: We annualize quarterly loan default rates to make comparison with 2007 easier.
If charge-offs for CMA double again in Q2, a prospect we see as likely, then CMA will be above the five-year peak default levels of 132bp (annualized) in Q3 2001.
Then there's U.S. Bancorp (NYSE:USB), parent of U.S. Bank NA. The group reported 65bp of bank-level defaults in 2007, a rate significantly below the large bank peer group. In Q1, the lead unit's default rose to 80bp (annualized), hardly a crisis, but not great. Near-term peak defaults for USB was Q3 of 2001 at 189bp.
Loss Given Default for USB in Q1 was 84% vs. 76% for 2007. In Q3 of 2001, the bank-only LGD for USB calculated by The IRA Bank Monitor was 90%. The $330 million in Q1 charge-offs was offset by $52 million in recoveries and $456 million added to loan loss provisions.
Subprime credit card lender Capital One Financial (NYSE:COF) ended 2007 with its lead unit, Capital One, NA, in loss. With the 2007 merger with North Fork Bank, Capital One NA is now $97 billion in assets and closed 2007 with 86bp in defaults. With Q1 defaults running at 168bp (annualized), the larger of the three sub banks of COF is already above 2001 peak default rates.
The smaller unit of COF, Capital One Bank, which contains the group's credit card assets, reported 517bp of defaults at the end of 2007. The Q1 2008 annualized default rate was just under 1,000bp or 2x 2007 levels. This bank is about 25% of the assets of the COF organization, so look for aggregate default rates to move significantly higher if this level of loss experience continues through 2008.
Keep in mind peak default rates for Capital One Bank previously were 670bp in 2001, so if current loss rates persist through 2008, this unit will write off 1,000bp or 10% of total loans.
A number of our colleagues have commented recently that credit cards do not seem to be experiencing unusually high default rates, but the results of COF's credit card unit seem to contradict that view. Overall, in 2008 we look for loss rates among all US banks to at least double from the 80bp of defaults reported to the FDIC for 2007.
Finally, let's look at Key Corp (NASDAQ:KEYC), the $95 billion asset bank holding company in Cleveland, OH. KEYC reported 49bp of default in 2007, just above peer, with an LGD of 74%. In Q1 2008, the annualized default rate was 160bp with an LGD of 90%.
KEYC reported loss rates above 140bp for all of 2002, thus the annualized number for 2008 is above that near-term peak loass period. In 1992, the predecessor of KEYC reported 138bp of defaults following 123bp the year before, giving you a very tangible reference point for how serious the Q1 default experience is in historical terms.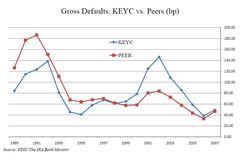 Click here to enlarge the chart of KEYC's annual loan default experience vs. the peer group since 1989 from The IRA Bank Monitor.
We continue to worry about the rate of change in bank default rates going in to Q2 2008 and the rest of the year. We worry that the rate of change in bank default rates may not slow until 2009, a scenario that is pretty close to a worst case scenario for the US economy that sees many US banks at 2x early 1990s levels of loan defaults. If the rate of increase in bank loan defaults accelerates in Q2 2008 for most banks, then all of the proverbial bets are off.