Today's advice: Bear in mind that you will not often make money blindly following analyst upgrades and downgrades of individual stocks. When an analyst's firm is the investment banker for some of the very stocks he or she follows, there is a lot of pressure for the analyst to 'do right' by that customer by issuing at least a hold, if not a buy.
Second, some analysts also are required to have at least a certain number of buys, sells and holds among the stocks in the sector they cover. Even some analysts covering housing stocks back in January 2007, for example, had to recommend buy or hold for at least a few firms. Pity the housing-sector investors who actually followed these analysts advice – they're likely out quite a bit of money today.
What is worth paying attention to is how analysts feel about a particular sector as a whole. Let's continue with housing as an example. Most analysts upgraded the homebuilder sector at the beginning of 2008. If you had paid attention to that (well not just paid attention but went out and actually bought stock), you'd be up over 50% by now on almost any stock in that sector (well, as long as you didn't buy the ones that are now about to go bankrupt - WCI and SPF). Personally, I think Wall Street is too bullish on homebuilders right now, but that's not important if the market doesn't agree. That's why you made a mint if you bought homebuilder stocks in 2008, and lost one if you bought them at the beginning of 2007. The key is: buy when analysts are becoming more bullish on the sector.
So here's the latest sector coming into favor: Packaging and Containers.
For today, I want to point out that the whole packaging and container industry is being upgraded by analysts, basically for two reasons. First, manufacturers are now more frequently able to pass costs on to their customers because demand is increasing fast due to global growth, while supply has been knocked about by an explosion at an International Paper (NYSE:IP) plant two weeks ago.
Containers are suddenly on everyone's lips in fact I was halfway through writing this article when during my research I saw that Cramer already did a segment on container stocks on his show last friday night - how embarrassing it's like I showed up at a party wearing the same shirt as someone already there. Cramer's pick was Packaging Corp. of America (NYSE:PKG). However the action after an event like that explosion usually tells right away who stands to gain the most. No one seemed to think the IP explosion would help PKG its stock was actually down the first trading day after the fire.
There was one stock in particular that investors seemed to rush to after that tragic event: UFP Technologies (NASDAQ:UFPT). The first trading day after the explosion UFPT went up over 7% at 500% it's 3 month average daily volume. In fact that day was the second heaviest trading day in the stocks 15 year history. It looks to me like the smart money had calculated that perhaps UFPT product lines had the most to gain from International Paper's loss.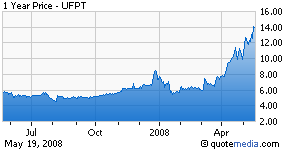 When you do decide to invest in a sector it is important to buy leaders, not laggards. A strong stock that can do well even in lean times provides crucial protection when that sector falls from glory. Strong stocks also carry greater upside potential when times are good. In my opinion, UFPT is one of those rarities.
UFPT has been showing amazing growth quarter after quarter for some time now. In their most recent quarter, year-over-year sales grew 27%, and y/y EPS increased by 120%. Because of that strength, UFPT has continued to perform even when it's sector sisters, such as Pactiv (PTV) and Cramer's pick Packaging Corp. of America haven't. UFPT's share price has increased 144% YTD, while PTV and PKG have declined 27.8% and 2.49% respectively. Now that the entire sector is heating up, UFPT could growth even further. It's still cheap, at a P/E of 17 and a price/sales ratio of 0.77.
One caveat: Bears are pointing out that UFPT stock is currently trading in the range of its 52-week high. And I agree: If you're someone who likes to buy only beaten-down stocks, then this one isn't for you. I've also heard a few shorts claiming UFPT insider selling is ominous. To that I say, almost all stocks experience insider selling sell on the way up.
What's more important to look at insider activity in the context of the stock's history, to get a feel for the mindset of those specific insiders. If their company's stock has tended to go down after insider selling, then indeed, that's worth heeding. But last year, UFPT insiders sold a similar number of shares for around $6. Now the stock sells for $13.98. Insiders have bought and sold the stock for the last 5 years but throughout that time it has provided a 1,000% return for investors. With the sector now starting to gain favor I believe that UFPT can show tremendous upside in a short period of time.
Disclosure: Long UFPT