This is part 3 of a multi-part series on the Spanish (NYSEARCA:EWP) stock market (part 1; part 2). The logic is, again, the same: as Baron Rothschild once said, "The time to buy is when there's blood in the streets." The blood is certainly flowing in the European periphery.
In looking at the stocks, I'll try to gauge the sensitivity to internal demand, some factors important to their industries, the multiples they trade at and how the local stocks compare to U.S. listed alternatives in the same sectors. Obviously to trade some of these stocks, investors would need an account with a full-service broker.
I will cover the stocks that are members of the Spanish Ibex 35 Index. This index has the following 35 constituents and in this article I'll cover those bolded:
Abertis
Abengoa
ACS
Acerinox
Amadeus
Acciona
BBVA
Bankia
Bankinter
Bolsas Y Mercados
Caixabank
DIA
Endesa (OTCPK:ELEZF)
Enagas (OTCPK:ENGGY)
Fomento Construcciones
Ferrovial
Gamesa
Gas Natural
Grifolsa
IAG
Iberdrola
Indra
Inditex
Mapfre
ArcellorMittal
OHL
Banco Popular
Red Electrica
Repsol
Banco Sabadell
Banco Santander
Sacyr Avllehermoso
Telefonica
Mediaset Espana
Tecnicas Reunidas
Caixabank
Caixabank is a large Spanish bank. Contrary to many other Spanish stocks, Caixabank is exposed essentially to Spain's internal market, and is being punished because of it. The Q2 2012 earnings report also shows a 80% drop in earnings, quite common for the banking sector in these countries.
Taking into account its earnings report for 2011, these are the multiples that Caixabank trades at today (all values are in Euros):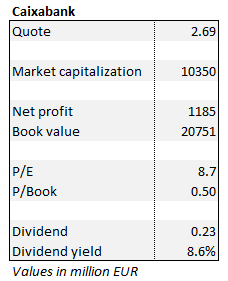 Caixabank trades more in-line with the Portuguese banks or the U.S. counterparts such as Citigroup (NYSE:C) and Bank of America (NYSE:BAC), which trade at 0.36 and 0.44 price/book value ratios. Still, Caixabank still comes across as being a bit on the expensive side, given the environment.
DIA
Dia is a hard discount food retail chain with operations in 7 different countries. Its formats are essentially small (500-1000sqm) grocery stores/supermarkets in city centers. 50% of revenues and 74% of EBITDA come from Portugal and Spain. 24% of revenues come from France. 26% of revenues come from emerging markets (Argentina, Brazil, Turkey and China).
Taking into account its earnings report for 2011, these are the multiples that Dia trades at today (all values are in Euros):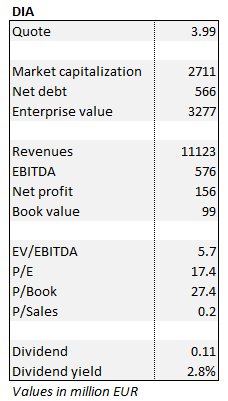 Although Dia is presented as a growth stock, it seems to carry too aggressive multiples for a retail company with such a large exposure to Portugal and Spain. It even trades at a slight premium to an U.S. established player such as Wal-Mart (NYSE:WMT). Given the circumstances, it doesn't seem to make much sense to pay such a premium.
Endesa
Endesa is the main electrical utility in Spain, though Spain's market is much more fragmented than Portugal's. Endesa makes 69% of its revenues from Portugal and Spain as well as 55% of its EBITDA. The rest comes from operations in South America.
Endesa has been cutting its debt steeply, with the present levels being almost half of what they were back in 2007. Endesa's net debt can be even less, about half what I considered below, if we take into account the tariff deficit (basically the regulated tariffs that have been in force in the last few years are lower than they ought to be, and the difference is owed to Endesa).
Taking into account its earnings report for 2011, these are the multiples that Endesa trades at today (all values are in Euros):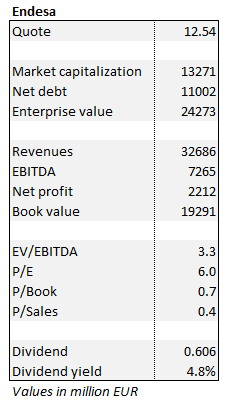 The multiples show that Endesa is incredibly attractive right now as a electrical utility. It's even cheaper than Portugal's EDP. It also compares very favorably to U.S. utilities like Duke Energy (NYSE:DUK), which trades at 19 times earnings, 1.3 times book value and yields 4.6%, or American Electric Power (NYSE:AEP), which trades at 10.2 times earnings, 1.4 times book value and yields 4.5%.
Enagas
Enagas owns and manages the Spanish natural gas pipeline distribution system, including several regasification plants. It's a naturally rather stable business since consumption of natural gas for power production, industrial and domestic usage is rather stable even if seasonal.
Taking into account its earnings report for 2011, these are the multiples that Enagas trades at today (all values are in Euros):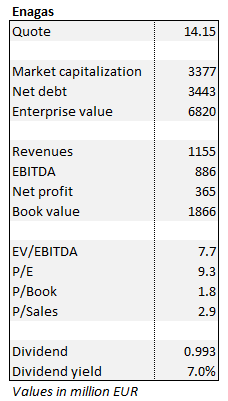 Although not incredibly cheap, Enagas presents a chance to get a high yielding stock which will probably hold or increase its yield. Due to the stable nature of the sector, Enagas stock hasn't been punished in the last few years.
Portugal's REN comes off as slightly cheaper for a rather similar business - though REN's business is centered on the electrical grid, and not so much on the natural gas pipeline distribution system (which it also holds).
It must be said that compared to U.S. midstream companies such as Enterprise Products Partners (NYSE:EPD), Enagas is a lot cheaper. EPD trades at an EV/EBITDA of 15.4 times, P/E of 20.3 times and price/book value of 3.8 times.
Fomento Construcciones
FCC is another Spanish construction company that has been trying hard to diversify activities and geographies. On the activity side it has been pushing into urban services such as waste management and water distribution. These utility-like services accounted for 64.9% of 2011's EBITDA. As for geographical diversification, 52.4% of 2011's revenues came from outside Spain.
In spite of this effort, FCC was hit heavily by the crisis in Spain, with net profit plunging.
Taking into account its earnings report for 2011, these are the multiples that FCC trades at today (all values are in Euros):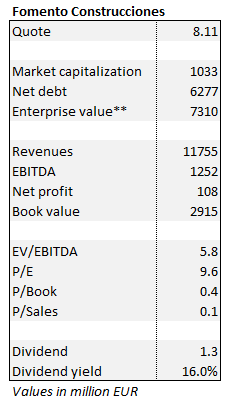 FCC's stock has truly been punished recently, falling more than 60% during 2012. Clearly the activity FCC still finds itself in along with the high indebtedness gives pause to investors. It seems possible for the company to survive this crisis if it freezes its construction area and simply lives off the EBITDA being generated by services. The dividend seems likely to be reduced given the debt.
FCC compares favorably in terms if EV/EBITDA versus Abengoa and ACS, but comes across as being significantly more exposed to the Spanish market than either of those companies.
Conclusion at this point
At his point, we found the following attractive equities:
two construction and engineering companies, Abengoa and ACS, which given their geographical diversification might already be cheap enough to warrant inspection. Still, construction isn't usually the kind of sector that attracts great attention;
Amadeus might also be interesting because of its long term prospects;
Bolsas Y Mercados, can be interesting on weakness due to the possible consolidation in the sector, where it would be a natural target, while trading at reasonable multiples and carrying a large dividend yield;
Endesa is very cheap for an electrical utility, and might even be cheaper than it looks if we take into account the tariff deficit. It seems a like a decent long term buy;
Enagas might make sense for an income portfolio, due to its stable nature. But it's more of a fit for a local, than for a foreign investor.
(to be continued)
Disclosure: I have no positions in any stocks mentioned, and no plans to initiate any positions within the next 72 hours.