It seems that no place is immune from the economic contagion emanating from Europe as a result of its deepening financial crisis. Already over the last year South America's favorite economic success story, Brazil, has come crashing to earth with economic growth over the last three quarters slowing to less than two percent. Now Colombia, once labeled as the new Brazil because of its rapid economic growth over the last decade, has seen economic growth slow. This has caused Colombia's central bank, the Banco del la Republica Colombia, to cut the official interest rate for the first time since 2010.
The rate cut of 25 basis points to five percent last Friday was part of a pre-emptive move to stimulate growth in one of South America's fastest growing economies. In 2011 Colombia's economy expanded at almost six percent, which was higher than many other countries in the region. Despite this resilience, Colombia's economy has started to slow with first quarter growth of 4.7% annualized, which is almost a 1.5% drop from the previous quarter.
Colombia's economic growth has been a battle against all odds
It has only over the last ten years that Colombia has been able to truly grow economically, achieved because the security situation has stabilized sufficiently for it to throw off its violent past and enter the world economy. There were many who had written Colombia off as a failed state with little to no future and it was only the most intrepid or foolish who sought to do business there.
But with the rise of China, Colombia couldn't have chosen a more opportune time as a country rich in natural resources to enter the world economy. As a result, it was able to participate in one of the greatest commodities booms ever known, which was driven by China's insatiable demand for base metals, iron ore, oil and coal.
This has seen Colombia become Latin America's fourth largest economy and a growing commodities powerhouse, with one of the fastest growing economies in the region. It has also allowed Colombia to become the region's fourth largest oil producer with the Colombian government controlled oil company Ecopetrol (NYSE:EC) becoming South America's second largest company by market cap. Furthermore, Colombia is now the world's fourth largest exporter of coal and fourteenth largest producer of gold.
Global economic headwinds are sweeping across Latin America
But with China's economy slowing and the European financial crisis in full swing, the world economy has slowed significantly, causing the demand for base metals, iron ore, coal and oil to plunge. This has had a significant impact on Latin America's rapidly growing resource rich economies. This has already seen one of the region's hardest hit economies Brazil cut its official rate for the eighth time to 8%, as part of a broad range of measures to resuscitate economic growth.
Colombia, like many other frontier economies, is primarily dependent upon commodities for its key exports, which as the chart below shows make up 77% of its exports with petroleum products, coal, chemicals, gold and coffee dominating.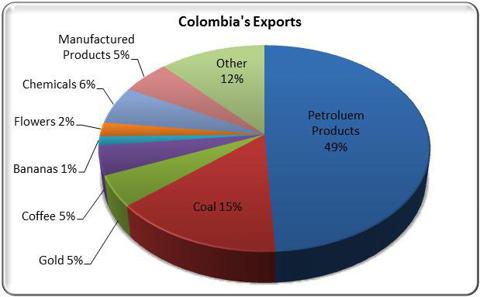 source data: Banco del a Republica Colombia, DANE
Therefore, on initial appearances Colombia should be more vulnerable than a country like Brazil that has a strong manufacturing sector to the events in China and Europe. Yet in contrast to date, Colombia has proven to be far more resilient to the global economic slowdown than Brazil. There are a number of reasons for Colombia's resilience and they also explain why a smaller official rate cut in Colombia will have a greater effect than a higher rate cut will in Brazil.
The standout reason is that unlike Brazil, Colombia is not as dependent upon China or the member countries of the E.U as markets for its exports. Whereas, China is the destination for 18% of Brazil's exports, it only receives 3% of Colombia's. This obviously reduces the direct impacts of China's slowing economy and reduced demand for commodities on Colombia's economy . In addition, only 15% of Colombia's exports are received by the E.U compared to Brazil's 20% and it is China and the E.U which have been the key causes of the current world economic slowdown.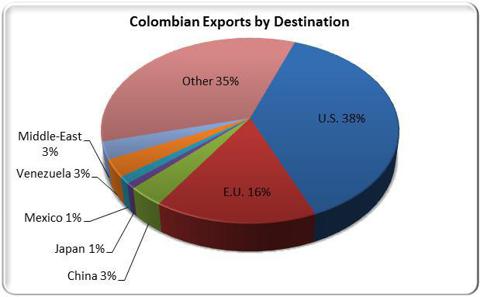 source data: Banco del a Republica Colombia, DANE
In fact Colombia's most important trade relationship is with the U.S which, as the chart illustrates, receives 38% of Colombia's exports. At the height of the global financial crisis ('GFC') in 2008 or 2009 this would have been to Colombia's detriment but it has certainly assisted Colombia's economy at this time.
A second factor that will see the rate cut boost economic growth is that despite being a high middle-income economy, the majority of Colombia's economic growth is dependent upon exports. By reducing the official rate it should assist with slowing the Colombian peso's appreciation against the U.S dollar, thereby making its exports cheaper and more attractive to buyers, and therefore more competitive.
For the year-to-date the peso has appreciated by 7.5% against the U.S dollar and this is obviously affecting the competitiveness of Colombia's exports. It is particularly affecting Colombia's textiles, manufactured and agricultural export products, which make-up 20% of Colombia's total exports. Already the rate cut can be seen to be taking affect since being introduced one week ago. In combination with Colombia's dollar buying program, the peso has fallen by 50 basis points against the U.S dollar since then.
Finally, the rate cut will go some way to encouraging domestic growth by making domestic credit cheaper and reducing production costs for domestic industry. However, it will not have the same effect on consumption as it does in a developed economy such as the U.S. This can be attributed to Colombia's domestic consumer market not being as developed as other South American economies such as Brazil or Chile or, more obviously, as developed as the U.K or U.S. Colombia has a substantially higher level of poverty and lower average income than these countries combined with a higher degree of income inequality.
All of this effectively means that a significant portion of Colombia's population has little to no income available for discretionary spending, with all or the majority of their income being devoted to necessities. As the chart below illustrates, Colombia's average monthly wage when adjusted for purchasing power parity is among the lowest in Latin America and is far lower than Chile, the U.K or the U.S. It also has one of the highest levels of income inequality in Latin America as measured by the Gini Coefficient, which is a value between 0 and 1, with 1 bring the most unequal and 0 the most equal.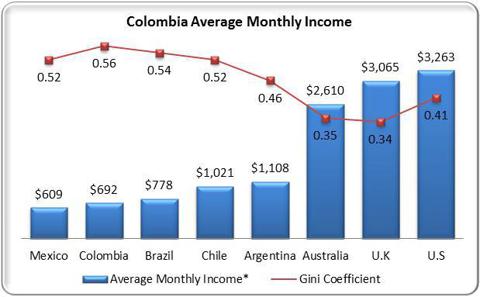 source data: World Bank, International Labor Organization
Another important reason for the rate cut having little to no effect on stimulating domestic consumption is because of Colombia's low average income. This means that the majority of households have low disposable incomes and are incapable of supporting even moderate levels of debt. This becomes clear when looking at the ratio of domestic credit to the private sector in Colombia as a percentage of GDP.
This ratio is currently at 45% and as the chart below illustrates, this is substantially lower than the South American economic success stories of Brazil and Chile, which have ratios of 61% and 89% respectively. It is also substantially less than those developed economies that historically have responded well to lower interest rates such as Australia, the U.K and U.S, which have ratios of 128%, 188% and 193% respectively.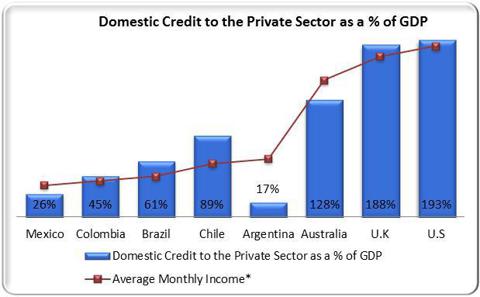 source data: Banco del a Republica Colombia, World Bank, International Labor Organization
It is also unlikely that the Colombian economy is capable of sustaining a higher ratio until domestic economic development has matured, giving a lower degree of income inequality and a higher average income.
Future outlook
Colombia's continued strong economic growth is primarily dependent upon the country being able to grow its exports, in particular its petroleum products, coal, gold and coffee. However, given the current global economic headwinds it is likely that Colombia's economic growth will diminish over the short-term because demand for all of these except gold has dropped considerably.
But the strength and depth of Colombia's trade relationship with the U.S., combined with its low dependence upon China and the E.U as export markets, will help to shield the country from these headwinds. Another factor boosting Colombian growth is that the country is still enjoying the benefits of 'catch-up economic growth', which will continue for the foreseeable future.
But this economic growth and the country's continuing attractiveness as a destination of foreign direct investment is dependent upon it retaining control of its internal security environment. So far this year the civil conflict has grown in intensity and there has been a significant escalation in guerilla activity, which has been affecting primarily the oil industry and doesn't bode well for the scheduled increases in oil production.
On balance, the move by the Banco del a Republica Colombia to cut the official rate by 25 basis points will promote economic growth, primarily through de-valuing the Colombian peso and reducing costs for Colombian companies. This will make Colombian exports cheaper and more attractive and, as exports make up a significant part of Colombia's economic growth, will be an important measure. It also augurs well for the performance of the two broad based Colombian ETFs, the Global X FTSE Columbia 20 ETF (NYSEARCA:GXG) and the Market Vectors Colombia ETF (NYSEARCA:COLX).
Overall, the rate cut bodes well for those sectors of Colombian industry that are producing goods and services for export and therefore the continued growth of the Colombian economy. This is particularly the case for those companies operating in Colombia's coal and oil sector. But it is important to note that except for Ecopetrol, the majority of these companies are foreign owned, with profits being streamed offshore. This means that a large portion of the profit received by these companies will not benefit Colombia's domestic economy.
This removes an important catalyst for the development of a stronger domestic consumer sector, where domestic consumption can become a driver of economic growth, and the development of a broad based middle-class. All of which will leave Colombia's economic fortunes solely tied to the global economic cycle and the demand for its export products.
Disclosure: I am long EC.