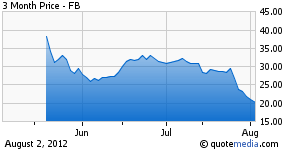 Facebook (FB) dipped below $20 for the first time today, representing a decline of over 50% from the high set post-IPO. I've been a very vocal Facebook bear from the beginning, eventually concluding that as long as Mark Zuckerberg is at the helm, Facebook can't be counted on. (See: Mark Zuckerberg is Unfixable.)
However, there are of course many investors who disagree with me, and believe Facebook has bright long-term earnings prospects. Such investors might view the $20 level as psychologically significant, and choose to buy shares under this price. By my reckoning, however, Facebook may still have a ways to fall.
Here are a few reasons why. They all center around a theme: "no bullish catalysts."
Growth slowing: Since June, reports have started popping up that Facebook's growth is slowing, both in terms of revenue and MAU (monthly active users). Compounding this issue are problems with mobile monetization (up to 20% of users use Facebook primarily on mobile devices) and the possibility that 10-15% of user accounts are either "fake" or "duplicate" or used primarily to deliver spam messages. The first official Facebook earnings report widely disappointed analysts, especially since it contained no forward-looking estimates.
Still expensive: Facebook still isn't cheap at current valuations. Even when stocks fall far, they're not necessarily a bargain - as I've analyzed before, even after the recent plunge, Zynga (ZNGA) still isn't cheap. Even at $20/share, Facebook trades at a forward P/E of over 40. According to analysis by Eric Savitz, that means Facebook might not see a bottom until the $7-$13 range. With growth slowing, the premium P/E isn't justified.
Funds fleeing: major brokerage and investment firm Fidelity unloaded nearly 2 million shares of publicly-bought FB stock. This signals a complete lack of confidence and may inspire mom-and-pop retail investors to jump ship too.
Most troubling for potential investors, Facebook's lockup periods are expiring soon. When that happens, Fidelity and other institutional investors that bought a stake when FB was still private can then unload even more shares. According to analysis from Michael Comeau over at Minyanville, based on Facebook's S-1, 268 million shares will hit the market on August 15. Given a current float of 462M shares, that represents a 58% addition to the float. Totaling up all the currently-restricted shares, the float could increase by a factor of more than 5 to 2.496B shares outstanding by May 2013. Most of the shares will hit the market between now and November 2012, meaning the next few months could be ugly indeed. For analysis of what happened to peer "social" stocks Zynga, Groupon (GRPN), and LinkedIn (LNKD) post lockup expiration, see this article by SeekingAlpha contributor Tradevestor.
To conclude, even if you're bullish on Facebook's long-term prospects, there are a whole lot of negative catalysts in the short term. So if you're looking to invest, it's definitely a better idea to wait until the lockup expirations are past, and analysts readjust their earnings estimates - this will give Facebook time to fall to a valuation from which it can more reasonably provide positive return.
Disclosure: I have no positions in any stocks mentioned, and no plans to initiate any positions within the next 72 hours.