Much of the talk surrounding Eli Lily (NYSE:LLY) has surrounded its patent cliff. Zyprexa, once a $5B drug, came off patent in Q4 2011, and its revenue year over year has already dropped by 50%. Cymbalta, its next largest drug is due to come off of patent at the end of 2013. Humalog, the 4th largest drug of the company is scheduled to come off patent in late 2013 as well. I believe that while these expirations are not good, Eli Lilly is as well if not better positioned for future success than competitors due to its relatively undervalued pipeline, while being more efficient at producing free cash flow and investor friendly, making it a relatively strong investment.
Patent cliffs are an inevitability in the industry as opposed to poor management. This can be especially true with a smaller drug company since a blockbuster drug can represent a larger percentage of revenue. We have already seen the major declines in Zyprexa sales as it has been off patent for over 6 months. Fortunately, it will still have a nice chunk of revenue from the drug because it is still patented in Japan, which has a significant elderly population, and some patients always prefer to buy name brand. Cymbalta will most likely suffer a similar fate as Zyprexa with sales declining around 50% the first year off patent. Humalog, however, will not suffer nearly as large a decline if at all because it is a biologic, whose effectiveness depends not only upon chemical composition but also how it is manufactured, making generics much less effective and possible. I estimate that Zyprexa will decline another 50% by fiscal 2014, Cymbalta 50% in 2014 (while still growing through patent expiration) and Humalog 75% in 2014 (while still growing through that time period. As seen below the termination of these patents results in an approximately $5B loss in revenue from 2011 to 2014 or a $3B loss from 2012 to 2014.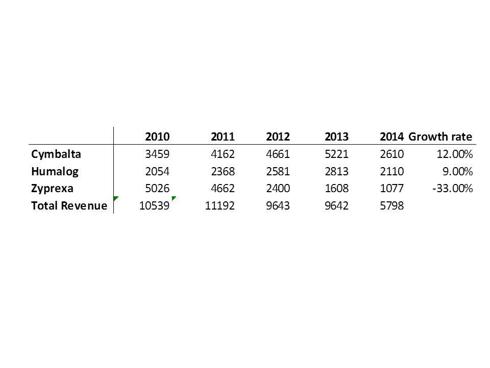 Given that all its other drugs besides Gemzar, which came off patent in November 2010, had solid growth yoy, and the revenue of other drugs represented approximately $13B in 2011, these other drugs have to grow at a rate of 11% to keep 2014 revenue at 2011 levels. This situation would imply that 2013 revenue levels are higher than 2012 as one reaches 2014. I believe this is quite reasonable given recent results on growth of other drugs. Additionally, this estimation does not include any revenue from drugs it may release over the time period. In short, I agree with Lilly management that although the next two years will not be a time for tremendous growth, its revenue situation will be stable.
On a related note, Lilly is not alone in feeling the pain from losing patents. As seen at the following website, numerous drugs come off patent between 2012 and 2014. Pfizer (NYSE:PFE) has 8 drugs coming off of patent (including recently Lipitor), Glaxo (NYSE:GSK) more than 10 (16 but one must account for double counting from different versions of the same drug), and Merck (NYSE:MRK) 5.
While holding Lilly over the near future, one will be compensated with a dividend of approximately 4.5%, which is only exceeded by the dividends of GSK (5%) and AZN (6.1%). Lilly has stated that maintaining its dividend is a top priority especially during the period of low growth and this is encouraging. This is very believable given hat dividend payments have only represented at most 40% of the company's free cash flow over each of the past 4 years. Operating cash flow will decline this year; but so too will CAPEX according to the company, from about $1.6B to $800MM. This illustrates a major strength of the company: its ability to generate free cash flow, even in comparison with its competitors.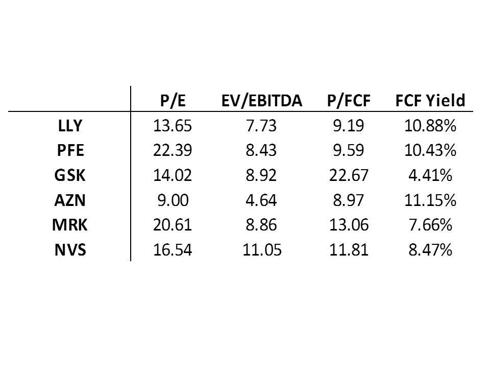 I have used forward P/E ratios for Eli Lilly and Astra Zeneca (NYSE:AZN) as they have declining revenue so using past EPS would make them look cheaper than they are. Astra Zeneca does appear to be quite cheap. Part of the reason this has occurred is because of the expiration of Seroquel's patent. This is quite significant to the company because Seroquel has made up 40% of its net income. Although this may be drastic, Seroquel may be more important to Astra Zeneca than Zyprexa is to Lilly.
These numbers are important because they give you an appreciation of the business as is, and how it will generally manage itself moving forward. But, future success through releases is what really matters in the pharmaceutical industry. I believe that the main source of growth for pharmaceutical companies comes from their pipelines. Predicting the success of individual drugs in the pipeline is difficult at best; to make accurate predictions of drug successes you would need exclusive company data and a strong background in the area. However, it is reasonable to assume that future drugs will have similar levels of success as past drugs when they were in development. I believe that an investor should only look at drugs either in phase III or submittal because the probability of success is high, about 50% and 85% respectively, depending upon the data you sample, and it will not take too long to potentially get to market, making these cash flows material. Phase II and phase I have much lower probabilities of success and are often years from market, making the present value of these cash flows quite small. Thus, I believe that the proper valuation metric for growth for a pharmaceutical company is price/(drugs in phase III and submittal) or in other words cost per major drug in the pipeline. The following table summarizes the situation of the drug companies.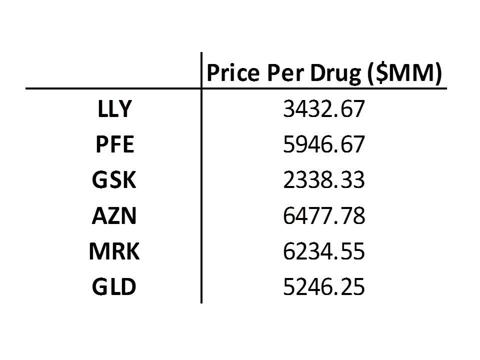 I have included Gilead because there was not a tremendous amount of quantitative information on Novartis' pipeline. This indicates that Lilly's growth is the second cheapest behind GlaxoSmithKline's. Yes one could say that its growth is cheaper because its drugs in the pipeline are not blockbusters. Lilly does have a possible blockbuster with alzheimer's drug solanezumab. Yet predicting blockbusters is a fickle science. Even if the drug cures a major illness, it may have significant side effects preventing its use in only the most dire situations. You can only know the true market for a drug until its released, so I believe that a company's pipeline should be analyze holistically. Glaxo may have a cheaper pipeline than Lilly. But I do not see it using these future drugs into free cash flow as evidenced by the free cash flow yield, which has consistently been below 5%.
There certainly are major risks with this stock. The company will go through a phase of little growth, and could be subject to loss of investor confidence consequently. Even though Lilly's pipeline is quite robust, there is no guarantee the drugs make it to market, let alone become a blockbuster; and Lilly needs one of these drugs to become a blockbuster. However, it is a fair bet, because the development of new drugs will lead to the success of the company. The company is also subject to significant legislative threats, namely rebates for prescription drugs and caps on the price of drugs in the open market. These could severely decrease the revenue of the company. Additionally, there is intense competition from other drug makers that can render Lilly's drugs obsolete. The company does face significant risk from generics. However, the company has generally been successful at preventing Teva and other generic makers from preemptively producing generics. The company also faces legal claims, but Eli Lilly has had a strong track record of defending itself.
While Lilly will face some pains in the next year, it fundamentally remains a well managed drug company with enough drugs under patent to keep it stable. Its pipeline, assuming historical success rates, positions it well for future growth, and its pipeline appears to be cheaper to purchase than its competitors. At the same time, Lilly, has shown a history of rewarding shareholders with strong cash flows and dividend payments. While Lilly is not at levels beyond its competitors as an investment, it appears to be a strong option in this sector.
Disclosure: I have no positions in any stocks mentioned, and no plans to initiate any positions within the next 72 hours.