MetLife (MET) reported 2Q 2012 nonGAAP operating earnings of $1.33, up 18% over the 2nd quarter of 2011, and above expectations. On a GAAP basis, EPS were $2.12, reflecting large gains on derivatives used to hedge against low interest rates. The stock gained 4.2% to close at $31.70.
An investment in MET has been a source of ongoing frustration. Caught in the crushing embrace of the Fed and regulated as a bank, the company has received distressingly low multiples. P/E is 5.0; P/B checks in at 0.54. Shares have been trading as if interest rates were the primary driver of future profits, a questionable proposition.
A Negative Correlation
Here's a scatter chart, demonstrating the relationship of MET and the iShares Barclays 20+ Year Treasury Bond ETF (TLT).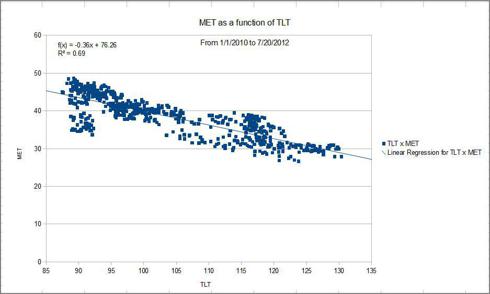 R squared at 0.69 is persuasive. A similar exercise using the Vanguard Long-Term Corporate Bond Index ETF (VCLT) developed an R2 of 0.49. Investors who believe treasury rates will increase could express that opinion by going long MET, and collect a dividend of 2.54% while awaiting the inevitable.
Low Interest Rates are not a Problem
CEO Steven Kandarian could not have been clearer on the conference call:
The interest rate scenario we discussed last fall assumed a rate curve with a 10-year Treasury rate held flat at 2% for 5 years. We reran that scenario using a more recent yield curve with a 10-year Treasury at a record low 1.4%. The result was essentially no incremental impact on MetLife's earning per share for 2012 and 2013 and only roughly $0.05 per share in 2014. (emphasis added)
Risk Sensitivity
MET's 10-K includes an analysis of risk sensitivity to interest rates: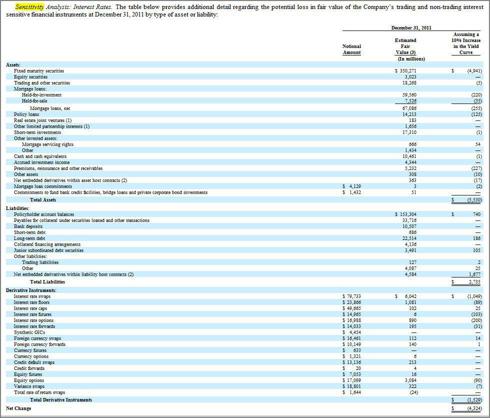 The bottom line is, a 10% increase in the yield curve would decrease the market value of MET's assets by $4.3 billion, or $4.05 per share. It's curious that MET sees greater risk to an increase in yields, while the market sees the opposite.
Consistent with industry best practice, MET matches the maturity of its assets with the liabilities they support. As such, they hold most of their assets to maturity and fluctuations in market value do not affect long term results.
Hedging
Here's a slide from MET's presentation at the UBS Asset Gathering Conference in March 2012.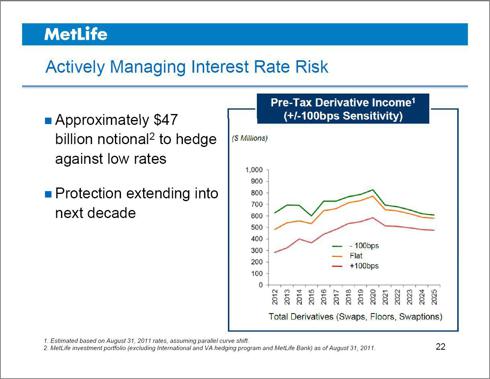 As shown, MET is well hedged many years into the future.
Industry Risk
According to AM Best, impairments in the Life/Health industry are at a 50 year low. It's difficult to reconcile this low risk with the price multiples for the industry.
Management Response
The following quote from Kandarian is taken from the Q&A of their 2012 Investor Day presentation. The length is significant. When a Q&A session generates an extremely long response, it's often a sign that the question has hit a raw nerve. Sometimes that's about integrity, but in this case, I think it's just frustration: the market has been seriously over-reacting to the effect of low interest rates on MET's future performance:
So I tried to touch upon that in my comments, let me expand a little bit. I mean, essentially, if you have an ROE of 11%, you have a cost of capital of 14% or whatever number you want to come up with, you're viewed as not creating, but destroying shareholder value. You traded discount to book value. Your P:E ratio will be low. So that was central to our thinking in terms of creating this strategy because, again, the key aspect of creating a strategy is driving good returns for your shareholders. So we looked at improving both numbers, increasing ROE and decreasing the cost of equity capital. And we try to address both those aspects with the different components of our strategy. So going into markets and expanding in markets where the ROEs are higher, finding ways to reduce the cost of capital to our company, some of which we can control and some things we can't control. So in a very low interest rate environment, the market looks at insurance companies and says, there are risks there in terms of asset roll off, in terms of tail risks and products, depending how they're designed, and that's going to increase the beta of your stock, increase your cost of equity capital because of that higher beta. So there are some things we can control and there's things we cannot control. If interest rates drifted back up to more normal levels, if the stock market improved in terms of its performance, if the overall world economic scene became less volatile, all those things would contribute to our beta going back to more normal levels, which for us been around 1 or 1.1x, pretty close to the market overall. And today, our beta is probably at 2 or maybe even higher. I mean, there's different ways to measure it. I'd argue to you that our beta should be higher than 1.1, our historic number, I'd argue though, that it shouldn't be 2 or higher and the market has misjudged the impact of these low rates, even the equity market volatility on our portfolio of liabilities. We've talked of the hedges a number of times with you and others, but I don't think there's been totally factored into our beta and our cost of equity capital. But that aside, all we can really do is envision to communicate what we've done to protect the company, is find ways to make adjustments, again these portfolio of products, geographies and distribution channels, to bring down the cost of equity capital, to drive up the return on equity, to get that relationship in the right place or ROE that's higher than you cost of equity capital. If you can get to that place, you should trade at a premium to book value, not a discount to book value and presume that your P:E ratio return to more normal levels. Obviously, the headwinds economically are not helpful. One of the reasons we had a strategy that ended in 2016 as opposed to a sooner date was we wanted to do the right thing over the intermediate and long term for the company. If we have focused everything on the next year or 2, given our assumptions around the economy, we may have taken actions that I think could have been harmful to the company longer term. So we try to leave enough years for the economy to kind of get back to a normal path of growth, settling down in terms of overall world economic issues and plan around that kind of a scenario, not as if the world's going to be what used to be pre-crisis, but also not the immediate economic environment that we're facing today. So I hope that answers your question fully, if you have any follow-up on that, we'd be happy try to further...
The cost of equity capital discussion is bizarre. MET doesn't need to resort to the equity markets to raise capital. The company is actively planning to return capital to shareholders, when the Fed will permit them to do so.
In any event, management has adopted a strategy of moving the mix of business to higher ROE products, in order to bring ROE more in line with the cost of equity capital. An increase in dividends and buybacks, when the Fed will permit them, will stabilize share prices at a higher level.
Strategy and Tactics
I'm sitting on large unrealized losses on long-term positions in both MET and Prudential Financial (PRU). Noting the correlation between interest rates and MET's share price, and the likely duration of the low interest rate environment, it could be a long wait before share prices recover. On the other hand, savvy investors might possibly take Kandarian at his word, conclude interest rates have nothing to do with profits for the next three years, and govern themselves accordingly.
Potential catalysts include 1) success in the effort to cease being a bank holding company and escape Fed regulation as a bank, 2) the resulting freedom to deploy capital for buybacks and dividends and 3) clarity around regulation as a SIFI.
I think the market is being irrational here, and I plan to wait it out. This started in April last year, so using two years as a rule of thumb for undervaluation cases, in the Spring next year I'll take another look at it.
MET is a buy here, based on valuation. Patience is required.