DeVry (DV) announced yesterday that it was cooperating fully with the Department of Justice inquiry regarding "recruiter compensation".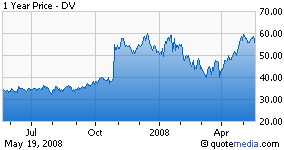 I've been waiting on the sidelines for DeVry's stock to get into a more favorable valuation range, but this piece of news adds a slight tinge to things.
The recruiters' main job is to go out and recruit students by going to high schools, and other PR related events with the hopes of securing new enrollments. Part of the requirements of participating in government lending programs (Title IV loans) require strict adherence to specific rules of engagement. One of these rules requires that recruiters do not get compensated in any way shape or form from private lenders.
DeVry got into a little trouble with this a few years back where they received $88K in fees from Citibank (NYSE:C). The company reiterated in their 2007 10k report that the company did not receive any referral or marketing fees from any other lenders.
Yesterday's news makes no mention of any violations, or whether this has anything to do with their preferred lenders. However, the allegations revolve around DeVry possibly submitting false claims to the Department of Education around recruiter compensation.
This maybe nothing material, but I'm still going to keep an eye out for it. If there is anything material, you can be sure it will complicate audit/compliance matters with the new law President Bush just signed whereby the government is going to step in to buy student debt.
Disclosure: none