A short time ago, DataQuick reported on Southern California real estate sales for the month of April. Now two months into the spring selling season, sales have rebounded, but prices remain under pressure, holding about even from last month.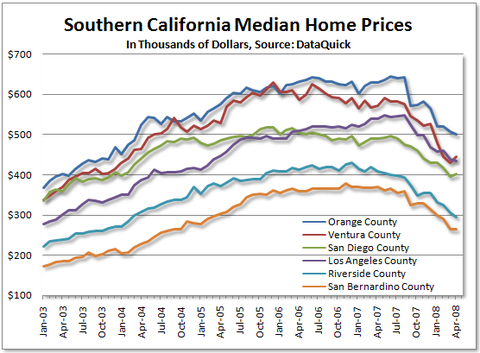 It's all about foreclosures now and how aggressively banks price their inventory. Almost 38 percent of the overall sales were the result of a foreclosure, up slightly from last month and up from only about 5 percent a year ago.
More than half of the homes sold in Riverside County were foreclosures, explaining much of what you see below as prices dipped 28 percent on a year-over-year basis for both Riverside and San Bernardino.
Price declines in our old stomping ground of Ventura County have pulled back a bit after having taking the lead down a few months ago.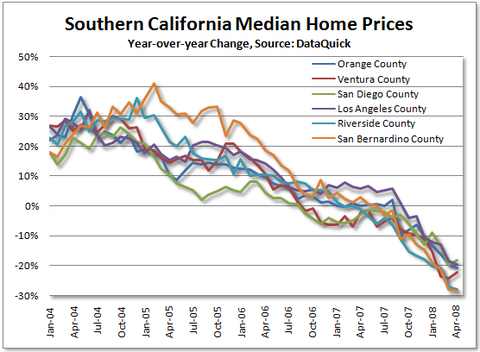 Marshall "almost all if not all of those gains are here to stay" Prentice, President of DataQuick, had these comments on the April data:
Quite a few more buyers stepped off the sidelines last month to snap up homes at substantial discounts relative to the market's short-lived peak. It's no surprise, given the magnitude of the price declines in inland areas and the fact sales have been so amazingly low for so long. We continue to look for evidence of a sales bounce in the mid-priced and higher-end markets along the coast. If the higher conforming loan limits are making a difference in those areas it's certainly not a large one, at least not as of the end of April.
Sales levels are quite low compared to the boom years. The March-April rebound doesn't even rise to the levels of the January-February "doldrums" going back at least through 2003.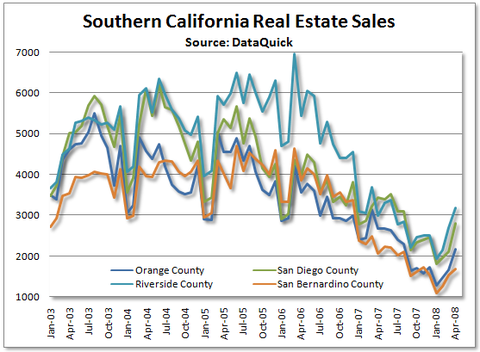 The sales and price data for the next few months should be quite interesting - how aggressive banks are in pricing their properties for sale and how willing buyers are to step in and take a chance.
In our new Northern California neighborhood, foreclosures that are priced aggressively sell very quickly.