ReneSola Ltd. (NYSE:SOL) is a Chinese silicon wafer manufacturer whose stock is a hot IPO in a space that is red-hot. Most all solar companies that produce panels, except for First Solar which uses a different panel manufacturing process, use silicon solar wafers. There has been a shortage of the wafers due to increased demand so pricing is not an issue for a company like ReneSola.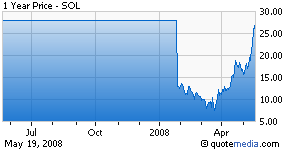 Last week ReneSola topped Q1 estimates sending all the solar stocks higher. SOL's shares leaped as first quarter profits nearly tripled due to rising solar wafer production. The stock hit a new intraday 52-week high of $29.48 yesterday.
SOL looks solid going forward as current quarter earnings estimates have moved from .06 to .31 in the past 90 days. Next quarter earnings estimates have also moved from 0.16 to 0.34 in the last 90 days. With a 70 Price/Earnings ratio and 198% revenue growth (yoy) and 88% quarterly earnings growth (yoy), the stock is not terribly expensive at this time and could be cheap if earnings estimates continue to climb.
Disclosure: None