Orexigen Therapeutics, Inc. (NASDAQ:OREX) is scheduled to report its Q2 2012 results on August 7, 2012, before the market opens. The Street expects EPS of ($0.17) loss.
In this article, I will recap the historical results of the company, its latest EPS estimates vs. surprises, the latest news from OREX and the news from its closest competitors.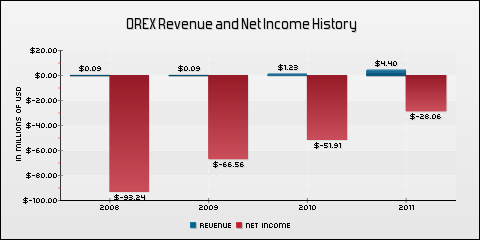 Recent EPS Actuals vs. Estimates
In the last quarter, it reported ($0.16) loss per share, failing to meet analyst estimates of ($0.12) loss.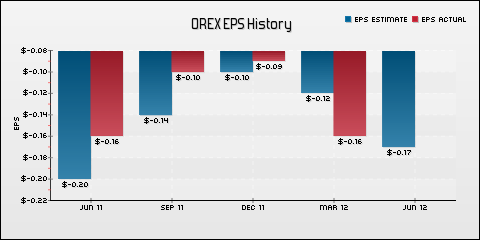 The consensus EPS estimate is ($0.17) loss based on 6 analysts' estimates, just below ($0.16) loss from a year ago. Revenue estimates are $890.00K, up from $857.00K a year ago. The median target price by analysts for the stock is $12.00.
Average recommendation: Overweight
Source: Marketwatch
Latest News
On July 11, 2012, Dow Jones reported that Orexigen Therapeutics, Inc. expects to complete enrollment in an interim study of cardiovascular risks associated with its weight loss treatment Contrave in the first quarter next year, potentially reducing its initial estimates by half.
On March 8, 2012, Orexigen® Therapeutics, a biopharmaceutical company focused on the treatment of obesity, announced financial results for the three months and year ended December 31, 2011. For the three months ended December 31, 2011, Orexigen reported a net loss of $4.3 million, or $0.09 per share, as compared to a net loss of $11.3 million, or $0.24 per share, for the fourth quarter of 2010. As of December 31, 2011, Orexigen had $101.7 million in cash and cash equivalents and an additional $45.8 million in marketable securities, for a total of $147.5 million.
Competitors
Abbott Laboratories (NYSE:ABT), Arena Pharmaceuticals (NASDAQ:ARNA), GlaxoSmithKline (NYSE:GSK), and VIVUS (NASDAQ:VVUS) are considered major competitors for Orexigen Therapeutics. The chart below compares the stock price changes as a percentage for the selected companies and S&P 500 index for the last one-year period.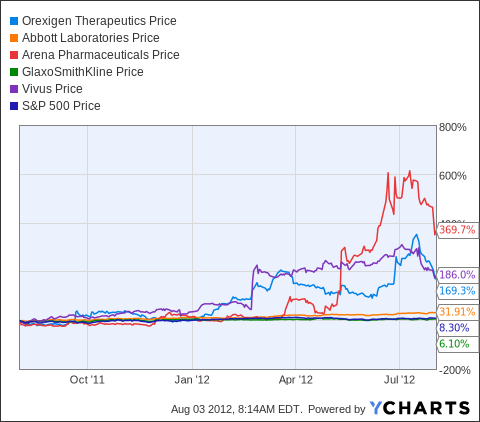 Competitors' Latest Development
Technical Overview
The stock has a market capitalization of $297.55M and is currently trading at $4.39 with a 52-week range of $1.22-$7.73. The stock's year-to-date performance has been 172.67%. It is currently trading above 200 SMA, but below 20 and 50 SMA.
Sources: Yahoo Finance, Google Finance, Marketwatch, Finviz, Reuters.
Disclosure: I have no positions in any stocks mentioned, and no plans to initiate any positions within the next 72 hours.