Solar exchange traded funds finally found a moment's respite Thursday after a top holding reported better-than-expected earnings.
Guggenheim Solar ETF (NYSEARCA:TAN) gained 1.7% and Market Vectors Solar Energy ETF (NYSEARCA:KWT) increased 2.8% during Thursday's trading. Nevertheless, TAN has lost 38.6% year-to-date and KWT has dropped 40.3% year-to-date.
First Solar, Inc. (NASDAQ:FSLR) announced that its profit surged 81% in the second quarter, with earnings at $1.65 a share, or 71 cents higher than the average of 27 analysts' predictions taken by Bloomberg, reports Leah Powell for Wall St. Cheat Sheet. First Solar makes up 7.8% of TAN's holdings and 11.0% of KWT's portfolio.
The solar panel maker expects greater demand for its products and now plans to produce 1,800 megawatts to 1,900 megawatts of panels this year, a stark shift from its earlier plans to cut production by one third to as low as 1,400 megawatts, according to a Bloomberg report.
"We have more investors seeking to buy our projects than we have projects to sell them," First Solar Chief Executive Jim Hughes said in the report.
Some analysts, though, are skeptical about First Solar's projections, pointing to the over-supplied market and China's low cost alternatives. "The projects are profitable, at least to next year…but earnings in the out years are virtually unknown," Jesse Pichel, an analyst at Jefferies Group Inc., said in the article.
"While we are encouraged by the company's solid execution in 2Q:12, we remain cautious on the company's ability to consistently generate outsized returns through opportunistic solar plant development displacing diesel generation and meeting renewables standards," ThinkEquity's Colin Rusch said in a Barron's article. "We continue to believe competition for these types of projects remains fierce and we expect, given ongoing price pressure and increasing scale of the industry, that competition will only intensify."
Guggenheim Solar ETF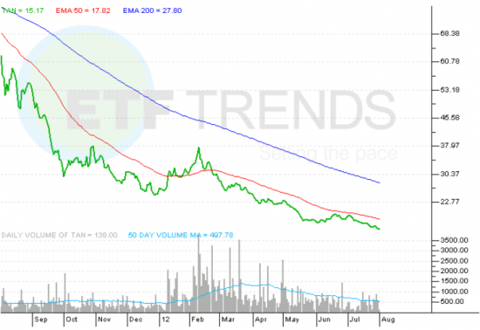 Max Chen contributed to this article.
Disclosure: I have no positions in any stocks mentioned, and no plans to initiate any positions within the next 72 hours.