Nvidia (NASDAQ:NVDA) is a graphics processor company known for their discrete GPUs sold to gamers and higher cost enthusiast class desktop and laptop PCs. Nvidia also once made chipsets that integrated graphic processing capabilities, but with Intel (NASDAQ:INTC) and Advanced Micro Devices (NASDAQ:AMD) introducing CPU microprocessors with graphic processing capabilities integrated into the CPU die in 2011, these chipsets became redundant and Nvidia decided to exit this market. In 2010 the MCP business unit that made the integrated graphic chipsets did over $800M in revenue.
To close this revenue gap, Nvidia increased the capabilities of their discrete GPUs and entered the mobile application processor market with their Tegra application processor which they have been investing heavily in since 2008. After an early initial success in Android tablets in 2011, Tegra processor sales fell off due to the overwhelming dominance of the Apple (NASDAQ:AAPL) iPad. Although numerous Android tablets makers chose the Tegra 2 for their processor, the large volume non-Apple slots eluded Nvidia. For example, the low cost Amazon (NASDAQ:AMZN) Kindle Fire uses a Texas Instruments (NYSE:TXN) OMAP application processor.
This situation has changed with Google (NASDAQ:GOOG) introducing the Nexus 7 tablet with a Nvidia Tegra 3 application processor and should provide a significant jump in revenue for the business unit that sells the Tegra processor, thus allowing Nvidia to meet their plus 10.3% sequential revenue guidance.
At the April quarter earnings call management said:
For GAAP, our outlook for the second quarter is as follows: revenue of $990 million to $1.05 billion, gross margin of 51.2% plus or minus 1 percentage point, OpEx of approximately $418 million.
Looking at revenue by Nvidia's three business units provides evidence as to how important this design win is.
Geforce Business Unit - Consumer GPUs
First a look at the last 7 quarters of history for the Geforce GPU business unit. Note: Geforce business unit consists of discrete GPUs, Intel royalties, and the last of the MCP - integrated graphic chipset business that Nvidia exited in 2011. Notice as the MCP-integrated graphic chipset business revenue declined discrete GPU revenue increased and Intel royalties of $63M per quarter started in 2011.
When you compare Intel's PC Client Group's revenue with Nvidia's Geforce revenue excluding MCP-integrated graphic chipsets one can see a very strong correlation between the two.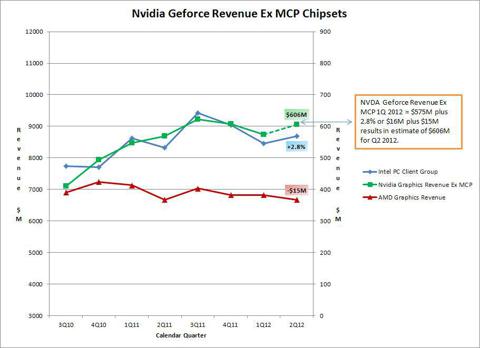 Geforce business unit's revenue minus the discontinued MCP chipsets for the April 2012 quarter was $575M. Intel's PC Client Group's revenue for Q2 increased 2.8% over Q1. Using the same percentage gain Nvidia's discrete graphics revenue would increase $16M. In addition, Advanced Micro Devices' graphic revenue dropped $15M in Q2 from Q1. This probably was the result of Nvidia winning the Apple MacBook Pro discrete GPU slot away from AMD adding in an additional $15M in Geforce revenue. All total this provides an estimate of $606M in revenue for the Geforce Business Unit.
PSB Business Unit - Pro Graphics and High Performance Compute
The correlation between Intel's Data Center Group's revenue and Nvidia's PSB business unit's revenue is not that strong. Intel has much more than workstation processor revenue in this group and Nvidia's Tesla high performance compute GPUs revenue is generally lumpy. Intel's data center group's revenue was up 14.3% sequentially in Q2. Nvidia did introduce a new Tesla card using the new Kepler graphics in the July quarter. All in all, I expect Nvidia's PSB business unit's revenue to be up at least 5% sequentially to $224M.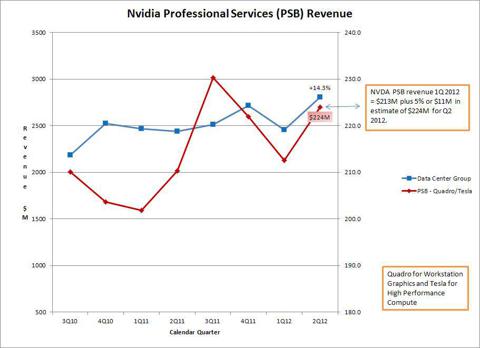 Consumer Products Business Unit
This business unit consists of the Tegra application processor, gaming console royalties from Sony, and Icera baseband processors. The main focus is on Tegra processor sales. If Nvidia is to meet their July quarter guidance this business unit's revenue by my estimate must increase $57M over the April quarter.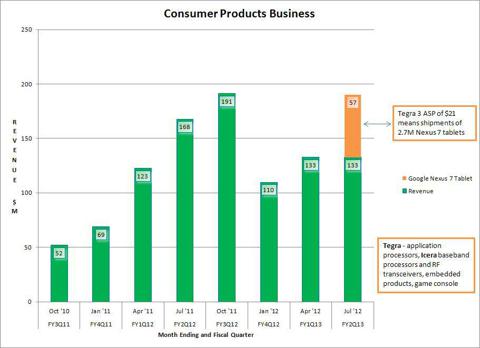 Although Nvidia sells their Tegra application processors into smartphones and other tablets, the big design win shipping in the July quarter is the Google low cost 7 inch tablet. According to IHS Issupli the Tegra 3 processor used in this tablet carries an ASP of $21. Nvidia's Consumer Products Business unit would generate an incremental $57M of revenue from shipments of 2.7M Tegra 3 processors to Google. Google has not announced sales for the Google Nexus 7 tablet, but it has met with very good reviews and repeated restocking since its introduction. This is a tall order for a non-Apple tablet but it was reported that Amazon's similarly low cost Kindle Fire sold a million units per week during its first month of sales.
Note: Nvidia receives revenue for Tegra when the processor is shipped to manufacturer early in the build cycle.
Financial Metrics
Nvidia has $3.13B in cash or $5.06/share and only $20.8M in debt. Forward P/E (fye Jan 29, 2014) is 14.8.
Conclusion
Nvidia's midpoint of revenue guidance for the July quarter is $1020M or up $95M sequentially from the April quarter. By my estimate fully $57M of this will come from increased Tegra 3 application processors sales primarily to Google for use in the Nexus 7 tablet. Any reports of sales of this tablet by Google should be watched closely.
Microsoft (NASDAQ:MSFT) is due to release their Windows 8 RT tablet on October 26 called The Surface which competes directly with Apple's new iPad at its higher price point. The Microsoft Surface also uses a Tegra 3 application processor. This should provide an additional boost in revenue for Nvidia in the October quarter.
Although Intel does not break out their revenue guidance by business segment, their Q3 guidance of plus 6% sequential revenue growth can only be a positive for Nvidia's Q3 guidance.
If inclined to buy this summer, I recommend not to take a full position all at once due to our annual summer market volatility.
Data from company earnings statements, 10Qs and 10Ks
Disclosure: I have no positions in any stocks mentioned, but may initiate a long position in NVDA over the next 72 hours.