SFL - $850 million acquisition of an ultra-deepwater drillship and intention to increase quarterly dividend.
I have considered Ship Finance International (NYSE:SFL) a core component of my site's income portfolio. The press release above announces the single most expensive sale/ leaseback transaction in maritime history.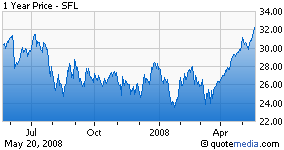 The benefit to SFL after interest and principle payments is 32¢ per share. Ship finance will be borrowing $700 million and the balance will be out of company fund. The drillship will complete construction in June and be on a 15 year bare ship lease fully guaranteed by Seadrill Ltd. (OTC:SDRLF). This is SFL's first acquisition of a deep water drilling rig and I find the timing interesting after reading this article on Seeking Alpha recently: Petrobras is Hoarding the World's Deep Sea Drillers.
At the same time, SFL announced it will increase the quarterly dividend 2¢ to 57¢. This is good news after several quarters without an increase. Ship Finance is conservatively managed and has more than adequate coverage for the dividend. It is good to see the company putting some capital to work to increase the return to shareholders. I am looking forward to the earnings release on Thursday! SFL is a component of my site's Income Portfolio.
Note: I have a long position in SFL.