On Sunday, I had the opportunity of hearing two top US analysts commenting on the burning issues on Wall Street - oil prices and the crisis in the financial sector - at the Oppenheimer conference here in Israel. On oil prices, I heard in an in-depth review by the investment bank's oil and gas equities analyst Fadel Gheit. Aside from restating what we already know about the cause of the spike in demand and the geopolitical issues and other factors that have disrupted supply and sent prices soaring, Gheit noted that trading in oil had become speculative with all the hallmarks of a bubble, with trading volumes now 12 times the size of the actual oil market.
Gheit said that the speculation in oil trading bore the familiar signs of a bubble, since, as in the fixed income and sub-prime derivatives sectors for example, leverage in the oil sector is also phenomenal, because for every $100 invested in oil-related financial instruments, players take $95 in loans. Gheit is calling for urgent intervention by the authorities in the speculative trading in oil, most of which is carried out by hedge funds at the behest of the same banks that brought the sub-prime crisis on us.
Of the Israeli companies that made presentations at the conference, two niche companies that I have in my portfolio are worthy of mention. They operate in differing fields - Omrix Biopharmaceuticals Ltd. (OMRI) specializes in biosurgical products for hospital operating theaters, and RR Satellite Communications Ltd. (RRST) provides satellite uplinks for television channels. What both companies have in common is they have both seen their share prices nosedive, after providing disappointing bottom line results for various reasons, although these are not, I feel, critical to their future. This makes them attractive buys at current levels.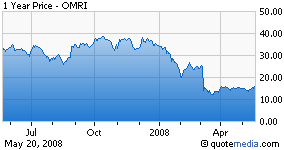 As far as Omrix is concerned, I would single out its main growth engine - the range of biosurgical sealant products, with sales expected to grow 75% this year. Omrix's crowning achievement over the longer term is the advanced sealant for the prevention of acute bleeding in surgery which it is jointly developing with giant Johnson & Johnson Inc. (NYSE:JNJ). Usually, one should take Johnson & Johnson's collaborations with tiny companies with a grain of salt, since we saw how nothing came out of its much vaunted collaboration several years ago with Given Imaging (GIVN), which sent the latter's share heading for $40 amid much fanfare.
This time round, however, I believe the collaboration should be treated with utmost seriousness, since it does not amount merely to a marketing agreement, as was the case with Given Imaging. For Johnson & Johnson, this is a strategically important business - development and sales of disposable products for surgeries - in which it is aiming to become the leader, and it even noted this collaboration in its annual report in March.
Teams from two Johnson & Johnson divisions are partnering with Omrix on the development of the sealant on the basis of technology and ingredients that are already approved by the US Food and Drug Administration [FDA], so one can safely assume that there are unlikely to be any difficulties in obtaining FDA approval for the sealant once its completes the Phase II trials now underway. Omrix president and CEO Robert Taub expects Johnson & Johnson to mention the venture with Omrix again, when it attends the Citigroup Healthcare Conference opening on Thursday in New York.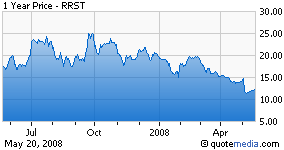 As for RR Satellite, founder and CEO David Rivel essentially illustrated the type of brutal treatment Wall Street dishes out to companies that don't meet forecasts when he spoke at the conference on Sunday. A drop of just $450,000 in gross profit for the first quarter (3%), cost him $40 million in market cap, when RR Satellite's share slumped 20% following the unveiling of its results. "This is just the beginning" were the words written in boldface underneath the impressive figures Rival unveiled in his presentation outlining how great the company's potential is, but it didn't make all that good a start to 2008 on Wall Street.
RR Satellite has very good forward visibility thanks to an order backlog of $159 million, of which the company expects $75 million to be delivered this year. In the third quarter it will close the acquisition of Bezeq's satellite ground station in the Elah Valley, following which it will take over the contracts with leading international customers that relied on Bezeq's content distribution services, such as BBC and CNN. Rivel also said that on Monday, RR Satellite would announce its selection as the distributor of AXN SCI-FI, the science fiction channel from Sony Pictures Television International in Russia.
Waiting for Harari
Tuesday saw the opening of the 39th JPMorgan Technology Conference in Boston. Among the Israeli representatives at the three-day event is SanDisk Corporation (SNDK) founder and CEO Dr. Eli Harari. His hosts were actually the ones who caused investors substantial losses when they downgraded SanDisk after it slid to $20 on March 20, following which it duly rebounded 65%.
Nothing dramatic has happened on the flash chip market in the two months since then, so investors will have paid very close attention to what Harari had to say. They will have been relieved to hear that the forecast for the second half of the year is more upbeat but were probably disappointed by the lack of any imminent agreement with Samsung Electronics Co. Ltd. (KSX:5930) on royalties.
Six months ago, Harari attributed events in the advanced handset market to iPhone fever. Calling it an "earthquake", he was referring to the effect the iPhone has been having on the flash industry. SanDisk's 65% climb over the past two months will only be justified if Harari's statement that lower costs make it better prepared than its competitors translates into results in the coming months.
Published originally by Globes [online], Israel business news - www.globes.co.il
© Copyright of Globes Publisher Itonut (1983) Ltd. 2006. Republished on Seeking Alpha with full permission.