Since Facebook's disappointing mid-May IPO and uninspiring first earnings report as a public company, as well as social media gaming developer Zynga's disastrous earnings report on July 25th that sent shares tanking 40% overnight, the universe of social media stocks has been plunging to new lows as all things "social" are losing their glow.
Take a look at these ugly social media stock charts:
Global X Social Media Index Fund (SOCL) (a good proxy for the social media sector)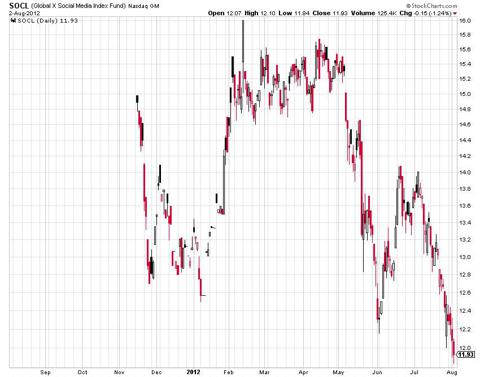 Chart Source: StockCharts.com
Facebook (FB)
Facebook stock is down an incredible 50% since its IPO!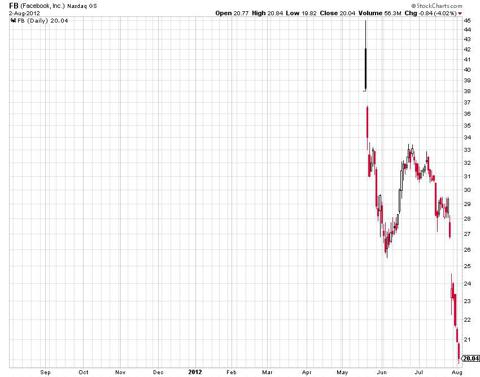 LinkedIn (LNKD)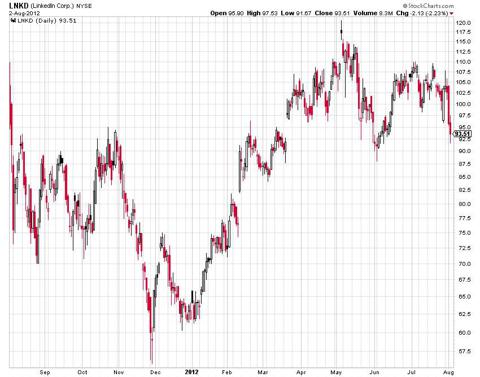 Yelp (YELP)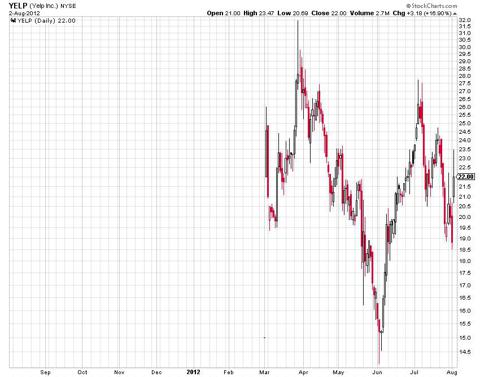 Zynga (ZNGA)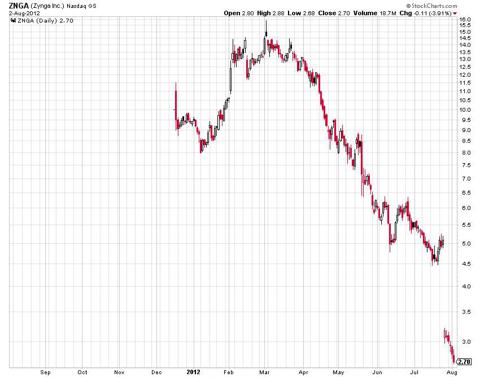 Pandora Media (P)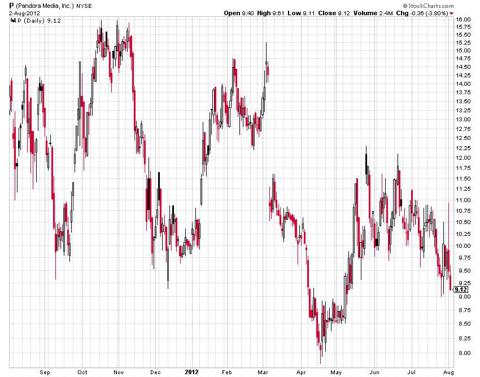 Groupon (GRPN)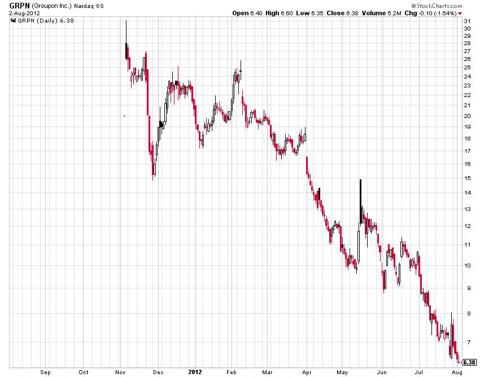 Angie's List (ANGI)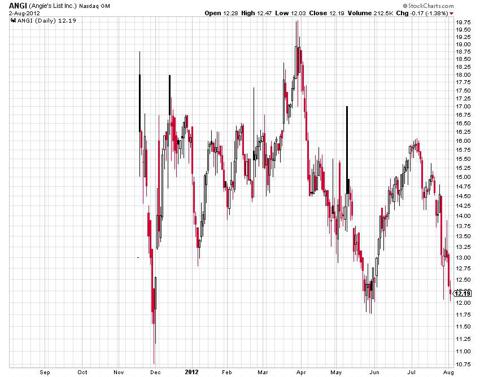 Falling social media stock prices are making fools out of wildly optimistic Wall Street stock analysts and are causing billionaire (or former billionaire) social media company founders to lose fortunes, such as Facebook CEO Mark Zuckerberg's jaw-dropping $9 billion loss and Groupon CEO Andrew Mason's 75% loss, to name just a few. Facebook's stunning stock price collapse means that California's cash-needy state government stands to collect hundreds of millions of dollars less in IPO and capital gains taxes than they had originally expected. Even more worrisome is the fact that social media company stocks are still quite overvalued, despite their recent "haircuts." Facebook has a P/E ratio of 69, even though its earnings are expected to grow a "mere" 28.6% next year. LinkedIn carries an astronomical 640 P/E ratio, which is hard to justify even with its 79.7% earnings growth expectation for next year. The rest of the publicly-traded social media sector, from Groupon to Angie's List to Zynga, do not even have earnings to speak of, making their recent IPOs eerily reminiscent of the Dot-com bubble era stocks that debuted without earnings either. These excessively high social media company valuations are due to hype, plain and simple, and mean that these stocks can fall much further as the air finally comes out of the social media bubble.
Social media companies' stock prices are a matter of concern for all people, not just investors, because the social media bubble has played a very important role in the U.S.' post-2009 "bubblecovery" or bubble-driven economic recovery. (I consider the social media bubble to be a part of "CCC Aches" bubbles that have helped the global economy recover from the Great Recession. Read more about this concept here.) The social media bubble has helped to create nearly 500,000 U.S. jobs in recent years (a very high percentage of newly-created jobs) and has helped to launch a housing and commercial real estate recovery in hard-hit San Francisco and parts of New York City. The social media bubble has contributed to an explosion in post-2009 entrepreneurial activity, with the number of startup incubators tripling from 2009 to 2011. The social media bubble is also important, because it has been one of the few glimmers of economic hope that many Americans have had in recent years, especially for young aspiring-professionals who see few other appealing career options (1, 2, 3). I cannot overemphasize the importance of hope and optimism in dire times such as these; the economy and financial markets are driven by human psychology, and having a reason for hope is what many people need to keep charging on (for example: "If Mark Zuckerberg can make it in these times, so can I!" or "At least some businesses are still booming!").
I believe that the recent plunge in social media stocks will eventually lead to the ending of the overall social media bubble, including the aforementioned startup boom. One of the main reasons for this explosion in social media startup activity is the outrageous valuations of publicly-traded social media companies, such as Facebook and LinkedIn, and how it creates a powerful incentive to launch social media startups for the purpose of "flipping" or cashing-out at very high prices via buyouts or IPOs, regardless of whether the startup is profitable or not. When social media company stocks ultimately trade at far lower prices, the sector's hype will die down and the tech startup boom will grind to a halt. I am most concerned with the economic impact of the social media bubble's popping, as I expect a wave of technology company and startup failures and layoffs to occur in a manner similar to the popping of the Dot-com bubble in the early-2000s, and will likely contribute to the ending of the post-2009 "bubblecovery." (I don't rule out the possibility of temporary rebound in social media stock prices at some point, especially if there are more Quantitative Easing programs in the future.)
(Note: I have been publicly warning about the social media bubble since June 2011 on my Twitter blog and on my website The Bubble Bubble since January 2012.)
Disclosure: I have no positions in any stocks mentioned, and no plans to initiate any positions within the next 72 hours.