On July 20th, I described the mechanics of making the pre-earnings trade on F5 Networks (FFIV) (see "Lessons From The F5 Networks Earnings Trade"). After finishing the post-earnings trade with a gain of 4.2%, FFIV immediately faded the next day from resistance at its 50-day moving average (DMA). In one day, FFIV gave up all its post-earnings gains and now trades even lower.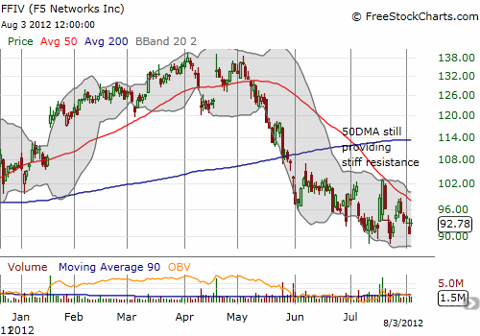 F5 Networks still struggles under the 50DMA even after a quick post-earnings comeback from weak guidance
Source: FreeStockCharts.com
Given FFIV's volatile post-earnings performance, I decided to look at the history of the stock to determine whether additional trading opportunities exist before FFIV reports earnings again.
Since 2007, FFIV has responded to earnings with a gain the following day 17 out of 22 (77%) earnings, excluding the last earnings report. FFIV has lost these gains by the next earnings report 9 times (53% of all quarter-long post-earnings periods with first day gains). It is rare for FFIV to give up the post-earnings as quickly as it did this time around. Only two earnings gains were faded in less than 5 trading days. Four earnings gains were faded in 15 trading days or more. The chart below shows the number of days it takes to FIRST completely fade the post-earnings gain versus the share of the remaining trading days in the post-earnings period the stock spends without retaking any of the post-earnings gain. Note FFIV failed to bounce back in only two quarters. However, a quick fade does not necessarily lead to a quick recovery.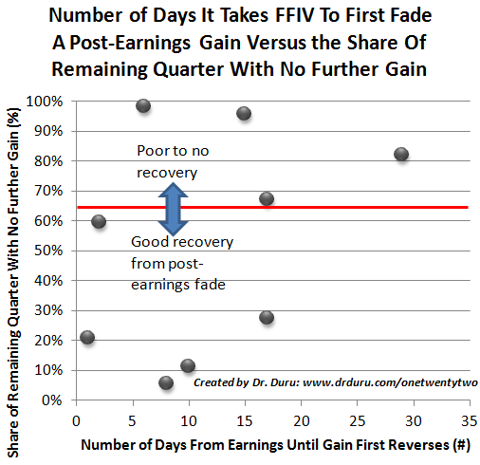 Number of Days It Takes FFIV To First Fade A Post-Earnings Gain Versus the Share Of Remaining Quarter With No Further Gain
Source: earnings dates from briefing.com, stock prices from Yahoo!Finance
This chart suggests that there is a relatively good case for buying FFIV in the aftermath of earnings after the first day's gains have been completely erased…especially for a short-term bounce. At current levels, the wind is behind this trade. FFIV's trailing P/E of 27 is scraping the bottom of the average annual range over the past ten years. FFIV purchased shares in the previous quarter at much higher prices and will likely double down this quarter:
"During Q3, we repurchased approximately 425,000 shares of our common stock at an average price of $117.59 per share for a total of $50 million. Approximately $231 million remains authorized under the current share repurchase program." (earnings call quotes from Seeking Alpha transcripts)
The company's earnings and revenue guidance were slightly lower than expected because "the context of a weak global economy [led FFIV] to be more cautious in [its] near-term outlook." While the economic climate is out of the company's control, FFIV still has a strong position in key sectors of high-tech:
"Looking ahead to Q4, we continue to see the key drivers of our business including mobile traffic growth, data center consolidation, growth in virtual environments and security concerns trending in our favor. We see solid growth in our software sales and we see strong momentum with our security products. We also have an exciting product roadmap that positions us to take advantage of an expanding addressable market. As a result, we continue to believe our prospects for long-term growth remain strong."
In the earnings call, management talked about its ability to close large deals in the financial sector all across the globe - including in Europe, positive cash flow that has ballooned total cash and investments to $1.1B, the need to hire to invest in growth, and commitment to maintaining margins:
"…we do want to keep hiring because we want to invest in growth and we see the opportunity there, but as we've said over and over again, we will invest in a way that protects our operating margin and we're committed to the 38% levels. So I think you won't see our behavior change in how we manage the business week in and week out."
For now, I have purchased call options in anticipation of an imminent bounce from current levels. I have hedged this with a small amount of shares short. If FFIV somehow breaks the recent lows around $87.50, the stock could re-establish a downward trend from the 52-week high. Once FFIV is able to close above its 50-day moving average and then make a fresh post-earnings high, I will have more confidence that a sustained recovery is finally underway.
Be careful out there!
Disclosure: I am short FFIV.
Additional disclosure: I also own FFIV calls and am overall net long