Many investors are obviously wondering why mortgage real estate investment (mREIT) stocks are doing so well these days. The easy answer to this question is that mortgage interest rates are at a record low, but there's obviously more to it than that.
A better means of answering this question would be to take a closer look at one particular mREIT stock, DynexCaptial (DX), which has been doing very well lately. In June and July, this stock saw a rise from a value of less than $9.25 a share to $10.54 a share. It fell slightly in July, but still managed to keep a margin value of $10.25 a share. It also delivered a dividend of 29¢ a share, which indicates strong revenues and leveraged profits.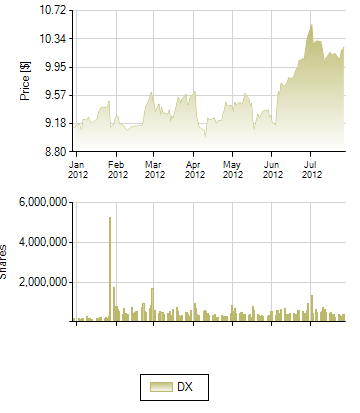 Non-Agency Mortgage Paper Leads to Growth
Dynex is a pure mREIT, which means it only invests in mortgage backed securities. Its specialty is packaging and managing residential mortgage backed securities (RMBS), although it has some other investments. The company has a market cap of $553.18 million, which makes it a small player in comparison with industry heavyweight Annaly Capital Management (NLY), which has a market cap of $16.5 billion. Yet its shares are obviously growing in value and it is paying a dividend, which means Dynex is generating cash. So how is Dynex generating that cash, and will it continue to do so?
Unlike competitors, such as the American Capital Agency (AGNC), Dynex is willing to invest in mortgage paper that is not guaranteed by Fannie Mae and Freddie Mac. In other words, Dynex is willing to buy up what is called non-agency paper. That lets Dynex buy up a lot of potentially profitable mortgages that more conservative REITs might pass on. It increases the risks, but it also increases Dynex's cash flow and leveraged profits.
That gives Dynex more flexibility and room to experiment in some of its investments. Dynex is not locked into government-guaranteed mortgage paper, so it is not held hostage to Freddie and Fannie. It also provides more room for growth because trading volume for non-agency RMBS is increasing. Reuters estimated that the trading volume for all non-agency residential mortgage-backed securities increased by 49% during the week that ended on July 20.
Residential Mortgage Backed Securities Market Expanding
That would seem to indicate that Dynex's leveraged profits are about to increase. It has the capability to move aggressively in a growing market sector. Around $10 billion in non-agency residential mortgage paper was traded in the week of July 20-27. Reuters also reported that new investors are jumping into the market, which means more buyers for Dynex's securities.
Part of the reason for Dynex's increased margin value is the potential profit from non-agency RMBS. The price returns for some subprime residential mortgage backed securities can be as high as 15-20%, John Sim, a mortgage security researcher at JP Morgan, told Reuters.
Sim noted that institutional investors, such as hedge funds and pension funds, are buying more RMBS because they see them as immune to the risks generated by the crisis in Europe. Those investors are looking for alternatives to securities that are exposed to Europe.
Dynex Poised to Take Advantage
Dynex is moving aggressively to take advantage of this market growth. A press release indicates that the company has issued a public offering of two million preferred shares. This offering should generate $50 million that can be used to increase Dynex's capacity to issue new mortgage backed securities. The offering was supposed to close on August 1st, so it was timed to take advantage of current market conditions.
Such a move will obviously increase Dynex's leveraged profits, which are already impressive. The offering was announced on July 25, and the next day, on July 26, Dynex stock climbed to $10.30 a share from under $10.20. It fell to less than $10.10 later in the day, but rose back to nearly $10.30 the next day. It closed at $10.23 on Friday, July 27.
These results indicate that an increase in mREIT leverage leads to an increase in share value, particularly for those companies that are willing to invest in non-agency paper. In addition to Dynex, this category includes American Capital Mortgage Investment (MTGE), Newcastle Investment (NCT), Two Harbors Investment (TWO), PennyMac Mortgage Investment Trust (PMT), and Chimera Investment Trust (CIM).
Judging by Dynex's recent results, value investors should definitely look beyond mREITs that only buy agency-guaranteed paper. It looks like non-agency paper will be what generates cash in the foreseeable future. The demand for non-government mortgages and mortgage securities is going up.
Interest Rates and Bond Market Boosting Dynex
Obviously, investors will want to know how long this trend will last. My guess is that the non-agency specialists will keep seeing increased value and leveraged profits as long as mortgage interest rates remain low. Recent headlines indicate that mortgage interest rates have fallen to record lows.
The lowest rates are for 15-year fixed rate mortgages, which are more likely to be non-agency loans. The average rate for a 15-year fixed rate mortgage fell to 2.80% during the week that ended on July 27. That should increase the demand for such mortgages, which should lead to more mortgage backed securities. The demand for mortgages will increase as homeowners move to refinance and more buyers enter the market.
Dynex's issue of preferred shares indicates that executives in the mREIT sector think that the market is about to expand. The demand for both residential mortgages and residential mortgage backed securities seem to be increasing at the same time.
Something else that could boost companies like Dynex is an increase in the purchase of residential homes for investment. If they finance a purchase, residential real estate investors have to use non-agency mortgages, which have a higher interest rate. That, of course, can lead to a higher cash flow for companies that package mortgages into securities.
Investors in residential housing will need to get financing from somewhere, and the logical place is mREITs, such as Dynex and Newcastle. If we see increased residential real estate investment and lower interest rates, Dynex will be in a position to increase its leveraged profits. Increased leveraged profits can lead to higher earnings per share and bigger dividends.
As the situation at Dynex demonstrates, the non-agency mREIT sector seems poised for growth in the near future. Both the mortgage and securities markets seem to be expanding, even as the rest of the economy stays flat or contracts. That makes Dynex a growth stock at this time, and more importantly, a growth stock that actually generates cash.
Growth to Continue
How long can this growth continue? That question has an easy answer; as long as the demand for mortgages and RMBS continues to increase. I see nothing out there that will change that situation anytime soon. Interest rates should stay low because the yield on treasuries, which are the benchmark for interest rates, is falling. Low interest rates should drive up mortgages as the demand for RMBS increases.
The demand for RMBS will increase because the amount of money flowing into U.S. securities markets is increasing at a time when treasury yields are falling. The amount of money flowing into American securities is rising because of increased volatility caused by the debt crisis in Europe. That should increase demand for higher paying securities, such as RMBS.
These trends translate into a very good outlook for Dynex. Its leveraged profits, share value, earnings per share, and dividends should continue to increase as long as this situation continues.
Disclosure: I have no positions in any stocks mentioned, and no plans to initiate any positions within the next 72 hours.