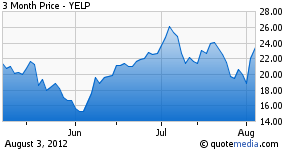 After reporting earnings on Wednesday night, Yelp (YELP) soared nearly 20% over the next two trading days. Why did this social media play jump while so many others have been falling to lows?
The company connects people with great local businesses via more than 30M local reviews and approximately 78M unique visitors during Q2 2012.
The main reason for the surge is that Yelp reported stronger revenue numbers that led to a solid EBITDA beat. The company also successively talked about the potential of mobile monetization though the actual results were immaterial. In reality, the company appears to have the same issues as Facebook (FB) so far.
Q2 2012 Highlights
The company reported the following highlights for Q2 2012:
Net revenue was $32.7 million in the second quarter of 2012, reflecting 67% growth in net revenue from the second quarter of 2011
Cumulative reviews grew 54% year over year to more than 30 million
Average monthly unique visitors grew 52% year over year to more than 78 million*
Active local business accounts grew 113% year over year to approximately 32,000
Analysts expected a loss of $0.06 so the reported loss of only $0.03 easily beat analyst estimates. Importantly though the total loss of $2M was slightly higher than last year. Beating analyst estimates make for a good start, but ultimately the company needs to report yearly improvements. With marketing expense at 62% of revenue, earnings will be difficult to achieve for now.
Guidance
The company provided improved guidance for the rest of 2012 as follows:
For the third quarter of 2012, net revenue is expected to be in the range of $34.5 million to $35.5 million. Adjusted EBITDA is expected to be in the range of $750,000 to $1.25 million.
For the full year of 2012, net revenue is expected to be in the range of $135 million to $136 million, representing growth of 62% to 63% compared to the full year of 2011. Adjusted EBITDA is expected to be in the range of $3 million to $4 million.
Market Expansion
The company currently operates in 90 cities with the launch of 8 new markets in Q2. This included an expansion into international markets of Denmark, Finland, and Norway.
The company sees a potential of 1,000 total markets. Investors understanding this market concept is where the original valuation and hype over Yelp derailed. The company operates more as a retail operation that must build infrastructure and sales teams in each local market in order to establish a presence. Similar models exist for Angie's List (ANGI) and Groupon (GRPN) that has impacted their valuations as well.
Naturally the scale and speed of developing markets is much quicker than opening a new restaurant, but it still isn't the model envisioned when people thought that these companies could grow exponentially without a massive sales force.
Mobile
The mobile app was used on 7.2M mobile devices per month in Q2, up 70% year-over-year. An astonishing 40% of Yelp searches are now conducted on the mobile apps, becoming a majority on the weekends.
Unfortunately though the company only makes money on the optimized mobile website and not the mobile app. The good news though is that the mobile website has a higher click through rate on local ads than that on desktops.
Mobile provides the ultimate holy grail for local ads as consumers click on the mobile website or app to find a good local store. Businesses clearly want to advertise to the consumer within a local area looking for a store than a general person watching TV only half paying attention to commercials.
Monetizing that local traffic on apps will ultimately determine the direction of that company.
Valuation
The company guided up for Q3, but it will still be losing money. Not much hope exists for profits in 2013 either. Nor should investors clamor for current profits on a company with growth potential of over 1,000% once all the currently identified markets are established.
The company claims to have huge scale once a market becomes established. Unfortunately, the stock trades at over 10x revenue based on 2012 estimates. That multiple has already priced in significant growth considering profits are currently non-existent.
Conclusion
This company remains difficult to value considering the large sales and marketing expense required to build and establish each market. What profit margins will be achievable long term? Will competition ultimately drive down ad rates? Will enough advertising dollars exist in a few years as all the social media concepts rely so heavily on ad supported services?
The concept of a user review network that allows users to quickly find the top reviewed stores or restaurants is a very useful business model. The ability to monetize that concept at higher rates than expenses remains the big question. A great free service to consumers doesn't always translate to a profitable business.
Yelp remains worthy of watching, but the valuation and ability to monetize mobile traffic remains a bigger concern.
Disclosure: I have no positions in any stocks mentioned, and no plans to initiate any positions within the next 72 hours. Please consult your financial advisor before making any investment decisions.