The Japanese yen was the last remaining currency to "hold out" against the Australian dollar's recent advances. On Friday, the AUD/JPY currency pair jumped again off its 200-day moving average (DMA) and this time set a fresh three month high.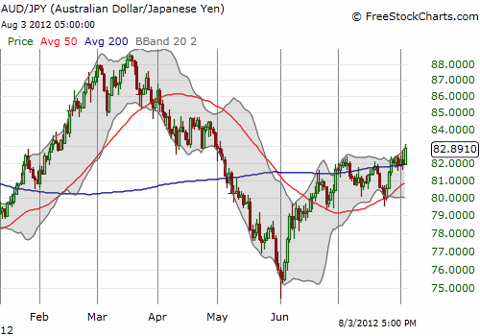 The Australian dollar prints another important breakout
The AUD/JPY cross was also my last "hiding spot" for a bearish position against the Australian dollar despite the looming potential for intervention to weaken the yen. I think as long as the U.S. dollar can hold above 78 versus the Japanese yen (NYSEARCA:FXY), I think Japanese Finance Minister Jun Azumi will keep the dogs at bay. Seventy-eight has become an important line of support.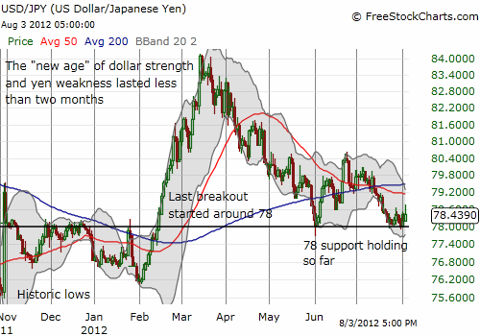 U.S. dollar holding important support against the Japanese yen
Once (if?) the Australian dollar follows through on its latest breakout, I will have to back down from my short AUD/JPY position. This will leave me with periodic fades against the euro and the British pound when they manage the rare rally against the Australian dollar. I remain undecided on how, if at all, to play the Australian dollar against the U.S. dollar (NYSEARCA:FXA) now that the breakout in AUD/USD also seems confirmed (I am indirectly short through current positions). Here too, it will probably pay best to stay opportunistic.
The Australian dollar's stubborn strength has motivated me to pay even more attention to the economic numbers coming out of the country. It is very possible that I have simply been overly bearish on Australia's prospects even as key commodities like iron ore drop in price, and China's growth slows down. In a recent interview, Marius Kloppers, CEO of BHP Billiton (NYSE:BHP), seemed to express his surprise at the recent strength in the Australian dollar. However, at the same time he pointed to weak commodity prices, he noted critical inflationary pressures:
"Mr Kloppers said the Australian dollar had remained very strong, noting that it had usually declined when the prices of key exports such as iron ore and coal fell. 'And we continue to have a pretty inflationary environment in terms of wages, costs and capex and so on,' he added."
These kinds of inflationary pressures are sure to prevent the Reserve Bank of Australia (RBA) from slashing interest rates at a rapid clip as markets seemed to expect earlier just a few months ago. Moreover, as I noted in my last piece on the Australian dollar, Australia's overall commodity price index remains very high. So, it is very possible that weak prices of iron ore and coal alone are not enough to weaken the currency or motivate ever lower interest rates from the RBA.
The strong Australian dollar has also not deterred tourists. The Australian Bureau of Statistics recently released the numbers for June, 2012. The short-term (less than one year) "number of movements" of arriving visitors reached a seasonally adjusted all-time high. The graph below shows that either a new trend may be starting or a higher level of equilibrium is approaching.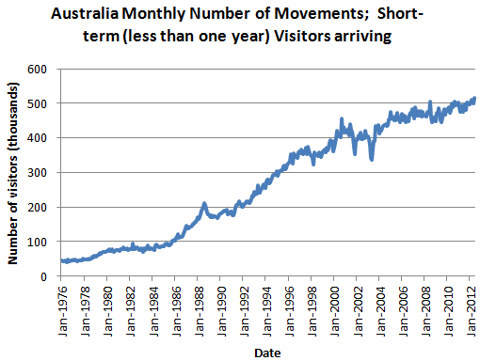 Australia Monthly Number of Movements; Short-term (less than one year) Visitors arriving
Source: Australia Bureau of Statistics
Strong flows of foreign visitors help further support the Australian economy and boost the currency as tourists convert from their native currencies into Australian dollars.
Finally, Australia's ABC News recently hosted a small roundtable of analysts and investment managers to discuss the Australian economy and the currency. I found it interesting to hear the divergence of opinion. One guest insisted that dropping interest rates cannot move the currency down while another noted that even as a commodity currency Australia is too high given Canada is at 1% (to me, the HUGE difference is that Canada has the slow-growing U.S. as a major trading partner and Australia has fast-growing China). The host noted that Australia is one of a shrinking number of countries with triple-A rated government debt. This clip of the interview did not cover the negative catalysts in the economy, but I hope in future posts to go into a few more details on what is working against the Australian economy.
Be careful out there!
Disclosure: In forex, I am long USD/JPY and short AUD/JPY