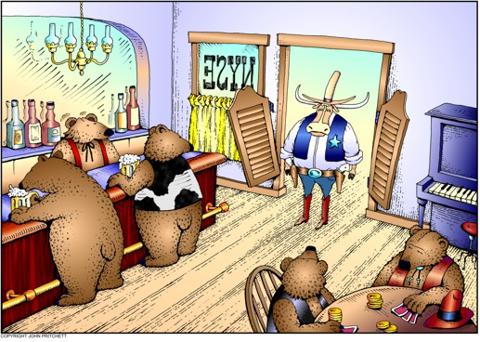 The Employment report was better than expected (163K jobs vs 100K expected but prior revised lower to 64K from 80K). Inside the numbers the unemployment rate rose to 8.3% and it was estimated 195K people dropped from rolls meaning the so-called U-6 rate jumped to 15%. But algos chose to focus on the headline number driving stock prices higher for another end-of-week "stick save" which we've seen before.
Perhaps not so much in the headlines was a unique reevaluation of Draghi's comments from Thursday as noted by Bloomberg whereby it was suggested he was just laying the framework for a bargain. Further another late article from Bloomberg noted some inferred weakening within the German ranks which might be more supportive of Draghi's efforts. And, this article points to a split perhaps from the Bundesbank and politicians-always a potential problem for the bank's autonomy. Meanwhile economic data from the eurozone continued to decline with the PMI descending to 46.5 and the UK PMI (51) the lowest in 2 years.
Also of note was the first repo liquidity injection from the Fed to Primary Dealer's (banks) since December 2008. This was a small amount ($200M) but showed the Fed working in a more subtle fashion to lubricate trading desks.
Stocks were higher across the board and intra-market correlations were running almost at 100% allowing for little in the way of diversification. Everything rallied Friday except natural gas (NYSEARCA:UNG), bonds (NYSEARCA:IEF) and the dollar (NYSEARCA:UUP) and that's the easiest way to sum things up.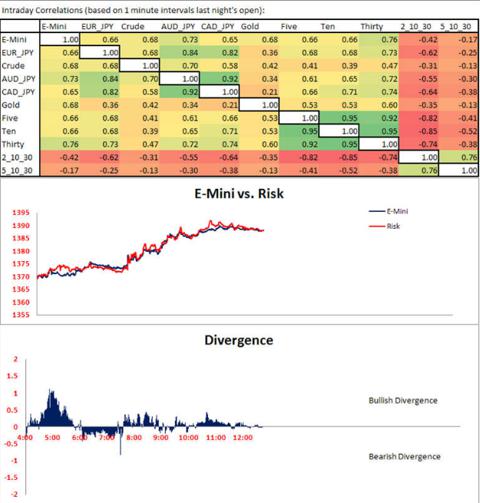 Now you might think from our comments we're bearish but we're 60% long equities in our active portfolio with the balance in cash. Sure, on days like this we'd like greater exposure but you wouldn't have said that the prior 4 days. The bottom line is you can be a skeptic while remaining systematic. Staying with longer term tech analytics (weekly & even monthly) avoids a lot of the daily noise despite emotions. So when markets rally when news overall and fund flows are this terrible that must be bullish or just another bout of short-covering.
We're seeing markets (see SPY chart below) that very much resemble similar periods to 2010 & 2011. Those markets featured significant two-way action which made for poor trend-following conditions for short-term investors. This is now enhanced by the presence of HFTs and algos and a good explanation of how these work which also makes it more appropriate to step away from shorter-term chart views.
Despite Friday's good market action we still face trouble in the eurozone and with global economic contraction not solved by one data point or rumors and spin. Now we add elections and accompanying uncertainty to the mix.
Volume on Friday was light with most of it coming in the last 20 minutes on ETFs squaring up positions. Breadth per the WSJ was positive but seemed short of a 90/10 day.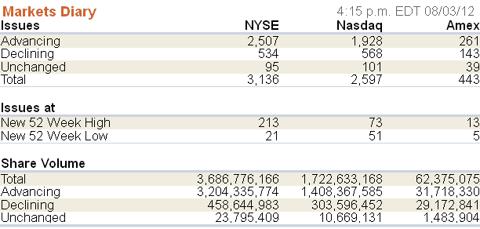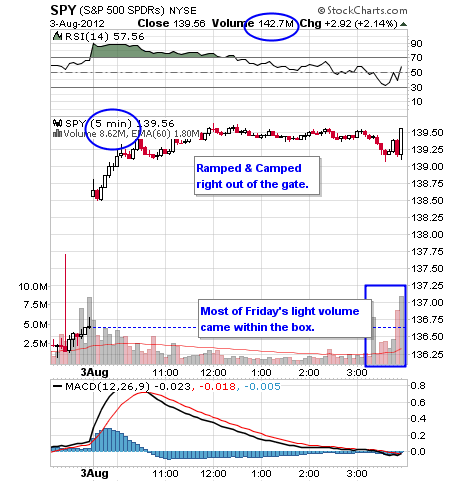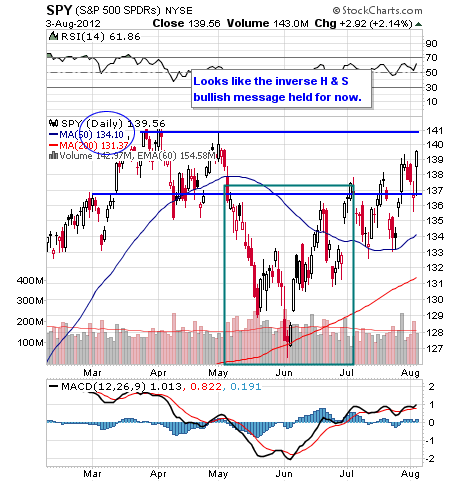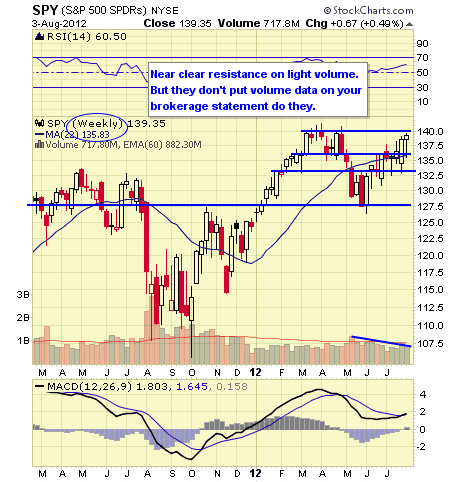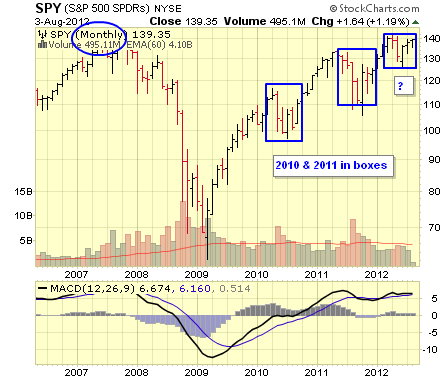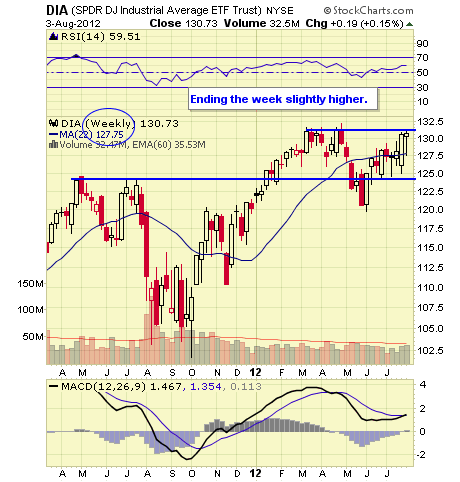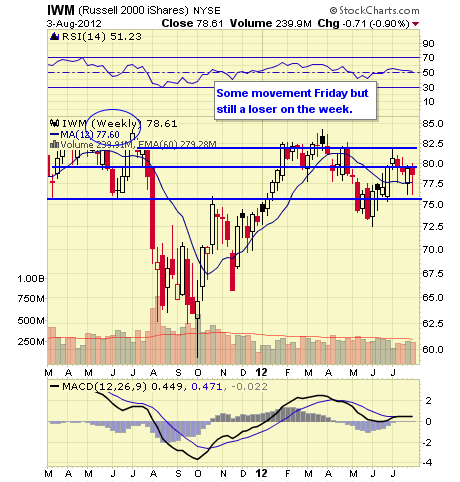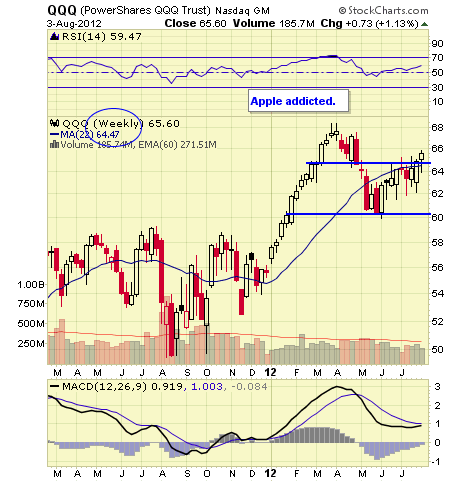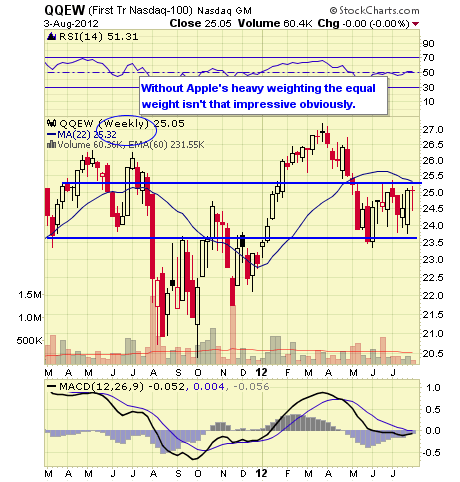 Continue to U.S. Sector, Stocks & Bond ETFs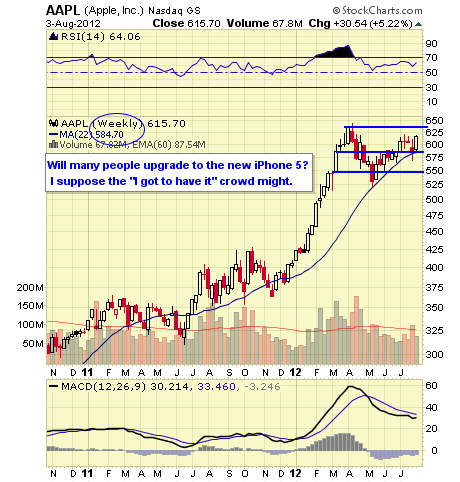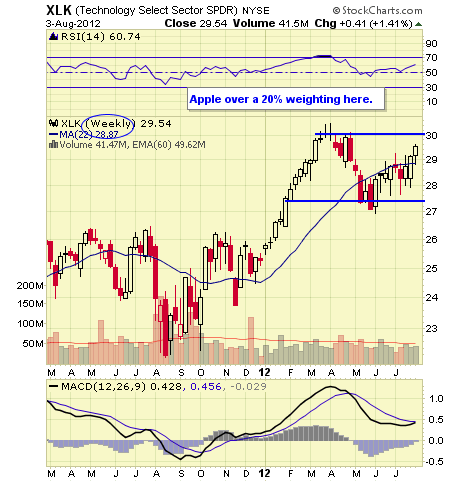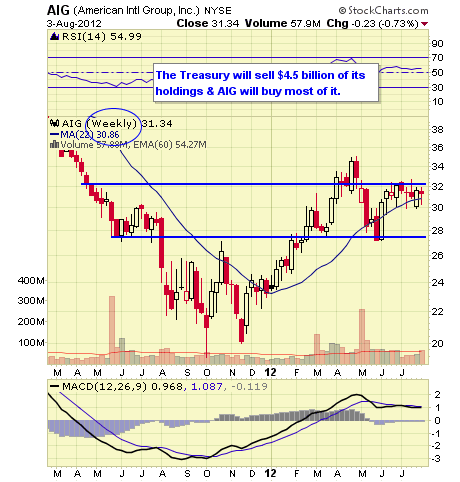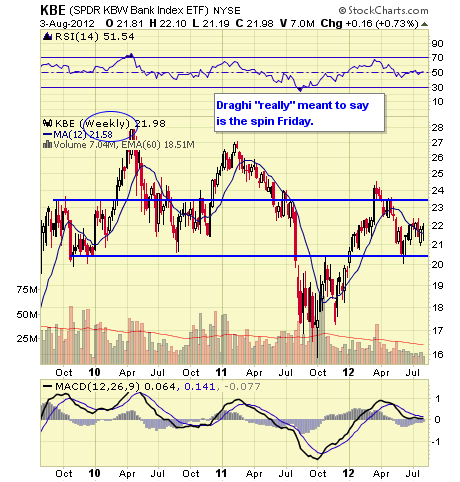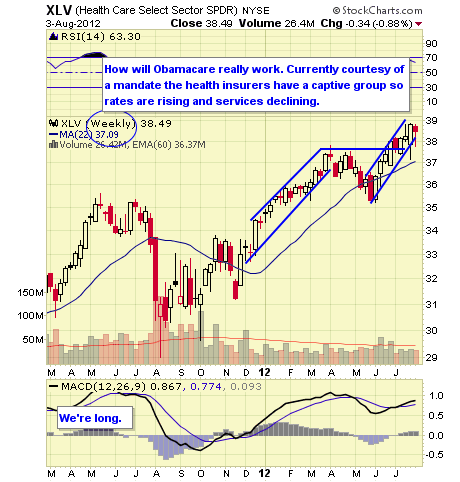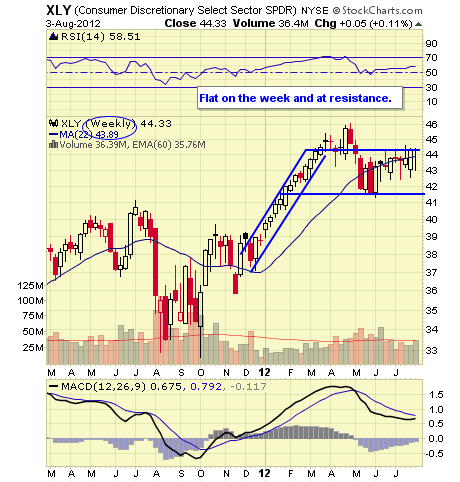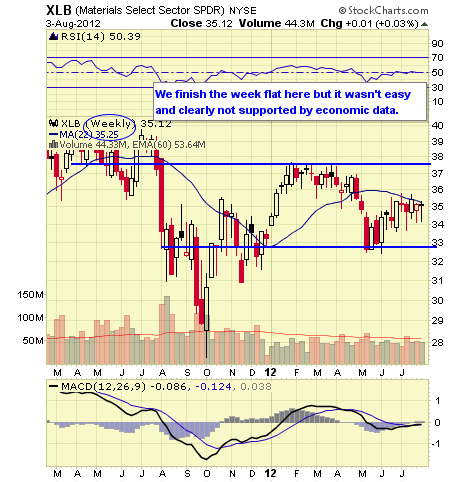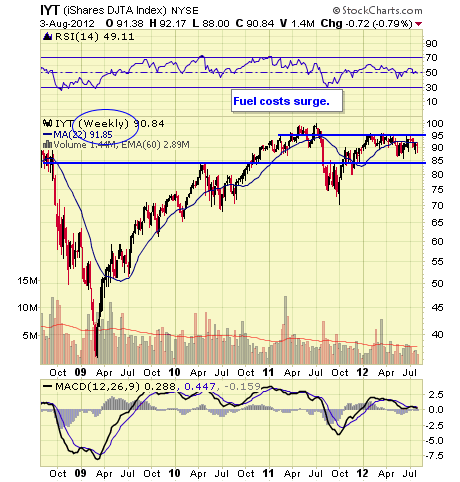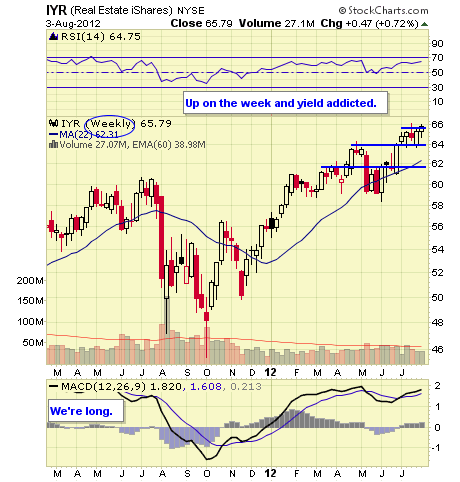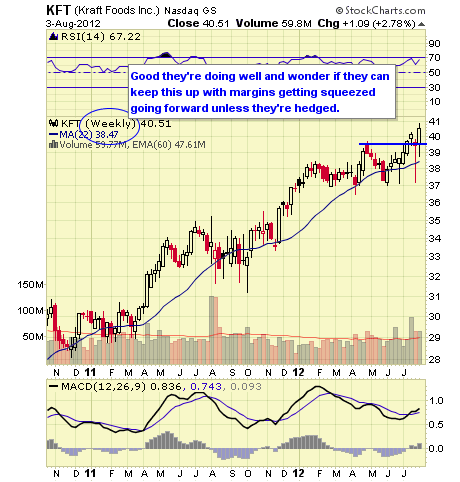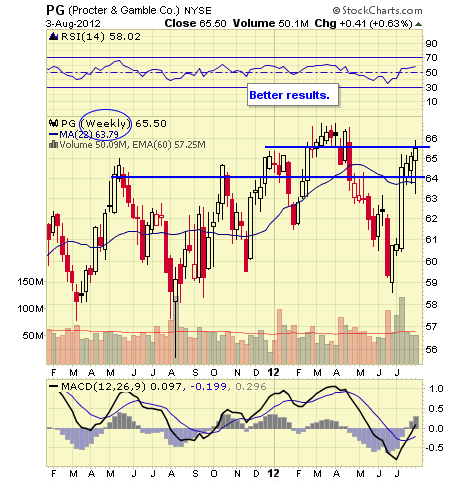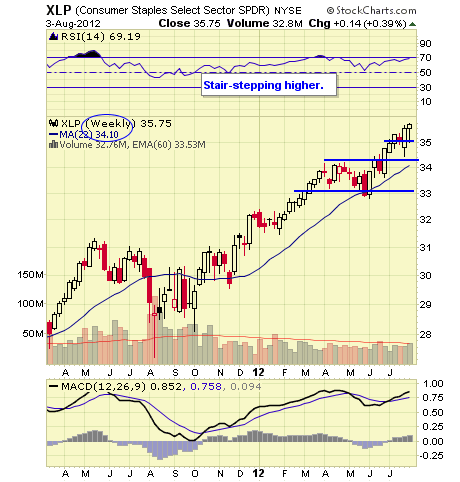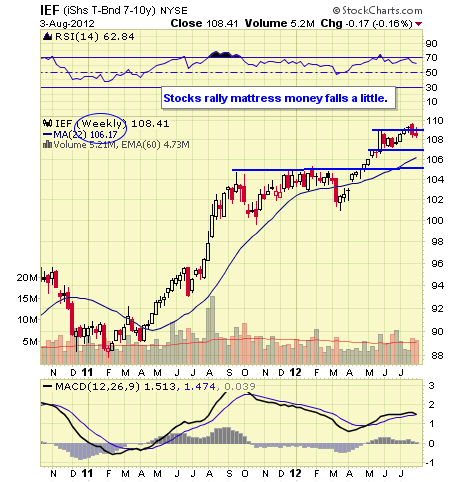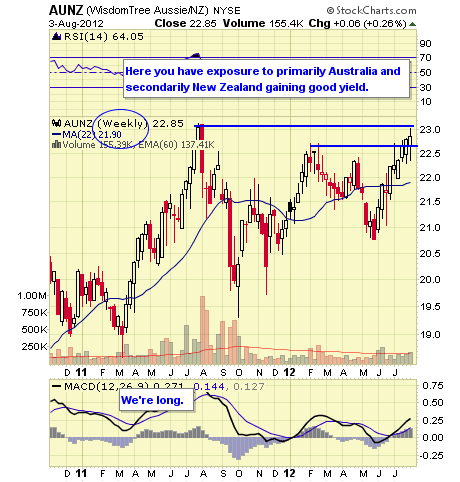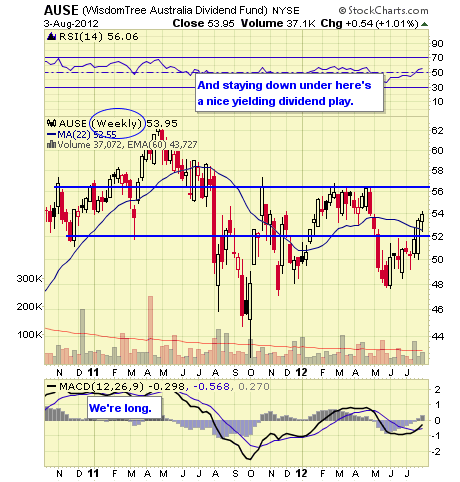 Continue to Currency & Commodity Market ETFs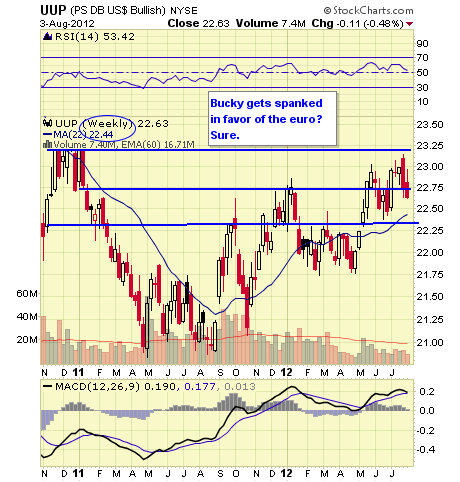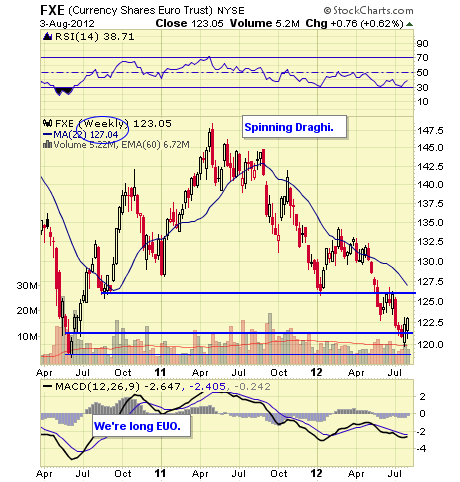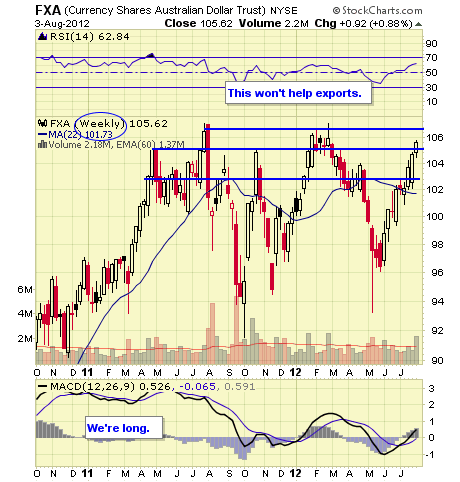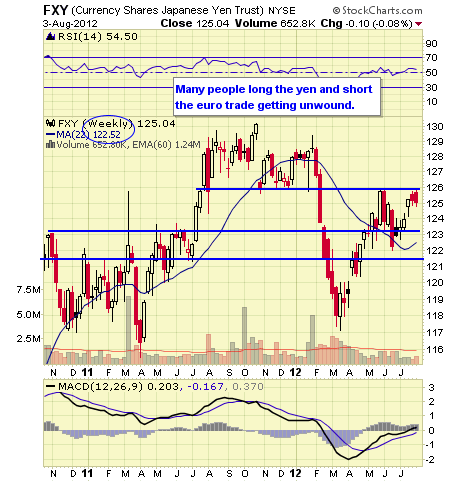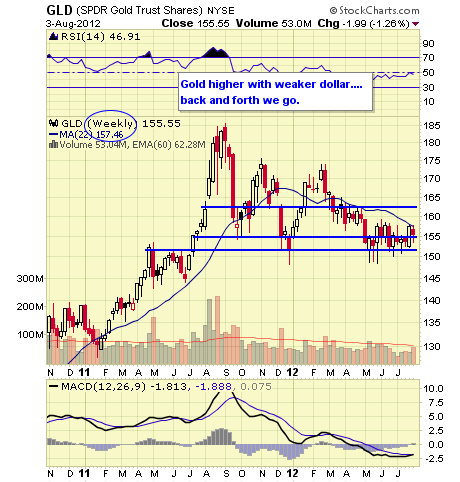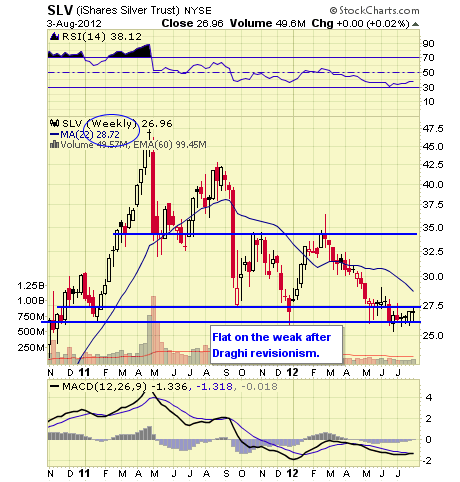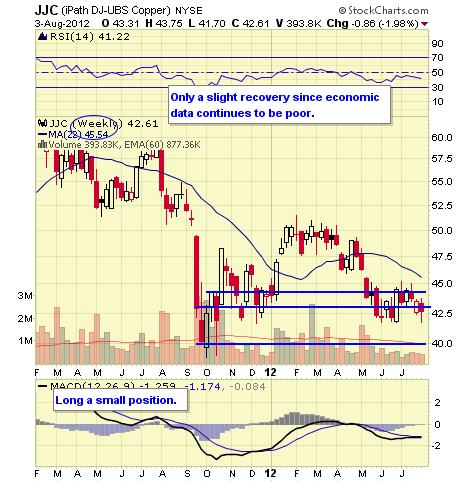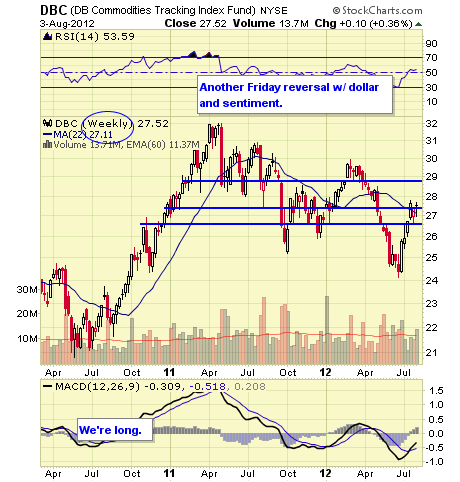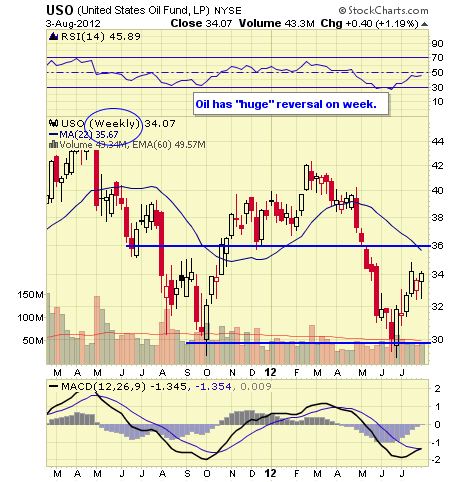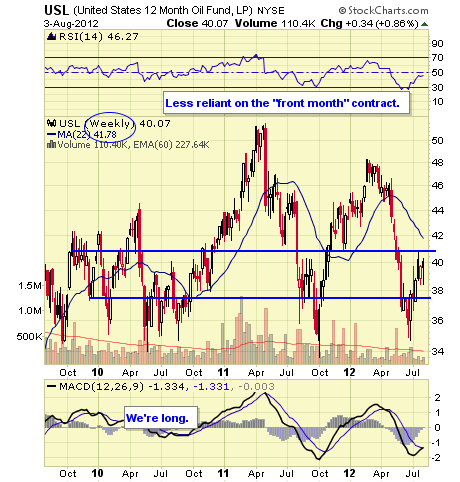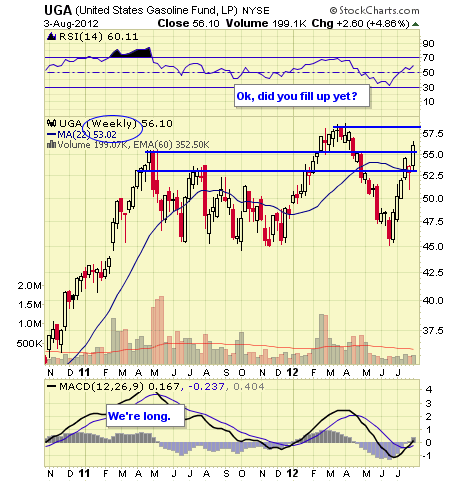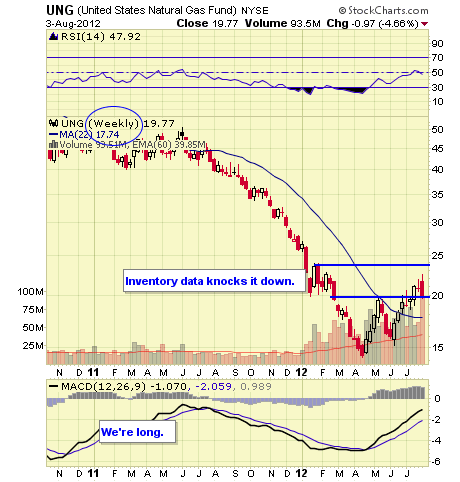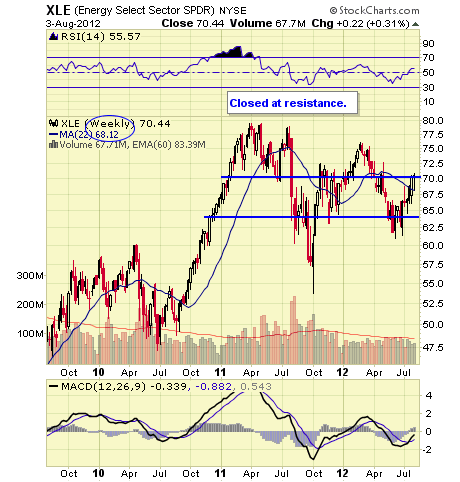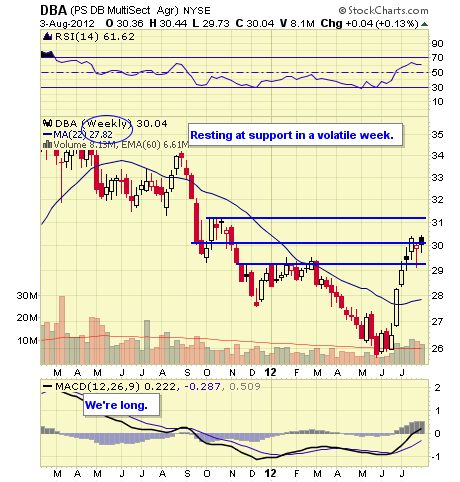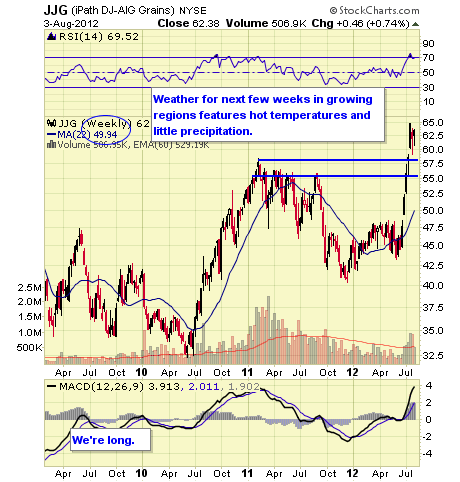 Continue to Overseas Sectors & ETFs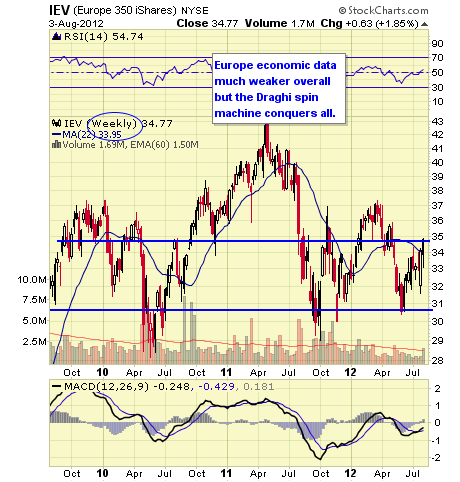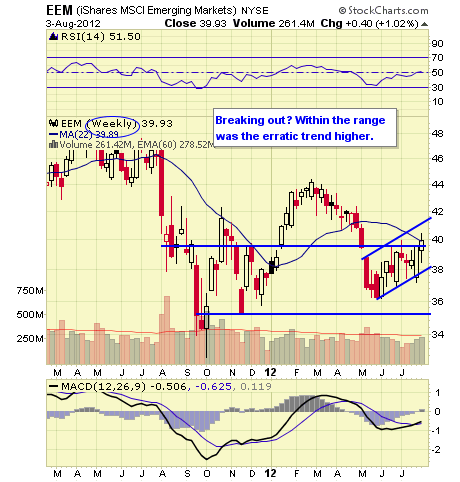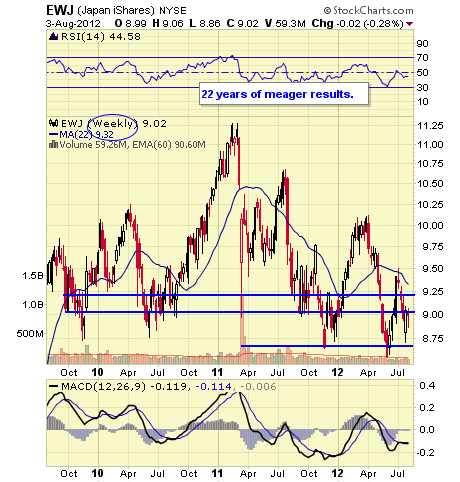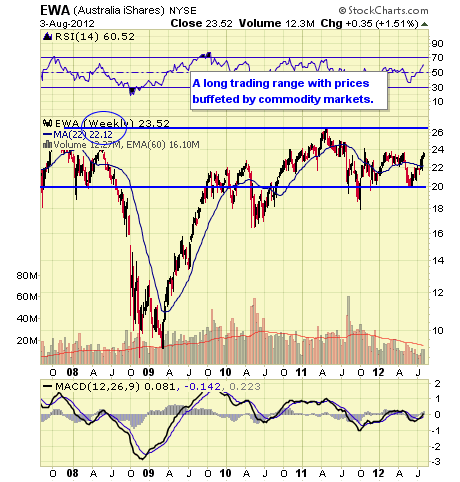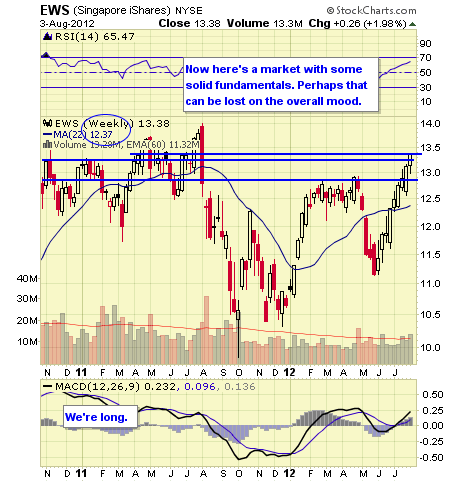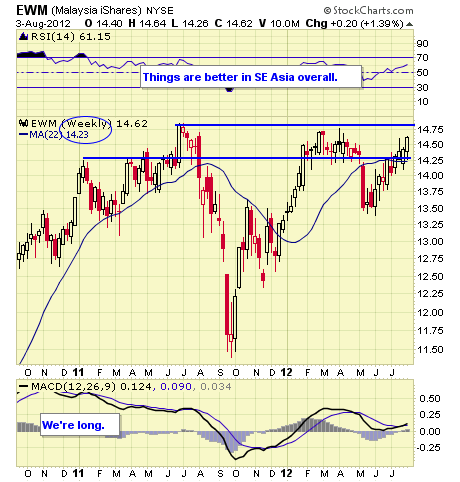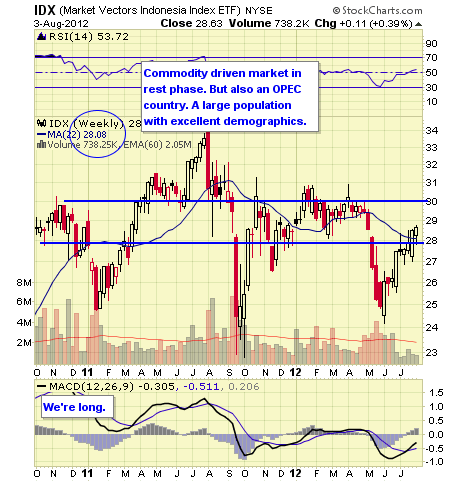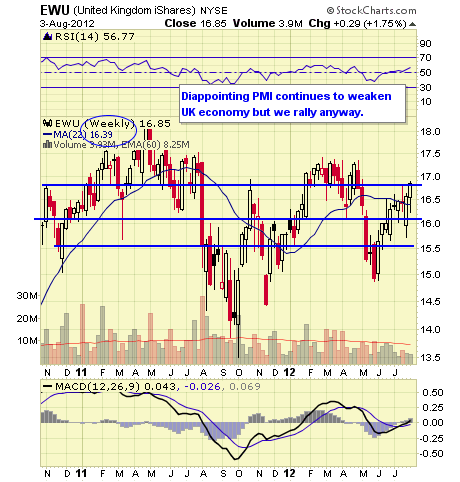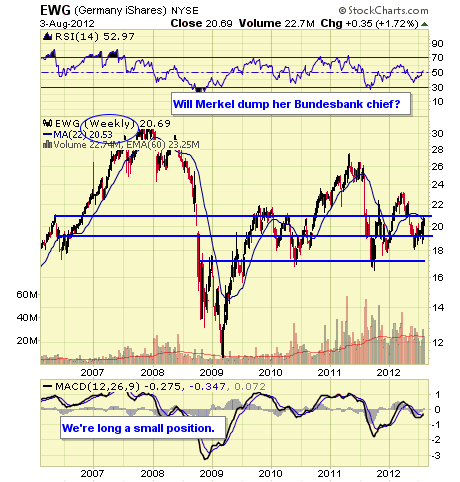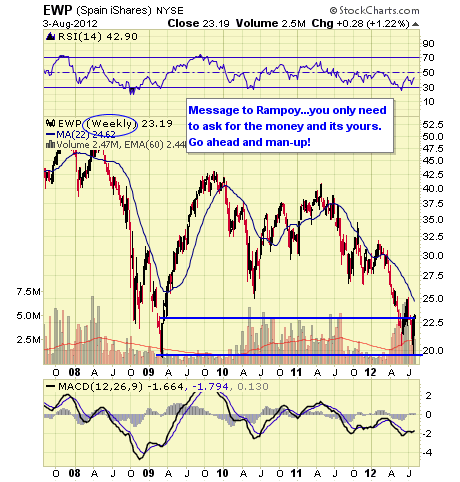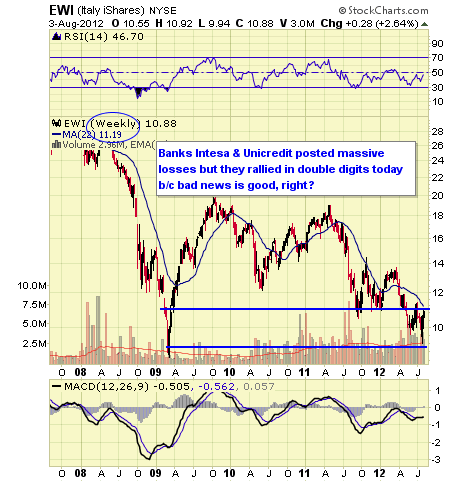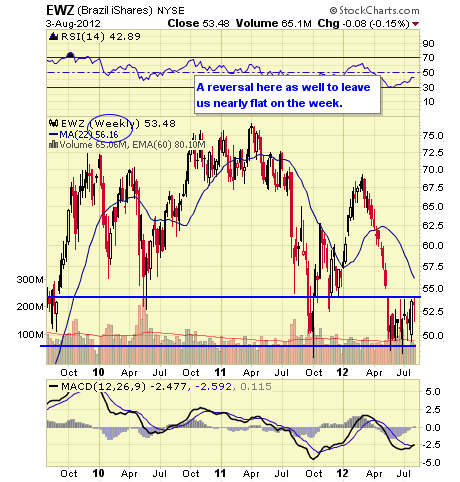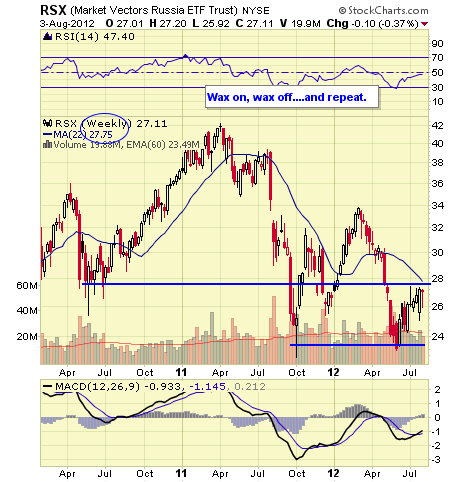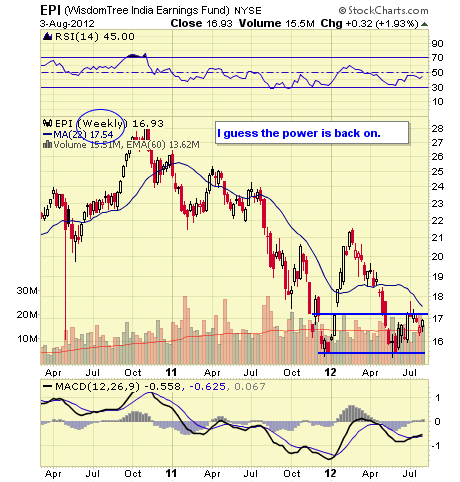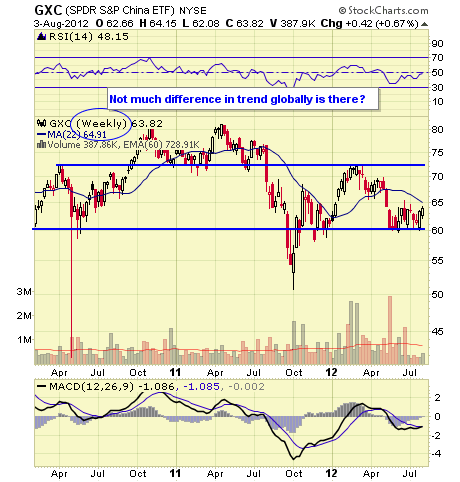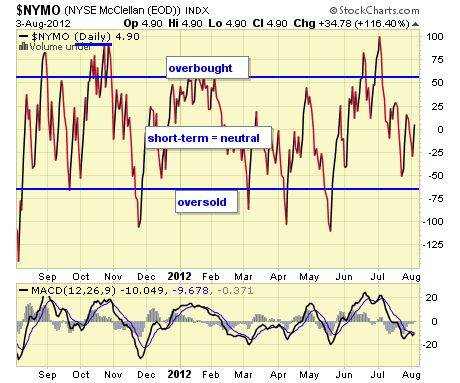 The NYMO is a market breadth indicator that is based on the difference between the number of advancing and declining issues on the NYSE. When readings are +60/-60 markets are extended short-term.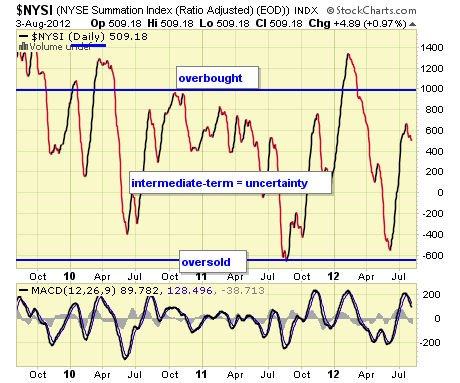 The McClellan Summation Index is a long-term version of the McClellan Oscillator. It is a market breadth indicator, and interpretation is similar to that of the McClellan Oscillator, except that it is more suited to major trends. I believe readings of +1000/-1000 reveal markets as much extended.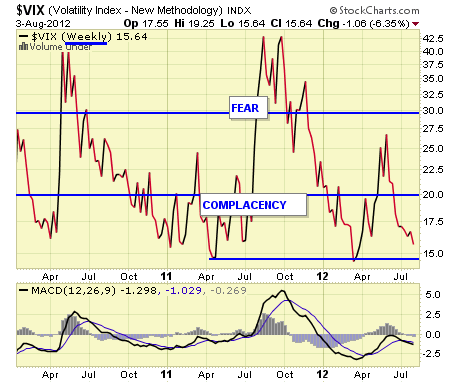 The VIX is a widely used measure of market risk and is often referred to as the "investor fear gauge". Our own interpretation is highlighted in the chart above. The VIX measures the level of put option activity over a 30-day period. Greater buying of put options (protection) causes the index to rise.
Perhaps the lower VIX Thursday on a down day was a hint of what was to come. There are many insiders that know things so let's not be naïve.
Not that it matters but most pundits we saw in the media Friday were struggling to find an excuse for the massive rally and all I've seen is "short covering". But from most sources open short interest are low and it's lower now.
Earnings continue to beat overall (66% or so) while revenues weaken and guidance remains poor overall.
Next week is lighter on economic data while Bernanke makes two speeches on Monday and Tuesday.
I hope you enjoyed your weekend.
Disclaimer: The ETF Digest maintains active ETF trading portfolio and a wide selection of ETFs away from portfolios in an independent listing. Current "trading" positions in active portfolios if any are embedded within charts: Lazy & Hedged Lazy Portfolios maintain the follow positions: VT, MGV, BND, BSV, VGT, VWO, VNO, IAU, DJCI, DJP, VMBS, VIG, ILF, EWA, IEV, EWC, EWJ, EWG, & EWU.
The charts and comments are only the author's view of market activity and aren't recommendations to buy or sell any security. Market sectors and related ETFs are selected based on his opinion as to their importance in providing the viewer a comprehensive summary of market conditions for the featured period. Chart annotations aren't predictive of any future market action rather they only demonstrate the author's opinion as to a range of possibilities going forward. More detailed information, including actionable alerts, are available to subscribers at www.etfdigest.com.
Disclosure: I have no positions in any stocks mentioned, and no plans to initiate any positions within the next 72 hours.