Honda Motor Company (HMC) recently reported promising financials for the first quarter of fiscal year ending 2013. Revenue increased 42% and earnings increased 314% year-over-year. This shows that the company is recovering nicely from the 2011 Japan earthquake that disrupted the business for many months. Toyota Motor Corporation (TM) is also seeing positive results from this recovery situation. Toyota just reported a revenue increase of 59.9% and an increase in net income from $1.1 billion yen to $290.3 billion yen for Q1.
Honda's sales breakdown by group for Q1 is as follows: motorcycle sales increased 21.4%, automobile sales increased 85.4%, and power product sales increased 7.5%. Strength in motorcycle sales were seen primarily in Asia and North America. Automobile sales increased in all regions, while power product sales were strong in Asia, North America, and other regions. With automobile sales comprising 70% of the company's revenue, the quarter was a huge success.
Toyota's automobile revenue increased 67.3% for the quarter. Net revenue for its financial services operations decreased 4%. All of its other businesses increased 27.7%. Toyota's revenue increased over 80% in North America and Japan. Revenue from Europe, Asia, and other regions all had double-digit increases.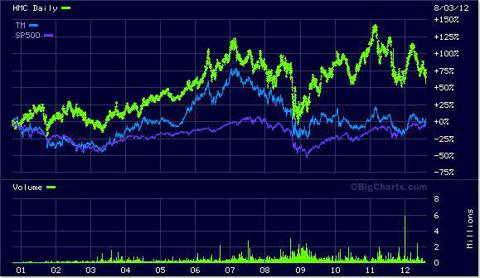 Honda is clearly undervalued with a forward PE ratio of 7.39, a PEG of 0.24, and with the stock trading approximately at its book value per share. The stock has not yet returned to its pre-earthquake strength from the beginning of 2011. This is also slightly better than Toyota's valuation, which has a forward PE of 10.31, a PEG of 0.31. Now looks like a good time to start a position in either company while the motors are revving up again.
Analysts have high expectations for Honda for the next five years. Honda's five-year expected annual earnings growth is 34.5%. If this growth is achieved, the current stock price of $31 can reasonably rise to about $130 in five years for a total gain of 319%. The company's current undervaluation should help accelerate these gains.
Toyota's expectations are also on the high end. The company is expected to grow earnings annually at 43.7% for the next five years. Given the company's low valuation, this growth could potentially allow the current stock price of $81 to grow to $490 in five years.
These high expectations are due to pent-up demand as consumers held on to older model autos during and after the recession. However, these autos eventually need to be replaced.
Consumer Reports 2012 Auto Reliability: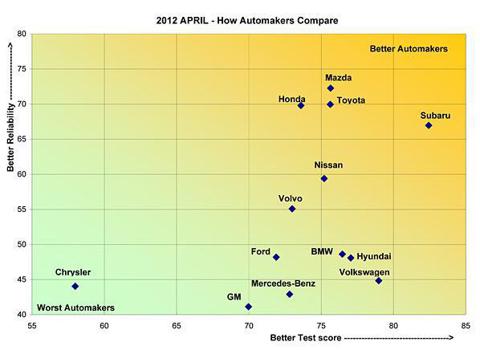 The major strength for Honda and Toyota over the other car companies is their continued consistency of the reliability of their automobiles. These two companies consistently score high for reliability. This allows consumers to get the best bang for the buck. What's good for consumers is good for the businesses of Honda and Toyota in terms of revenue and earnings. This should drive their stocks higher for the long-term.
Disclosure: I have no positions in any stocks mentioned, and no plans to initiate any positions within the next 72 hours.