Let me begin by putting my recommendation in perspective. I don't believe in owning or recommending individual stocks for the long term because I do not know more than anyone else (the market).
I have two ways of investing. First, I buy and hold exchange traded funds or mutual funds. My portfolio is diversified with emerging markets, developed markets, smallcap, midcap and largecap stocks. Second, I use trading strategies that have been tested extensively. The trading strategies include corporate events, seasonalities and momentum trends. Some of the strategies I use are described in my book, Beyond the Random Walk.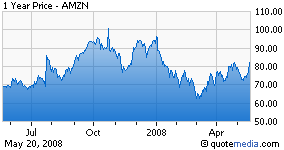 So, it is with great reluctance that I recommend a stock for the long-term. Some caveats: I have been thinking of making this recommendation for many days but did not get around to it until now. Monday morning in pre-market, I bought a few shares of Amazon. But that is not the reason I am recommending it. Over the weekend, I heard Jeff Bezos speak at the Carnegie Mellon's School of Computer Science. My nephew was graduating so I had gone to wish him all the best along with our families.
Jeff is not a great speaker but his speech was excellent. There were two things that struck a chord with me: he talked about setting the standard for customer service that would be emulated by all other companies in the world. Pretty bold! The other thing was what he called bold failures. He challenged everyone to take on bold projects irrespective of whether or not they failed, and to celebrate the ones that failed as bold failures.
His speech fit in well with another speaker, Randy Pausch. Randy has pancreatic cancer and was given 3-6 months to live in August 2007. So he has overstayed his welcome - and is enjoying every moment of it. Randy said that, on your deathbed, what you regret are the things you did not do or did not attempt. You don't even remember the foolish things that you did. So be daring and make all those challenging attempts because it is better to attempt and fail than to regret not having tried. That seems to be the Amazon and Bezos mantra! Bezos has floated another idea of a vertical takeoff and vertical landing space vehicle (see Blue Origin) not only to conquer the world but to go beyond.
And, oh yes, Goldman Sachs came out with a buy recommendation Monday morning. But none of the above is reason to own Amazon. My reasons for owning Amazon are listed below.
Amazon is innovative – recall that it started by losing money on books. However, it quickly expanded into other products. Surprisingly, now it even makes money on books though it sells them at a deep discount. Amazon began by allowing customers to write comments on the products it sells. There was great resistance from the sellers but the customers loved it. Now the practice has become an industry standard.
Amazon also allowed its competitors to sell on its website – how foolish can you be? But it was such a smart move. It started collecting revenue from its competitors by doing nothing. And it made competitors dependent on Amazon, thereby reducing reliance on their own websites. Its affiliate system has been another roaring success because everyone has an incentive to provide links to the Amazon website.
Amazon has created a new market, very lucrative, and one which did not exist prior to the internet. Amazon has a product range that is much broader than that of Wal-Mart (NYSE:WMT) or of multiple Wal-Marts. Amazon's scalability is much easier than that of a Wal-Mart. There is only a short lead time and the not-in-my-backyard syndrome does not exist.
Amazon has bested its competition. Barnes and Noble (NYSE:BKS), Borders (BGP), and Wal-Mart all tried to compete with Amazon in the books business but either gave up (Wal-Mart), teamed up with Amazon (Borders), or remain a relative non-entity in the online space (Barnes and Noble). Same thing with toys and many other products.
Compare Amazon with other internet companies. eBay (NASDAQ:EBAY) is threatened by lack of growth potential as it is finding it difficult to expand. Google (NASDAQ:GOOG), Yahoo (YHOO) and AOL (NYSE:TWX) continue to compete aggressively in online advertising though by all counts Google is winning. However, Google's dominance can be easily threatened, just like Google unseated Yahoo! On the other hand, Amazon has no close competitor, yet. And there are high barriers to entry.
Amazon is a great company but what about its stock price? Amazon's price-earnings ratio based on next year's earnings is 38, and a rich 54 based on this year's earnings. However, I anticipate Amazon's earnings to grow at a rate of 25% or more for the foreseeable future. Its total market value is about $34 billion, much greater than Barnes and Noble at $2 billion but less than other internet giants like Yahoo!, eBay, and of course Google. It has plenty of room to grow.
Amazon Kindle is the last straw: another successful innovation that should allow Amazon to grow through manufacturing as well.
Disclosure: Long AMZN