A well-managed REIT should not be entirely at the mercy of the creditworthiness of its tenants. Even in difficult environments, it should be able to take back space vacated by a financially troubled tenant and release it at rates comparable to or better than before.
Retailers have a habit of closing stores and even going out of business. However, except during those unusual times when market rents have declined precipitously, high-quality retail REITs have generally been able to protect their cash flows from the effects of store closings even in difficult environments. Regardless of retenanting skills, a REIT's ability to attract a roster of high-quality tenants is very important, particularly in retail sectors such as malls and neighborhood shopping centers. In a shopping center, having productive tenants means higher traffic, which means higher sales - for all of the stores there.
For the owner of the shopping center, such retail prosperity means that the tenants will be able to pay the rent bumps built into their leases, as well as provide additional rent to the property owner when sales overage provisions are contained in the leases. It also justifies higher rental rates when it's time to renew them and the bottom line is that highly productive centers mean higher operating profits and higher asset values for their owners. A blue-chip REIT will figure out ways to boost traffic at its centers where more traffic means more sales, and more sales means less tenant turnover and higher lease revenues.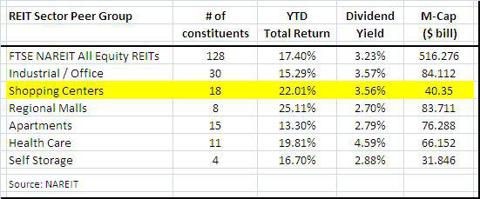 Regency Centers - A Blue Chip REIT
Last week Regency Centers (NYSE:REG) announced its second quarter results and the "blue chip" REIT continues to dominate the shopping center category with strong traffic performance. The Jacksonville-based company reported increased operating profits including core funds from operations (FFO) for the second quarter of $62.5 million ($0.69 per diluted share), compared to $50.5 million ($0.56 per diluted share) for the same period in 2011. For the six months ended June 30, 2012 core FFO was $118.7 million ($1.32 per diluted share), compared to $101.4 million ($1.15 per diluted share), for the same period last year.
With 364 shopping centers and approximately 50 million square feet, Regency continues to grow its diversified highly productive grocery anchored centers by maximizing traffic and tenant sales. As reported, Regency has grown its occupancy (percent leased) for its same properties to 94 percent.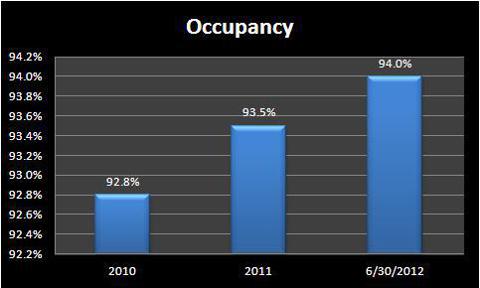 In addition, Regency has increased its occupancies over 20,000 square feet to an exceptional level of 99.4 percent.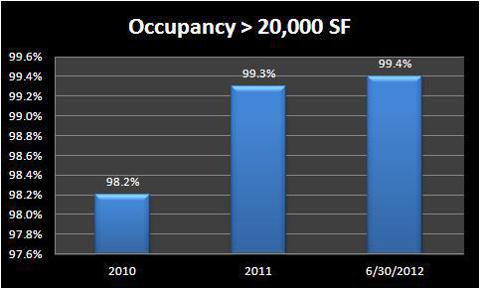 Leasing volumes remain robust as Regency continues to strengthen its smaller shop spaces, and move-outs are trending to pre-recession levels. In the latest quarter Regency increased its smaller shop occupancies from 86 percent to 86.8 percent, which represents a year over year increase of 280 basis points.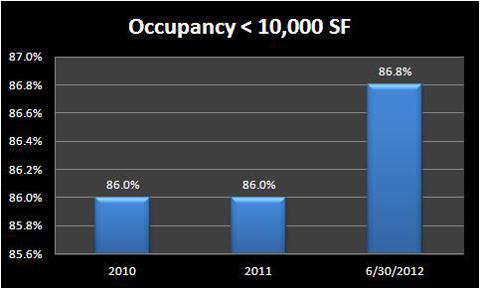 Regency Centers: A Well-Balanced Platform
Regency's strategy of investing in grocery-anchored shopping centers located in desirable trade areas with attractive demographics has been an important ingredient for the company's success. Starting from its founding (in 1963) by Joan and Martin Stein, the preeminent grocery anchored shopping center owner has built its necessity branded platform around sustaining risk controls.
Today the $4.4 billion (market cap) company is led by Hap Stein, the company's Chairman and CEO. Stein, along with other veteran executives, have orchestrated a sustainable platform that is differentiated by its focus on highly productive grocers. This sharply differentiated model includes many of the "best in class" grocery chains such as Publix (OTC:PUSH), Whole Foods (NASDAQ:WFM), and Kroger (NYSE:KR). The power of Regency's repeatable income model lies in the way the REIT has diversified its portfolio of highly productive grocers - averaging annual sales of $26.1 million, or $515 per square foot, and nearly 20,000 shopping visits each week.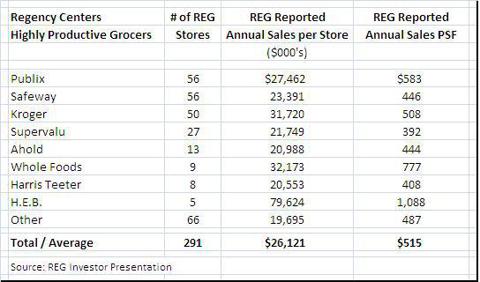 Regency's skilled and sophisticated leadership team has managed to control portfolio risk by targeting the top metropolitan areas in the country. Accordingly, this strategy provides significant purchasing power and it enables consistency in profits. Here is a snapshot of Regency's national portfolio (and demographics) with average household income of over $100,000 - 35 percent higher than the national average.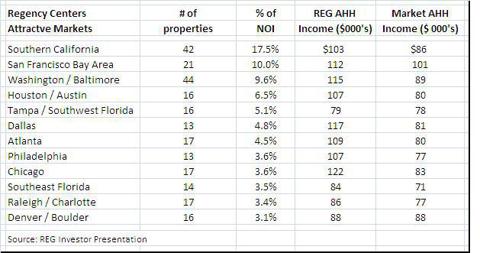 In addition to controlling portfolio risk by investing in attractive target markets, Regency is also managing risk by diversifying its fleet of high-quality assets. Here is a snapshot of Regency's geographic exposure: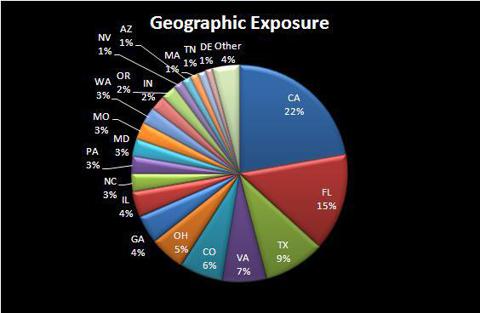 Regency Centers: Recognizing Risk and Acting on It
Great investing requires both generating returns and controlling risk. During the latest quarter Regency demonstrated its ability to recognize risk (an absolute prerequisite for controlling it) by disposing (on July 25) of a 15-property portfolio to an affiliate of Blackstone Real Estate Partners. The 2.1 million square foot portfolio sold for around $321 million at a weighted average cap rate of 8.1 percent. The centers were around 90.3 percent and Regency believes it can "recycle" the capital into buying shopping centers that are better aligned with its focused investment strategy.
Since the closing with Blackstone, Regency announced that it has also increased guidance for percent leased, which is now 93.5 percent to 94.5 percent. Conversely, Regency is concurrently making substantial progress on growing occupancy and executing its clearly articulated capital recycling strategy; the dominant grocery anchored shopping center REIT has also further strengthened its balance sheet.
During the first quarter Regency also closed on around $29 million of properties ($36 million YTD) and the company's strategic recycling initiatives were explained by Hap Stein, Chairman and CEO, on the earnings call last week:
Together with acquisitions to date and those in our pipeline, we will have meaningfully increase the allocation of capital to dominant centers with good prospects in core markets while lowering our exposure to non-strategic assets and markets, and reducing debt. We think caution with the balance sheet to lower leverage makes sense given the uncertainty that we are all experiencing and seeing in today's world.
Regency's exposure to Supervalu (NYSE:SVU) is around 2.2 percent (source: company) and the REIT's limited concentration to the weak grocery chain was explained by Brian Smith, President (of Regency Centers), on the company's earnings call last week:
With respect to the Supervalu exposure in our portfolio, we believe that significant majority of their stores are in high quality properties, where we anticipate readily finding good replacements. And in most cases, we would expect the rent spreads to be positive since our current Supervalu leases are on average more than 20 years old.
Regency Centers: A Differentiated Brand Built on Its Hardy Development Platform
As announced during Regency's second quarter results, the company has 11 development projects underway with an estimated cost of $282.3 million. Since 2009, Regency has started around $300 million of development projects that are currently more than 90 percent leased with projected average returns of around 9.3 percent (on an incremental basis). Regency's value proposition relative to development can be summed up by Brian Smith during the company's earnings call last week:
I would like to take a moment to reiterate our development strategy. Development is a core competency and a competitive advantage sets us apart in a way to create value for our shareholders. Our right-sized and more disciplined strategy is focused on creating dominant shopping centers intended to be held long term and located in target markets with instilled characteristics. The performance is more than $300 million of development, redevelopment, and expansion starts in the last few years underscores the success of the strategy. Developments and value add redevelopments started since 2009 are currently over 90 percent leased and committed and have generated an average return on invested capital of 9.3 percent and that's with three quarters of these projects still under construction.

As you know these returns from high-quality centers would be impossible to replicate through acquisitions. Further the properties that were in process at the end of 2011 have gone from 58 percent to 85 percent leased in the first two quarters of this year. That's a lot of leasing in the short period of time, and reflective of the quality of developments.
Regency Centers: Reliable Access to Capital
Regency Centers has a strong balance sheet consisting of modest debt maturities and neatly $700 million of capacity from its bank line of credit and term loan. The company has investment grade credit ratings issued by Fitch (BBB), Moody's (Baaa2), and S&P (BBB). Regency's debt metrics are improving as the company's debt to market cap ratio is now around 30.9 percent and the company's debt to assets are 45.3 percent (as of June 30, 2012).

Regency Centers: An Industry Leader and Top Peer Performer
Regency went public in 1993 (19 years ago) and the dominating grocery anchored REIT has built its differentiated risk control strategies on acquiring and developing high quality grocery anchored shopping centers. This sharply differentiated strategy has allowed Regency to maintain and sustain strong sources of income and predictability.
Regency's peer shopping center REITs include Kimco Realty (NYSE:KIM), Weingarten Realty Investors (NYSE:WRI), Equity One (NYSE:EQY), Excel Trust (NYSE:EXL), Retail Opportunity Investment Corporation (NASDAQ:ROIC), Kite Realty Group Trust (NYSE:KRG), and Federal Realty (NYSE:FRT). Here is a snapshot of the shopping center REITs: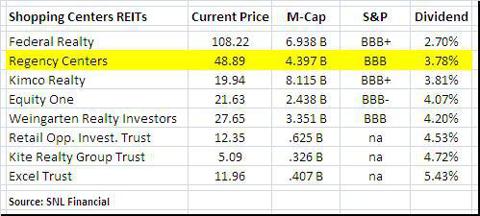 Regency's current dividend yield is 3.78 percent and the company's annualized total return is 22.64 percent (vs. 21.25 percent for the SNL US Equity REIT Index). In addition to the common stock issue, Regency has several other preferred share issues and my fellow Seeking Alpha writer Michael Terry has provided these options in part 2 of this article here.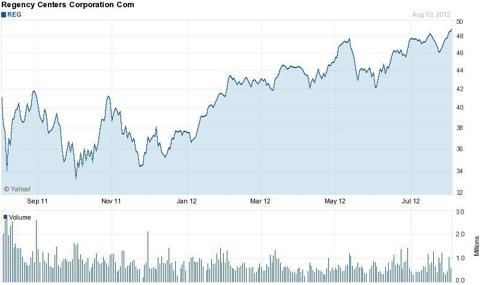 Disclosure: I have no positions in any stocks mentioned, and no plans to initiate any positions within the next 72 hours.