Seagate Technology (NASDAQ:STX) has appreciated more than 32% to $30.94 since I first recommended the stock on June 22 2012, when it closed at $23.34.
Click to enlarge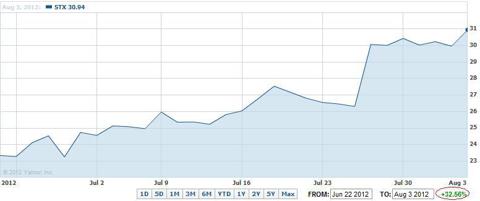 Investors who got in at the right time may be wondering about what to make of the company's earnings call and specifically the events that followed the call. Let us re-evaluate Seagate.
Earnings Contrast
On July 30 2012, Seagate announced its Q4 2012 earnings, and the stock recovered from an almost 8% intraday decline to close only about 1.3% below its previous close.
Seagate's earnings were in complete contrast with Western Digital's (NYSE:WDC) earnings call. Western Digital provided a better EPS guidance for the next quarter, while Seagate reported revenue and profit that missed expectations and worse, offered a lower-than-expected outlook for its next quarter, expecting revenues to decline about 10%. Seagate also issued a warning about near-term PC demand.
Red Flags
Seagate's story is mostly all about the hard disk drive market. On the positive side, Seagate will enjoy higher HDD pricing for the next few quarters. According to a recent IHS iSupply's Memory & Storage Market Brief report, the average selling prices or ASPs will continue to remain high, possibly until 2014, as the industry recovers from the Thailand floods.
But there are some major red flags. Seagate reported that the demand for PCs and specifically hard disk drive is softening. According to Seagate, the industry is recovering overall faster than expected, which also means more competition than expected for Seagate, translating to market share pressures.
Conclusion and Next Steps
Seagate has expressed optimism for the 2012 year-end and has signaled stock buybacks as well. In such situations, it is tough for investors to let go of the stock. Nevertheless, after perusing the company's earnings call transcript, I am a bit disconcerted by its demand outlook.
Thanks to Mario Draghi's comments about saving the euro at any cost, the market volatility related to the eurozone mess has subsided a bit. Additionally, the market had some reason to cheer, with the ISM data coming out neutral-to-positive, the construction data showing increased activity, and most importantly, jobs data pleasantly surprising all by an increase in non-farm payrolls. All these factors could possibly extend the mini-rally we saw on Friday, unless some other economic indicators show opposite trends or bad news suddenly pops out of Europe or China.
I think it is time to start shedding shares of Seagate and book profits, and once again wait for a broader market pullback to re-enter. It is very possible that Seagate could climb to the $32-$35 range if this positivity continues for a couple of weeks, but the 8% drop on its earnings day raises a red flag about what is coming when the market volatility spikes. The risk-reward at this price is not too appealing to hold onto and one should start booking some profits.
Disclosure: I have no positions in any stocks mentioned, and no plans to initiate any positions within the next 72 hours.