If we were to be asked what is the most interesting stock that we own, or the one that we cover the most here on Seeking Alpha, the answer to both would be Clearwire (CLWR). The company is perhaps the most misunderstood out of all the companies in our portfolio, and perhaps the one that offers the most upside potential in the long run. In our view, Clearwire's best days are ahead of it, and with the company having reported its Q2 2012 results on July 26, we felt it would be appropriate to provide a review of those earnings. For the record, unless otherwise noted, our data regarding Clearwire will be taken from the company's Q2 conference call, or its posted.
The Headline Numbers: A Miss, But Investors Have to Dig Deeper
On the surface, Clearwire's Q2 2012 earnings were poor. The company posted a loss of 33 cents per share on revenues of $316.932 million, both of which missed Wall Street's estimates by 2 cents on earnings and by $4 million on revenue. Clearwire also reported that it lost 42,000 subscribers (8,000 on the retail side and 34,000 on the wholesale side). But, with Clearwire, nothing is ever simple and investors have to look beyond the headline numbers to understand what is going on.
Clearwire may have missed estimates for Q2, but it raised its guidance for the remainder of 2012, for both EBITDA and revenues. Clearwire is now posted 2012 revenues of $1.2-$1.3 billion, and an EBITDA loss of $175-$225 million. The company boosted revenue estimates by $50 million, and EBITDA estimates by $100 million at the midpoint of guidance. Clearwire's losses are narrowing, which is a good sign of improving financial health. Clearwire's liquidity position remained strong, posted in cash and investments. More importantly, the company's cash burn continued to narrow. Clearwire had positive operating cash flow of $59.837 million from continuing operations in Q1 2012, which means that the company had posted in operating cash burn from continuing operations for Q2 2012 (Clearwire reported its cash flows in aggregate for the first 6 months of 2012).
The company's cash position, according to Clearwire, should be sufficient to fund itself for the next 12 months, which has helped the stock rally after its earnings release, for many investors had begun anticipating that "going concern" language would be used in the company's 10-Q filing. CFO Hope Cochran stated on the company's conference call that Clearwire expects to end the year in a stronger liquidity position than previously expected, despite an increase in capital expenditures related to the company's LTE network.
In addition, CFO Cochran stated that the company is halting all sales from its controlled equity offering. She said that the company's intention all along has been to sell stock only if it would not have a material impact on the price. And given what has happened to the stock, it is impractical to sell stock at these levels. In our view, it is possible that stock sales may resume, but only when the stock has recovered even more than it has as of this writing (since bottoming on July 25, Clearwire has rallied over 41%).
Addressing Rumors and Speculation
The second quarter of 2012 was a turbulent one for Clearwire. The stock plunged steadily as investors grew more and more worried about the company's market position. There were many spectrum deals that took place in the quarter, and Clearwire was absent from all of them. But that was not a new fact. Clearwire has long maintained that it will not sell spectrum unless it is the right thing to do.
However, in this market environment, that is not enough. Uncertainty is the enemy in this market, and in Q2 2012, Clearwire had plenty of uncertainty. Though there was no material negative news about the company this quarter, investors sold the stock anyways. Tensions were running high into the earnings conference call, for the stock had slid to a new low ahead of the company's earnings.
CEO Erik Prusch took some time on the call to address the recent turmoil. In essence, investors are worrying that recent spectrum deals will decrease the demand for Clearwire's spectrum. He opened the call by stating that,
Before I update you on our progress in the second quarter, I'd like to take a moment to provide some perspective on recent events. During the second quarter, we continued to see notable spectrum activity on the part of several carriers in various forms, including swaps, regional or individual market tuck-in acquisitions and efforts to make impaired spectrum more usable. While these actions may prove marginally helpful in alleviating some of the growing demand on carriers' networks, we do not believe any of these transactions provide a comprehensive solution to their capacity needs, especially in high usage, dense urban markets. In contrast, Clearwire's deep portfolio of 160 megahertz of spectrum on average in the top 100 U.S. markets is ideally suited to help operators capitalize on this growing demand. Not only is our 2.5 gigahertz frequency highly conducive to transmitting massive amounts of data, but our large swaps of continuous spectrum also enable us to push the limits of LTE technology with fat 20-megahertz pipes or even fatter 40-megahertz pipes with carrier aggregation.
The mini-deals seen in the second-quarter will not alleviate the spectrum pressures that every American carrier is seeing. And given the continued shift to data usage, especially in urban markets, Clearwire is well-positioned to meet this increase in demand in a way that no other wireless company can. IDC agrees, stating,
Clearwire is able to operate on a single bandwidth in approximately 160Mhz of spectrum on average in top 100 markets where capacity constraints are most likely to emerge [for other carriers]. As a result, Clearwire has the capability to offer greater capacity and better network performance by virtue of a significantly fatter pipe. With several Tier One operators already seeing a point in the not too distant future at which their existing LTE capacity is fully loaded, wholesale partnerships provide the ability to augment capacity in the most constrained markets.
Clearwire has what it takes to meet the needs of carriers, and in the next 12 months, we will see that fact play out.
CEO Erik Prusch also took time to address the issue of "strategic transactions." Many investors have been anxious to hear about deals that are more significant than just a wholesale deal. Prusch acknowledged this fact, but also said that it is best to remain discreet on such matters until there is something to announce. He stated on the call that,
as we have mentioned in the past, we have been and remain in active discussions with various parties who are interested in leveraging our assets to address the growing demand for broadband data in various ways, including, but not limited to spectrum acquisition. While we understand investors are anxious for additional details chronicling our progress, we believe it is in the best interest of the company and its shareholders to remain discreet on such matters. And while we have a sense of urgency in arriving at a strategic solution, we also believe our strong cash position provides us runway to be patient enough to strike not just any deal, but the right deal or set of deals for the company and its shareholders.
When asked for clarification by BTIG, CEO Prusch reiterated that a strategic transaction is more than just a wholesale deal, which Clearwire views as a normal course of business. Much of the call focused on overall events that took place in the spectrum market in the past few months, rather than Clearwire's own results. It seems that not even analysts care about the numbers this quarter. Instead, they, like many investors, want to see how Clearwire is responding to perceived turmoil in the markets.
The Spectrum Market: Clearwire's Strong Position Has Not Changed
Analysts were eager to hear what management had to say about the spectrum market. And few analysts were more eager than those at Credit Suisse, which historically has been the most frank on Clearwire's conference call. The firm immediately jumped into the speculation game, asking Clearwire if there was anything in its shareholder agreement that prevents the company from selling stock and/or spectrum to DBS (direct broadcast satellite) provider. The firm was referencing a July 20 filing by DirecTV (DTV) with the FCC that proposed that the FCC require the cable companies in the pending SpectrumCo. deal with Verizon be forced to sell their stakes in Clearwire in order to gain clearance.
Speculation immediately began swirling as to what that means, and whether or not DirecTV is positioning itself to make a bid for Clearwire. CEO Erik Prusch stated that not much changes for the company from a strategic standpoint if the cable companies did indeed divest all of their Clearwire stock. In addition, he also said that the company's shareholder agreement does not prevent the company from selling spectrum to a DBS provider, but that he cannot speak for DirecTV or why they made this request with the FCC. Clearwire's shareholder agreement, signed with Sprint (S) and other early investors, allows the company to sell spectrum if it is deemed to be "excess" spectrum. And Clearwire has flexibility in defining the meaning of "excess."
Analysts also quizzed the company on DISH's (DISH) presence in the market. DISH holds its own wireless spectrum, but has been coy as to what its plans are. DISH reports earnings on August 8 and we will be listening to the call closely to hear what the company has to say about its spectrum plans. The company is waiting for a decision by the FCC as to what it can do with its spectrum. The FCC has already denied a request by DISH to receiver a waiver so that it can use 40 MHz of spectrum to build a wireless network immediately.
CEO Prusch was asked if he is seeing or hearing that DISH's spectrum is being seen as an alternative to Clearwire's. He responded that he doesn't see DISH's spectrum holdings as being much of a threat. In his view, there is simply not enough supply outside of Clearwire to meet the demand that will materialize over the next 3-5 years. And Clearwire has more supply than any other company in the United States.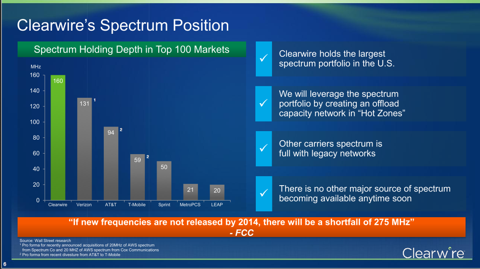 Clearwire has consistently shown that it is the only company that can meet the spectrum needs of carriers. The company's unmatched spectrum position allows it to help many carriers, and in the next year, we will see this play out more and more. There will be an acceleration of spectrum deals, and the pending release of the iPhone 5 will certainly help move things along. The pace of deals will pick up through the remainder of 2012. There has already been another spectrum deal struck since the company announced its Q2 results. AT&T (T) is spending $600 million to acquire NextWave (OTC:WAVE) and its WCS (wireless communication services) spectrum, as well as some AWS spectrum.
LTE Network Updates
Q2 2012 was a transitional quarter in terms of Clearwire's LTE network buildout. Notably, the company only posted charges of $317,000 for abandoning its WiMax network. In Q1 2012, those charges were over $80 million. Clearwire has said that it will be increasing capital expenditures in the second half of 2012 to begin constructing its LTE network. The company will begin buying equipment for the network in the current quarter, with much of the cost financed through equipment financing (due to a focus on preserving cash). The company will announce its vendor partners sometime in October CFO Cochran stated that the final cost will be around $600 million for the LTE network, spread through 2012 and 2013.
While she declined to formally Clearwire's outlook for capital expenditures this year, she made it clear that spending will rise. Clearwire is already working with Sprint to test its LTE network and how it interacts with Sprint's own network, to ensure that the hand-off between the 2 networks is seamless. Clearwire has also said that it will be receiving future LTE payments from Sprint, and that it is factoring that into its liquidity projections. The company is well-positioned to meets its June 2013 deadline to complete Phase I of its LTE network buildout. Clearwire has notices to proceed for 1,800 cell sites, and is working quickly to get them on-air by the deadline included in its most recent deal with Sprint.
Clearwire is also working to develop its LTE ecosystem, and has struck deals with both Qualcomm (QCOM) and Sequans (SQNS) to make chips that are compatible with the company's LTE network. Clearwire is also working with China Mobile (CHL) to advance their agreement to collaborate on TDD-LTE roaming between the United States and China, on both the technical and financial fronts. We expect more color regarding that partnership when Clearwire reports Q3 results in October.
A Word on Patience and Conclusions
We have examined Clearwire's Q2 results in great detail and are pleased with what we have found. The company's liquidity position remains strong, and it raised revenue and EBITDA guidance for the remainder of 2012. Clearwire's cash burn is narrowing, and we expect that trend to continue during the remainder of 2012 and 2013. The company is working to build its LTE network, and its progress to date is encouraging.
We understand that investors are nervous. But it is important to maintain a long-term perspective. Clearwire's best days are ahead of it, not behind it, and the company is well-positioned to benefit from trends in the wireless market, both here in the United States, as well as abroad. No company, except for Clearwire, has the spectrum needed to alleviate the pressures of growing data usage. Clearwire needs to be viewed through a long-term prism, and investors need to be patient.
That being said, Clearwire and its management team understand that investors want to see confirmation that the company's strategic market position has not weakened. CEO Erik Prusch was much more open about discussing strategic transactions on this call than in previous ones, and we expect that within the next year, Clearwire will announce a strategic deal, something that is larger and more meaningful than a new wholesale partnership.
Even with a 40% rally after earnings, Clearwire's stock is still undervalued. The company's Q2 earnings confirm that thesis. Losses and cash burn are narrowing, the company's liquidity position remains strong, and in our view, Clearwire's position in the market remains unchanged. The road ahead will become much clearer in the next few months, as the company ramps up construction on its LTE network and the frenzied speculation over Clearwire's spectrum position dies down. In our view, the bullish thesis is fully intact. Clearwire has certainly been volatile, and that volatility will likely continue for some time. But, we expect the next 12 months to be transformative for Clearwire, and believe that investors who keep their faith with Clearwire will be rewarded.