Southern Company (NYSE:SO), a good dividend payer, recently fell back to its 50-day SMA. To some, this might seem a sign of weakness. However, it is more likely just the normal cycling of a good stock. Southern Company has been in a strong uptrend for more than two years. This strength seems to be continuing.
Southern Company beat on earnings slightly at $0.69 for Q2 2012 versus an expected $0.68. Revenues were down 7.5% year over year, but that was likely due to mild weather in Q2 (less cooling needed) and possibly an effect of the current economically troubling times. In this vein, it may be notable that most of the US has been experiencing a heat wave this summer. Q3 revenue results seem likely to improve significantly. Plus, SO did add 20,000 new residential customers in the first six months of 2012. This is the number of new customers SO originally projected it would add for the entire year. This is a positive sign.
It does appear that Southern Company could be adversely affected by a slowing economy in the US. However, the US may be the best neighborhood; and SO may be the among best of the best houses in that neighborhood. Europe is in dire trouble. Brazil, China, and India are all slowing significantly. SO's customers will need power for heating, cooling, lighting, etc. needs regardless of the US economic condition. They may cut back a small amount; but you still need heat in the winter, etc.
Any losses in stock price Southern Company may (or may not) experience will be regained quickly once the economy picks back up. SO will not lose customers. This situation represents relative safety. Further investors in SO will get to collect a good 4.14% annual dividend. If you are a long-term investor, this represents a much better value than a 10-year US Treasury, which is at the time of this writing yielding only 1.5562%.
If you consider the 29.16% stock price gain over the last five years, which included the 2008-2009 recession, you can see how much Southern Company is likely to outperform a 10-year Treasury bond over the long term. The long term chart of Southern Company since 1990 (see below) shows just how steady SO's stock price gain has been over the last 20+ years.
The strength of the long-term uptrend in the stock price speaks for itself. The steepness of the graph in recent years tends to make one think Southern Company is in for a retracement soon. However, if you draw a rise line from 1990 to present, the current price is not very far above that long-term average rise line. Southern Company still looks like a great investment. Its recent return to its 50-day SMA means it can be bought in the short term. Averaging in may still be a good strategy.
Other fiscal fundamentals support the above picture. Southern Company trades at a P/E of 19.08 and an FPE of 16.69. SO, historically (over the last five years), trades at a P/E between 12 and 19. This means it is at the high end of its historical range, but it is not overpriced. Safety is at a premium in these troubled times. SO has shown steady GAAP income growth over the last three years from $1.708B in 2009 to $2.040B in 2010 to $2.268B in 2011. This is the good steady growth you expect from a top utility.
Southern Company has a next 5 years' EPS growth rate of 5.38%. This is modest, but it is good, steady growth that is typical for a good utility. Further, the FY2012 and FY2013 average analysts' EPS estimates are essentially unchanged over the last three months. When many other companies' EPS estimates have decreased during that time, this is again strong, steady performance for SO.
Southern Company has been leading in environmental cleanliness too. The chart below shows Southern Company's large percentage move from coal to cleaner burning natural gas in the last year.
Click to enlarge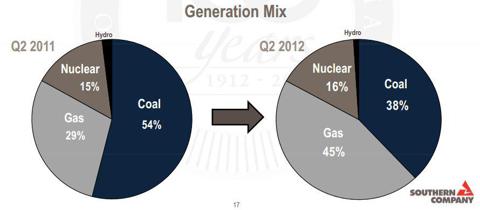 The above is a continuation of Southern Company's steady move from 16% natural gas and 70% coal in 2007. SO has been listening to environmentalists since long before the dramatic natural gas price decline of the last year or so. Further, SO was awarded the 85th annual EEI Edison Award for the Plant Vogtle nuclear expansion (low greenhouse gases). On the negative side, there are some who think that the number 3 and 4 units of the Vogtle plant will be far over budget. SO is a leader in carbon capture (carbon dioxide capture) with its project at Plant Barry in South Alabama. It is building the TRIG plant with carbon capture technology in Mississippi.
Southern Company is adopting renewable energy technologies. SO is building one of the nation's largest wood biomass plants in Texas. It has recently partnered with Turner Renewable Energy to takeover the Apex Solar Project from SunEdison. It is operating a 30-megawatt solar plant in New Mexico. It is gathering data on wind power generation in Alabama, Florida, and Georgia. It is offering green energy options to customers. It has 34 hydro facilities in Alabama and Georgia. It has nuclear startups planned for 2016 and 2017. It is also spending heavily on Smart Grid technologies. This is not a company that is going to fall behind environmentally or technically. This makes it just that much safer a place to put your money.
If you are interested in other strong utilities, you might consider: Consolidated Edison (NYSE:ED), Duke Energy (NYSE:DUK), and American Electric Power Co. (NYSE:AEP).
Some of the fundamental fiscal data above is from Yahoo Finance.
Disclosure: I have no positions in any stocks mentioned, but may initiate a long position in SO over the next 72 hours.