Back in February I wrote an article on American Realty Capital Trust's (NASDAQ: ARCT-OLD) graduation from the minor leagues (the non-listed REIT sector) to the major leagues (the publicly-traded REIT sector). The once rookie triple-net REIT was formed over four years ago by Nicholas S. Schorsch, the company's co-founder and Chairman, and William M. Kahane, the co-founder and President and CEO, and these veteran sponsors have substantial public REIT operating experience and collectively have over 70 years of commercial real estate experience and collectively have over 20 years experience focused on the net-lease real estate sector.
Like most all-star REITs, American Realty Capital Trust started out small raising money through retail broker dealer channels and after almost four years (as a non-traded REIT), Schorsch and his veteran team graduated to the next level by making a tender offer to all outstanding shareholders for $250 million (or so). (The company withdrew the S-11, so there was no secondary offering.)
Since the second quarter in 2011, ARCT has grown its portfolio from 368 single tenant, free- standing properties to 486 properties (as of Q2-12), located in 43 states and Puerto Rico. In addition, ARCT has grown in size from 11.046 million leasable square feet to around 15.6 million leasable square feet today.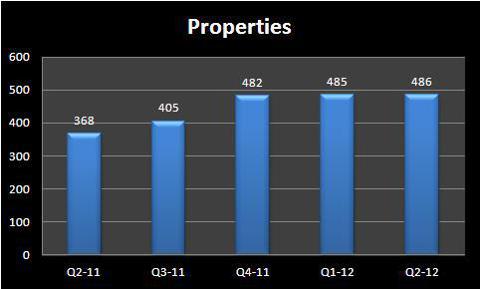 In addition, ARCT has grown its property assets from $1.629 billion (in Q2-11) to $2.139 billion (as of Q2-12) - a 31 percent increase in just five quarters.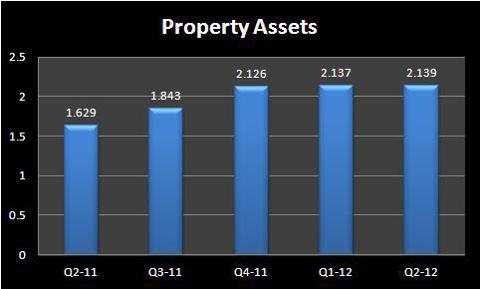 ARCT's portfolio is exceptionally diverse and its high-quality platform consists of 62 discrete corporate tenants (20 distinct industries) with an average portfolio lease term of approximately 13 years. The uniquely high-quality portfolio has around 92 percent rated tenants and 75 percent of annualized rental income is from tenants with an investment grade rating from a major credit rating agency.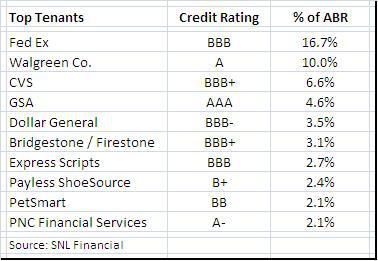 During the six months ended June 30, 2012, ARCT acquired three Tractor Supply retail properties, a Family Dollar (NYSE:FDO) retail property and an expansion space to a previously acquired FedEx (NYSE:FDX) distribution facility, all 100% occupied, for a total purchase price of $12.9 million at an average capitalization rate of 8.55%. Gross leasable area for these buildings total 82,154 square feet.
On July 12, 2012, ARCT announced that it had entered into agreements to acquire approximately $64 million of new properties, which include the Family Dollar and FedEx described above. These purchases are from multiple sellers, and include a Shaw's grocery store, seven Ruby Tuesday (NYSE:RT) restaurants, 16 Family Dollar stores, five Dollar General stores, a Walgreen (WAG) pharmacy, a FedEx distribution facility expansion, and a Fresenius distribution facility expansion. The portfolio has an average remaining lease term of approximately 12 years and is priced at an average cap rate of 8.66 percent. The acquisitions will add two new tenants to the ARCT property portfolio, bringing the company's total number of discrete corporate tenants to 64, while maintaining a currently high investment grade tenancy, and increasing the geographic presence to 44 states. The acquisitions are in line with the company's strategy to achieve a diversified portfolio with a 60 percent concentration in the retail sector.
Although not as diverse as ARCT's peer triple-net REITs, the rookie public REIT has proven that it has plenty of potential. Like most triple-net REITs, there is minimal management related to the 3 T's of toilets, taxes, and tenants - and the bond-like income stream is the most appealing advantage to the sector (ARCT's distributions have been 100 percent tax deferred for years 2008-2011).
Accordingly, ARCT's tenants have the strongest overall credit quality (75 percent investment grade) and because many of the assets are virtually new (average ago of portfolio is 5.3 years) the REIT's value proposition is deemed to be highly reliable and sustainable. The triple-net peer REITs include Realty Income (NYSE:O), National Retail Properties (NYSE:NNN), Agree Realty (NYSE:ADC), Lexington Realty Trust (NYSE:LXP), and American Realty Capital Properties (ARCP).

Latest Half-Time Stats Look Strong
ARCT's second quarter 2012 operating highlights (three months ended June 30, 2012 compared to the three months ended June 30, 2011) were as follows:
Funds from operations: $30.7 million, or $0.193 per share, up from $6.2 million, or $0.055 per share.
Adjusted funds from operations: $30.4 million, or $0.191 per share, up from $17.2 million, or $0.153 per share.
Revenues: $45.6 million, up from $29.0 million.
Net operating income: $43.7 million, up from $28.1 million.
Net income attributable to stockholders: $4.3 million, or $0.03 per share, up from a loss of $9.5 million, or $0.09 per share.
Total dividends paid to stockholders: $27.7 million, or $0.70 per share on an annualized basis, compared to $16.7 million, or $0.70 per share on an annualized basis.
Adjusted funds from operations (AFFO) increased by over 77 percent from the second quarter of 2011 from the same quarter in 2012. Here is a snapshot of the company's AFFO growth: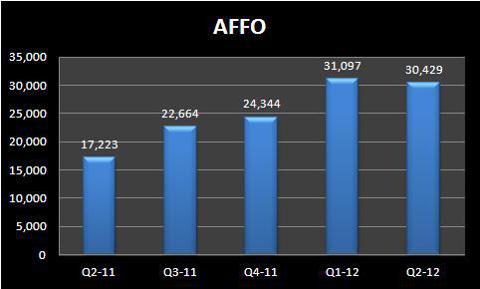 Also announced last week, ARCT's board of directors authorized and the company declared a 2.14 percent increase in its current annual dividend. The dividend rate will be increased from $0.700 per share to $0.715 per share per annum. The new annual dividend rate will be payable monthly commencing September 15, 2012 to stockholders of record on September 8, 2012.
As explained in the second quarter results by William M. Kahane, chief executive officer of ARCT:
We could not be more pleased with the Company's performance these last three months. Since listing our shares on the NASDAQ on March 1, 2012, American Realty Capital Trust has outperformed the broader equities market, reaffirmed its earnings guidance, forecasted earnings growth of 13 percent based on AFFO estimates for 2012 and 2013, announced a dividend increase, confirmed its acquisition program by placing $64 million under contract of property purchases consistent with its investment strategy, and demonstrated continued improvements in its overall balance sheet metrics.
Also during the second half of the year, ARCT completed the self-tender offer by funding the "dutch auction" tender of 20.95 million shares of common stock (on April 4, 2012), for a cost of $220 million, reducing total shares to around 158.5 million shares. Also, the company funded prepayment of $161.2 million of secured mortgage debt that resulted in a new annual reduction in interest expense of $4.3 million.
Other notable stats for the REIT include the placement of secured funding in the amount of $235 million (led by Wells Fargo) replacing a $200 million interim loan and an increase to the RBS Citizens Bank revolver from $220 million to $330 million. ARCT was also upgraded by two major credit rating agencies from Ba3 to Ba2 and BB stable.
A Coaching Staff with Interests Aligned
William M. Kahane is ARCT's co-founder, President and CEO and he has served on the board of directors for Catellus Development Corporation from 1997 to 2005, and as chairman from 1999 to 2001. Catellus Development Corp. was a publicly traded industrial REIT and was one of the largest landowners in California prior to being acquired by Prologis in 2005.
Kahane also served as the chairman of the Finance Committee for American Financial Realty Trust's Board of Directors from 2003 to 2006. American Financial Realty Trust was a publicly traded REIT focused on acquiring properties leased to financial institutions. Both companies were publicly listed.
I had a recent Forbes interview (May 2012) with Kahane and he explained the company's inaugural first round draft picks and induction into the all-star major league public REIT sector:
ARCT listed on The NASDAQ Global Select Market on March 1, 2012, closing at $10.49. The company went full cycle in four years, having raised and invested more than $1.7 billion in equity in a continuous public offering from 2008 to 2011. In listing, ARCT created a liquidity event for our 40,000 investors. All of our shareholders who "voted with their feet" and sold their shares at the closing on the first day of trading, made money. Factoring in dividends and capital appreciation, our shareholders who had been with us since 2008 received a 132 percent total return, shareholders who bought stock on January 1, 2009, 2010, and 2011 received a 127 percent, 121 percent, and 113 percent total return respectively.
Unlike many peer triple-net REITs, ARCT has managed to avoid risks related to e-commerce and instead focus on maintaining a high-level of portfolio occupancy (ARCT has zero vacancies today). In the same Forbes interview, Kahane explained ARCT's risk-controls related to its investment strategies:
We focus on acquiring properties that require a brick and mortar presence, businesses that are unlikely to be disintermediated by the Internet. Grocery stores, pharmacies and retail banks will always require a storefront presence. ARCT currently does not own any electronics stores, bookstores or movie theaters for several reasons in addition to the effects of E-commerce on their business models. From a real estate standpoint, there is limited re-use of movie theaters, bookstores and electronic stores, once the business model fails.
Winning the Game on the Free Throw Line
As a former college basketball player (Presbyterian College) I learned that winning a game is all about defense and shooting consistency. Without these two elements, you are doomed to fail.
American Realty Capital Trust has a highly defensive portfolio consisting of 486 (as of Q2-12) exceptionally high-quality single tenant properties. In addition, the 100 percent leased portfolio has a diverse composition of tenants and properties spread across 43 different states. With around 34.34 percent debt to total capitalization, ARCT has defensively safe leverage levels and the company should get further credit upgrades in the near future (to investment grade).
Given the nature and composition of the company's portfolio, ARCT has minimal risk potential and because of the high-quality credit characteristics, the dividend yield is considered low risk. Accordingly, ARCT pays a dividend yield of $0.715 per share annually and although paying out a strong dividend does not guarantee great results, it is a distinguishable attribute that differentiates an investment operation from a speculative one.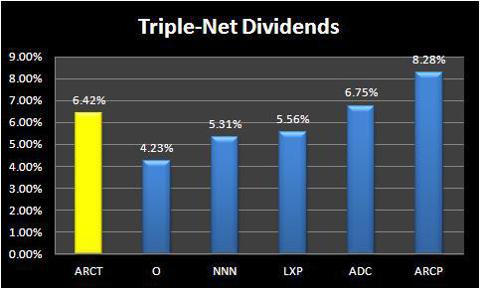 Many games are won and lost on the free throw line and by practicing consistently the chances for loss is low - and the rewards are high. Likewise, ARCT's business model is built around preserving principal loss while also maintaining safe and consistent dividend income - the essence of safe-margin value proposition.
ARCT is trading at $11.13 (as of August 3rd) per share and the REIT's high-quality income is the "game changer" that provides for the prime source of competitive advantage (ARCT's dividend yield is 6.42 percent). This differentiated strategy is also the essence of the company's value proposition that should produce winning results by turning its sources of high-quality income into "nothing but net".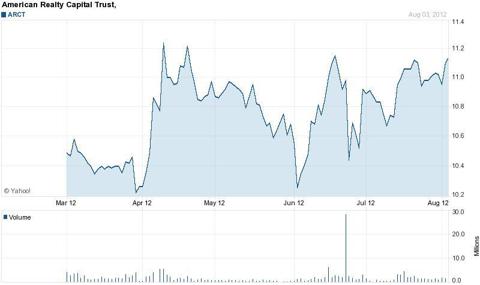 Disclosure: I have no positions in any stocks mentioned, and no plans to initiate any positions within the next 72 hours.