Rumors have been flying this month that Apple (NASDAQ:AAPL) and/or AT&T (NYSE:T) will begin subsidizing iPhone sales, which could total up to 50% of the device's current selling price. That would mean getting an iPhone for $199 with a two year contract, the kind of price consumers have come to expect for standard high end handsets.
Back in June 2007, just before the original iPhone was released (has it been a year already?!), Compete published a study on the potential consumer impact of the iPhone. One question asked of online shoppers interested in purchasing an iPhone was how much they were willing to pay for the device. We saw the following: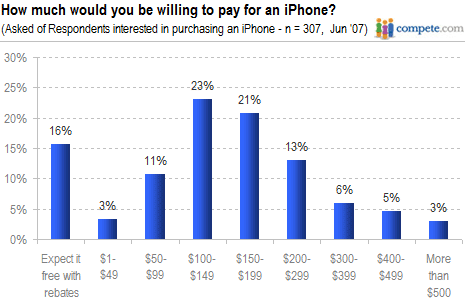 According to these data, there's a clear sweet-spot in terms of price. 71% of survey respondents said they would be willing to pay more than $100 for an iPhone. Considering the iPhone's initial price of $599 and subsequent price cut to $399, it appears that further price cuts could tap into a much larger group of interested consumers.
Now, AT&T and Apple aren't talking about the costs are or margin structure is for the iPhone, and I don't know if current economic issues may shift consumers' willingness to pay. And I'm also not convinced that large subsidies are consistent with Apple's high-end, highly-controlled brand image. But, if Apple truly wants to go mainstream with the iPhone and see market share numbers closer to what the iPod family of devices enjoys, lowering the iPhone's price (again) may be just the ticket.
We should find out Apple's short-term iPhone strategy in June when Steve takes the stage for his keynote at Apple's Worldwide Developers' Conference. Until then, the speculation continues. What moves do you think Apple will make? Leave a comment and start a discussion with Compete.