Pop Quiz
Let's have a macro-picture pop quiz. After all, from the mightiest King to the lowliest peasant, who doesn't enjoy a good surprise exam?
Sharpen your number two pencils iPads and choose all that apply:
1) Europe is in the process of:
A) Obliterating itself by slashing spending during a depression ala Herbert Hoover
B) Fracturing into pieces, some of which owe worth-fighting-for sums of money to other pieces
C) Pulling a rabbit the size of a wooly mammoth out of a comically undersized hat and solving their debt crisis while rescuing their economy
2) China's banking system:
A) Is based on a crony network that loses gobs of money keeping dubious ventures on life support and thus is likely creating a need to re-capitalize the banks when the house of cards falls
B) Will take a battering if/when China's housing bubble bursts
C) Is based on sound business modeling that guarantees the viability of the country's financial institutions for many years to come
3) The United States of America:
A) Has a better demographic profile than most any advanced nation and will be able to replace retiring workers in the coming years better than most of the advanced world
B) Has a strong currency that will get stronger as global currencies inflate to solve debt problems
C) Is not in control of its own fate as it does not have a navy that is the only relevant military force in the world. Also, the US does not have uncommon amounts of natural resources and technological advancement.
4) The "you have to diversify internationally" investing advice
A) Is a mistake at worst and a dangerous guideline at best
B) Was invented so international mutual fund and ETF managers can charge higher management fees
c) Makes sense in a world with a strengthening dollar and good long term prospects for the US economy
Scoring
For every A answer give yourself a point, likewise with B, no points for C.
0 points: You are the type of person that only sends a holiday card to people after you have received one
1-4 points: You proactively spread holiday cheer
5-8 points: Nice going, you win the promotional 7-11 prize! (Prizes are good at participating 7-11 locations until August 31, 2012. Your prize entitles you to walk in to a participating 7-11 location, grab anything you want, and leave telling the cashier "Joe sent me!" Just go ahead, it's fine.)
If There's Any Doubt, There's No Doubt
Here are some interesting graphs to illustrate the demographics of replacing retiring workers: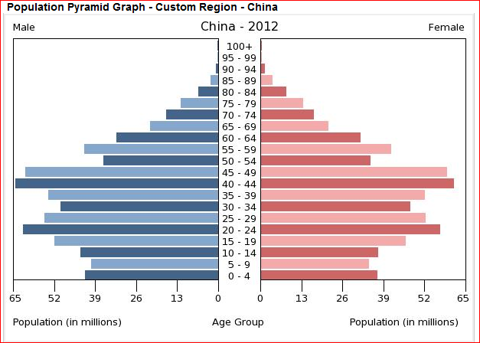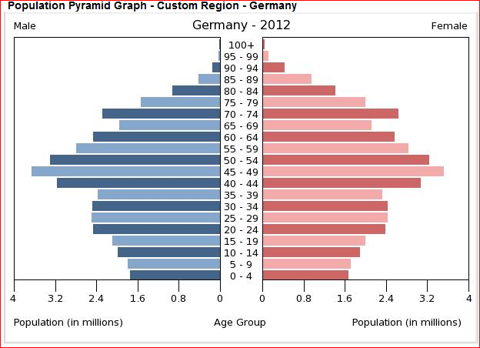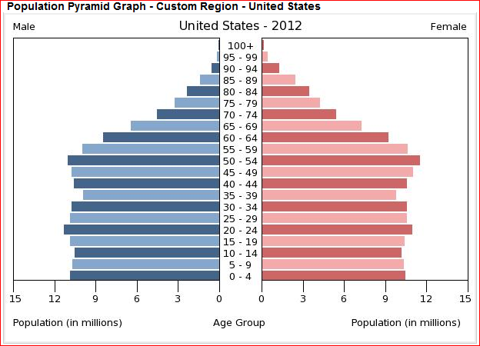 Wasn't the international hoopla based on the long term picture?
Maybe you agree with the above characterization of macro-economic concerns and maybe you don't, but probably we can agree that there is potential for carnage on the macro front.
So don't risk it. If there is any doubt about whether such disastrous things can be prevented, then there is no doubt that you should avoid them altogether.
American Utilities: Yield Safe From Inflation/Currency Risk, Global Politics, And Economic Cycles
Would you like to get paid to take European and Chinese (and for that matter Indian) banks right off the table? How about currency, geo-politics, and economic cycles too? Behold the American utility in all its glory (here one Excelon worker prepares to tickle another):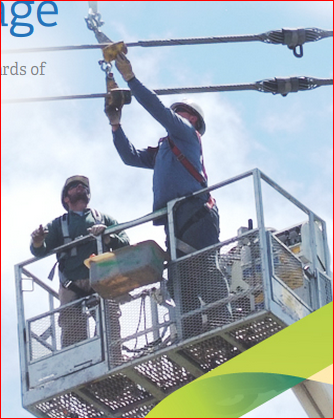 Inflation & Currency Risk
Take it from Paulo Santos who took it from Warren Buffett:
If you want to have a hedge for facing the risk of inflation, that is, the risk that stuff will become more expensive, then buy makers of stuff. And how do you buy makers of stuff? You buy stocks.
Inflation means prices rise, and that includes electricity. Utilities regularly are permitted to raise prices for the very reason of keeping up with inflation. Also, foreign currencies are powerfully unimportant to domestic power providers.
Bumper sticker - Bernanke Me, I'm In Utilities!
Global Politics
Speaking of power, Angela Merkel has the power to determine borrowing costs for Europe's beleaguered decimated southern countries. That will never, EVER, cause an American family to consider unplugging the refrigerator.
Bumper sticker - American Utilities Love Your Fridge
Economic Cycles
Those families' refrigerators did not become more plugged in during the economic boom than they did during the downturn. American utilities have steady income during booms and busts and many pay a dividend right through the cycles.
Bumper sticker - American Utilities: Get Paid While We Love Your Fridge
Nicknames That Need Work
The Lean and Mean Esteemed Skyler Greene is actually bearish on the utility sector. He has written the opposing view on the matter and he sent me an advanced copy of his article detailing his view:
Joe Springer will undoubtedly guide humanity to a higher intellectual plane and more prosperous future
but also:
The first fact to establish is that utilities have been in an uptrend...

It would be nice if this rally was driven by fundamentals, but unfortunately, it's not. The rally has been driven mostly by multiple expansion, with EPS growth fairly lackluster...
and then he references an article by Russ Koesterich, the Chief Investment Officer at ETF provider iShares
Investors have pushed US utility stocks up too far as US utilities currently look even more expensive than they were back in January. US Utilities are currently trading at nearly 15x earnings, versus an average since 1995 of around 14.5x

...

As I wrote in a recent post, my preferred vehicles for seeking yield are dividend paying equities, such as the iShares High Dividend Equity Fund (NYSEArca: HDV), given its low beta and quality screen; the iShares Dow Jones International Select Dividend Index Fund (NYSEArca: IDV) and the iShares Emerging Markets Dividend Index Fund (NYSEArca: DVYE). For investors willing to take the added risk of sector exposure, I like the iShares S&P Global Telecommunications Sector Index Fund (NYSEArca: IXP).

And for investors still looking for exposure to utilities, I continue to hold a neutral view of global utilities, particularly international ones available through the iShares S&P Global Utilities Index Fund (NYSEArca: JXI).
Skyler uses the Utilities SPDR ETF (NYSEARCA:XLU) for his examples. That ETF tracks an index that is weighted toward some larger names - Southern Company (NYSE:SO) for example is almost 9% of the ETF. Let's see how the broader Google utilities sector has performed over the last 12 months: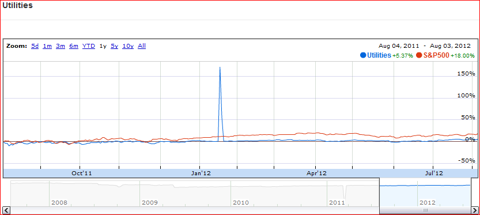 Hmmmm. Up 5.4%, mostly in the last month as Skyler noted, vs 18% for the S&P. Let's hear the iShares guy again:
Investors have pushed US utility stocks up too far as US utilities currently look even more expensive than they were back in January. US Utilities are currently trading at nearly 15x earnings, versus an average since 1995 of around 14.5x. And the stocks are even more expensive when you compare their valuation to the broader market.
All three of those sentences are funny. I'd love to see the link for "nearly 15x earnings, versus an average since 1995 of around 14.5x." From what Russ said it could have gone from 14.6 all the way to 14.6.
Where should we put that erstwhile utility money again after such a compelling argument, Russ?
The iShares funds with some of the highest management fees, of course. The five that he recommended charge you .4, .5, .68, .48, and .48 percent annually. Think of it as the opposite of a dividend, doing the opposite of compounding your money over time.
And aren't those fees really high for an ETF? Those sound like fees for mutual funds, not ETFs. Not to mention four of those five are international plays that are poised to be up-ended if the dollar keeps getting stronger. No mention of that, kinda relevant to the people that are supposed to dump their utilities.
Utility Alternatives Other Than Funding Russ Koesterich's Retirement
Skyler starts with utilities having run:
In short, here's what's happened. Headlines out of Europe have scared investors and resulted in irrational "fear trades." This is manifested by the record low Treasury yields as investors pile into "safe" assets like long-term Treasury bonds (NYSEARCA:TLT). In equities, this has resulted in underperformance of cyclical sectors like basic materials as investor rush into"defensive" sectors like utilities - enhanced by the fact that utilities stocks typically pay juicy dividends.
But in the end laments:
Personally, my preference in "defensive" investments is the mostly blue-chip consumer staples sector. As demonstrated by the chart below, the Consumer Staples Select SPDR (NYSEARCA:XLP) actually weathered the storm better than the utilities sector,and like utilities, is also likely to outperform the broader market in another downturn...

Unfortunately, the flight to safety has also made some defensive stocks like Coca-Cola (NYSE:KO) a little expensive for my tastes. However, if you look around, you can always find some value - McDonald's (NYSE:MCD), Wal-Mart (NYSE:WMT), and PepsiCo (NYSE:PEP) are all pretty safe plays trading at fairly reasonable values. Their solid dividend yields, good growth prospects, and history of dividend increases makes them an attractive alternative to utilities in the current environment.
Conclusion
In the end I'm going to admit that some utilities have indeed run too much, but I think this sector is the place to be for buy and holders. Skyler too notes that the other defensive stocks that would be an alternative have run quite a bit. He makes a good point about the flight to safety in this uncertain macro environment, and some utilities have run a lot (performance is last 12 months):
But plenty of utilities have remained around or under the performance of the broader market:
My favorites are GXP and EDE for their proximity to the Powder River Basin's cheap and relatively clean coal. I also like the larger and under-performing EXC as well as the better performing WR.
Those four utilities do what domestic utilities do best:
yield between 3.8% - 5.5%
protect you from inflation
protect you from currency fluctuations
protect you from foreign geo-political disasters
protect you from economic cycles
do NOT have management fees
Did I make my case? Did Skyler? Have a read of Skyler's article and let us know what you think in the comments. Good luck investing.
Disclosure: I have no positions in any stocks mentioned, and no plans to initiate any positions within the next 72 hours.