Back in 2010, investor Jim Rogers gave a lecture to some students at Balliol College, University of Oxford. According to Bloomberg, he told students to study agriculture and mining, not finance:
"The power is shifting again from the financial centers to the producers of real goods," he said. "The place to be is in commodities, raw materials, natural resources."
More recently, Jim advised that the world's agricultural problems are much bigger than drought in the US, which in itself has everyone talking about investing in agricultural ETFs, such as the Market Vectors Agribusiness ETF (MOO).
But it also reminded me that there's at least one ETF that tracks an index with Jim Rogers' name on it, the Market Vectors Hard Asset Producers ETF (HAP), which tracks the Rogers - Van Eck Hard Assets Producers Index.
A sector-weighted and cap-weighted fund
This is an interesting index because it's designed to track the overall performance of a diverse set of more than 350 hard asset companies. So instead of simply weighting companies by market capitalization, the sectors are first defined into broad categories - allocated based on estimates of global demand and production.
The current sector weightings look like this: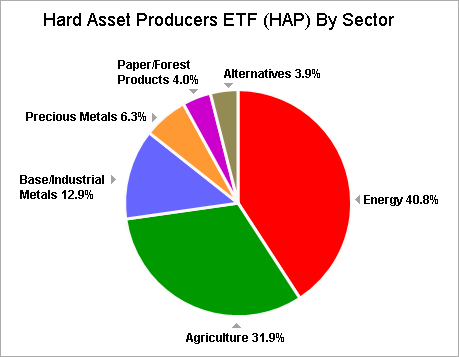 Then specific companies are weighted within these sectors based on a modified capitalization weighting methodology. So you end up with a top 25 holdings list that looked like this as of August 3: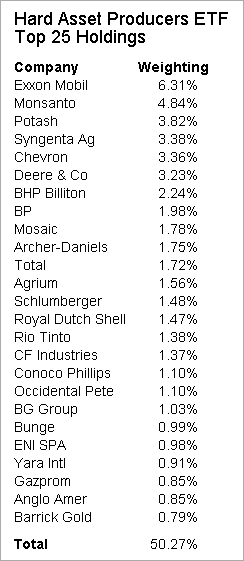 While the top 25 holdings represent 50% of the fund, there are about 325 other companies on the list that represent the bottom half. It's a pretty comprehensive list of just about every hard assets type of company you could think of - from silver producers such as Silver Wheaton (SLW) to water services companies such as Veolia Environnement (VE).
According to the latest Rogers-Van Eck Index Insights report (PDF), the index (though not necessarily the fund) holdings include companies ranging from $530 million to $44 billion in market cap with a median of approximately $2.75 billion.
And as of June 29, 2012, this was the Rogers -Van Eck Hard Assets Producers Index's five-year correlation and beta against five other indexes from its most recent index report (PDF)
(Note that these are correlations and betas of the indexes, not the funds that track them.)
This fund could be a core hard assets holding which you can use as a foundation to add other hard asset sectors as appropriate.
For example, you could temporarily increase gold exposure by adding shares of the Gold Miners ETF (GDX), or increase your stake in the steel sector by adding shares of the Steel ETF (SLX) if you have a favorable view of that sector. In other words, you can fine tune your sector allocation using HAP and some of the other hard assets funds in the Market Vectors line up of ETFs (or other companies).
The bottom line is that this ETF doesn't offer highly focused exposure to specific sectors such as steel, coal, gold, oil, etc. However, that's part of its appeal.
HAP's assets certainly include the agricultural stocks, which are hot right now. But you also get additional diversification into energy, materials, precious metals, base metals, etc. - all in one fund with sectors balanced based on actual production and consumption patterns.