What's up with Bidz.com (NASDAQ:BIDZ)? This was a question asked in late 2007 and at the head of 2008. Questions arose concerning Bidz.com and the hornets swarmed the nest for many months. In September 2007, blogs started springing up online and (for the most part) Bidz.com was receiving mixed reviews from those in both long and short positions. Allegations then flew in the face of exceptional earnings reports and those reports then fueled an air of disbelief.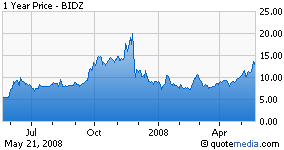 Follow-up blogs then degenerated (to their lowest levels) upon publication of the Citron Report, which basically added more fuel to the fire. Reactions to the Citron Report sent ripples of buyers remorse to Bidz shareholders and the stock took a beating. The CEO of Bidz (Zinberg) held a conference call and while the CEO was fielding questions concerning their cash versus inventory positions, other questions arose concerning Bidz.com "F" rating from the BBB, potential shill bidding and a big canary diamond.
No doubt, many thought the CEO of Bidz just might have had a canary, as he watched the stock of his company slide even further during coming weeks and months.
Speaking of canaries, the canary diamond ring bid was up to $532,047 and the bid dropped to $63,328, however, Bidz.com stock was up a little over $11.00 a share at this time. Zinberg then offered statements concerning allegations of shill bidding on televisions, the big canary diamond and the appraisal company (who's services it utilized). The statements offered by the CEO did nothing to allay the fears of shareholders and the stock continued to tumble.
It would appear that no matter what the CEO offered up (as reasonable explanations to any questions posed) nothing was going to stop the major sell-off of Bidz.com shares.
An ex-felon known as "Crazy Eddie" then came along and whacked Bidz one more time with allegations that the company was not compliant with GAAP. Bidz then suffered the wrath of the "Crazy Eddie" report and the stock eventually found itself trading below $8.00 per share. The company then announced a buy back of shares but, this did little to quench the thirst of investors.
Fast forward - May 21, 2008 - Bidz.com buys over $23M in inventory through bankruptcy acquisition and while blogs still abound with the good, the bad and the ugly pertaining to the company, Bidz is on the rise. The company launched Buyz.com, Internet Retailer Magazine has named Bidz as one of its Top 100 Retailers, the stock is trading at $13.43 (at press time) and looks as though its latest earnings report may have taken away the rough edges from this once discolored diamond in the rough.
Is what happened to Bidz.com fair and just? What happened to Bidz.com appears to be a battle between long and shorts. Some like the stock (and company) and others wish it would vanish for one reason or another.
Yes, the questions have surfaced may have be legitimate questions, however, if one looks at eBay (NASDAQ:EBAY) (which also offers jewelry through its venue), just how many sales have fallen to the wayside and/or have not been completed?
Allegations of shill bidding abound at just every auction site on the net. It is the "curse" that will haunt auction sites for years to come and will never be completely dispelled. For the most part, those buying at auction have good intentions and follow through with their purchase. Then again, there are those who hop onto to eBay and Bidz.com to simply wreck havoc with the system.
Coulda, woulda, shoulda on the part of Bidz CEO (during its trials and tribulations) are in the past and the company appears to be doing well and has a plan. Its recent acquisition of $23M+ in inventory appears to suggest that Bidz.com will be offering its $1 No Reserve Auctions for some time to come.
Disclosure: none