Four different pharmaceutical companies announced news after the market closed on Friday, Aug. 3. Three of these companies had their news out this morning. Here are the four companies:
1. OXiGENE (OXGN) is a clinical-stage biopharmaceutical company developing novel therapeutics to treat cancer. The company's major focus is developing vascular disrupting agents (VDAs) that selectively disrupt abnormal blood vessels associated with solid tumor progression. OXiGENE is dedicated to leveraging its intellectual property and therapeutic development expertise to bring life-extending and life-enhancing medicines to patients.
Click to enlarge images.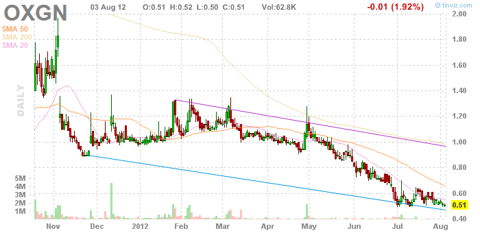 News
The company announced today that the randomized Phase II study evaluating the combination of Zybrestat (fosbretabulin tromethamine, or CA4P) and bevacizumab to treat patients with advanced platinum-sensitive ovarian cancer has achieved an important safety objective in a scheduled interim toxicity analysis, and is expected to continue to full enrollment. The Phase II study (GOG 186I) is being conducted by the Gynecologic Oncology Group under the sponsorship of the Cancer Therapy Evaluation Program (CTEP) of the National Cancer Institute. The fosbretabulin tromethamine is being provided to CTEP under a Cooperative Research and Development Agreement (CRADA) with OXiGENE and the bevacizumab is being provided under a CRADA with Genentech (OTCQX:RHHBF).
Financials
The company announced first-quarter financial results on May 9 with the following highlights:
| | |
| --- | --- |
| Net loss | $0.12 per share |
| Cash | $8.2 million |
| Shares outstanding | 15.7 million |
My Analysis
The stock is currently trading at 52-week lows. I would only recommend a small speculative position in the stock currently.
2. Biostar Pharmaceuticals (NASDAQ:BSPM), through its wholly owned subsidiary and controlled affiliate in China, develops, manufactures, and markets pharmaceutical and health supplement products for a variety of diseases and conditions. The company's most popular product is its Xin Aoxing Oleanolic Acid Capsule, an over-the-counter medicine for chronic hepatitis B, a disease affecting approximately 10% of the Chinese population.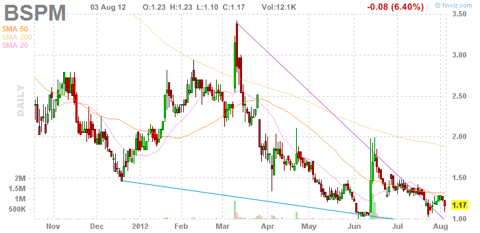 News
On Aug. 3, 2012 (after the markets closed) Biostar Pharmaceuticals announced that on July 30, 2012, after a thorough inspection of raw materials used in every production category, it received "green-light" approval from Xianyang State Food and Drug Administration (SFDA) authorities to restart sales of its gel capsule products.
Ronghua Wang, Biostar's CEO and chairman, commented as follows:
In April 2012, during an industry-wide investigation by SFDA, 254 drug manufacturers in 28 provinces were found to use gel capsules that had a chromium content higher than edible gelatin. As a result, SFDA suspended sales of gel capsules until the investigation was completed. As previously disclosed, during this investigation, one batch of samples of our Xin Aoxing capsule was found to have chromium content higher than edible gelatin. This was an isolated incident and sales of products made from the tainted batch represented approximately 0.2% of total 2011 net sales.
My Analysis
I wrote an article on Biostar on May 15, 2012, in which I detailed five reasons to buy the stock. I believe the points made in that article are still valid.
3. Cellceutix (CTIX.PK) is an emerging biopharmaceutical company focused on the development of its pipeline of compounds targeting areas of unmet medical need. The company's flagship compound, Kevetrin, is an anti-cancer drug that has demonstrated the ability in pre-clinical studies to regulate the p53 pathway and attack cancers that have proven resistant to today's cancer therapies (drug-resistant cancers). Cellceutix also owns the rights to seven other drug compounds, including KM-133, which is in development for psoriasis, and KM-391 for the treatment of the core symptoms of autism.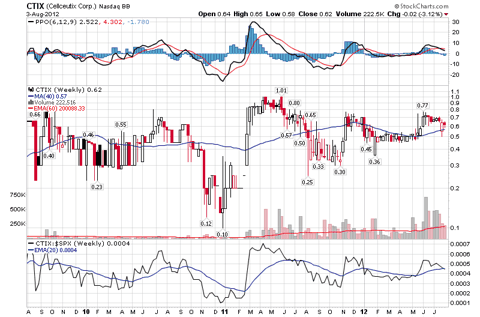 News
The company announced today that Kevetrin, the company's flagship anti-cancer drug, has been received at the pharmacies at Dana-Farber Cancer Institute for the commencement of clinical trials. In addition, Cellceutix reported that the trial details are expected to be viewable on the Clinicaltrials.gov website this week.
According to Dr. Krishna Menon, chief scientific officer at Cellceutix:
To date, everything is completed and we are waiting for the host hospitals to begin dosing patients, which we anticipate will happen shortly, but it is in the hospitals' hands at this point.


Throughout my career, I have evaluated and seen many new drug candidates go from start to finish through the regulatory pathway and I am extremely optimistic and excited about the potential of Kevetrin because of our data collected during extensive studies and the p53 connection as the Mechanism of Action. I'm not aware of any other anti-cancer compound at this stage of development that could have such a dramatic impact in the field of oncology. Dana-Farber is one of the few hospitals in the world that collects data 'mapping' the human genome as related to tumor profiling and the information that will be collected from our clinical trials of Kevetrin could prove an invaluable asset to those suffering from cancer and to Cellceutix.
Financials
The company closed a $1 million financing deal on May 14. Cellceutix reported a net loss of $0.3 million for the first quarter.
My Analysis
The stock has a $2.81 price target from the Point and Figure chart. I believe the target price is achievable during the next 12-24 months.
4. Pluristem Therapeutics (NASDAQ:PSTI) is a leading developer of placenta-based cell therapies. The company's patented PLX (PLacental eXpanded) cells are a drug delivery platform that releases a cocktail of therapeutic proteins in response to a host of local and systemic inflammatory and ischemic diseases. PLX cells are grown using the company's proprietary 3D micro-environmental technology and are an "off the shelf" product that requires no tissue matching prior to administration. Pluristem is focusing on the use of PLX cells administered locally to treat systemic diseases and potentially obviating the need to use the intravenous route.
Data from two Phase I studies indicate that Pluristem's first PLX product candidate, PLX-PAD, is safe and potentially effective for the treatment of end stage peripheral artery disease when given locally. Additionally, Pluristem is developing PLX-PAD for cardiac ischemia, PLX-BMP for Acute Radiation Exposure, Bone Marrow Transplant Failure and Chemotherapy induced Bone Marrow Aplasia, PLX-ORTHO for orthopedic indications and PLX-PAH for Pulmonary Hypertension in collaboration with United Therapeutics (NASDAQ:UTHR). Pluristem's pre-clinical animal models have demonstrated PLX cells are also potentially effective in other inflammatory and ischemic indications, including diastolic heart failure, inflammatory bowel disease, neuropathic pain, and pulmonary fibrosis.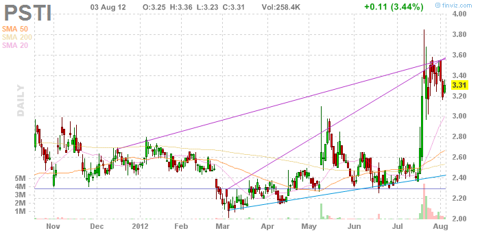 News
The company announced today that the life of a patient suffering from bone marrow failure in which there was a dangerous reduction in the number of red blood cells, white blood cells, and platelets (pancytopenia) has been saved using Placental eXpanded (NYSEMKT:PLX) cells. This is the second time in the past three months that a patient suffering from bone marrow failure was successfully treated in a compassionate-use treatment with PLX cells with a return of bone marrow function.
The patient, a 54-year-old woman diagnosed with lymphoma cancer, was initially treated with chemotherapy. Her condition continued to deteriorate, necessitating a bone marrow transplant. The transplant, as well as alternate therapies, were not successful. As a result, the woman suffered from prolonged dangerous pancytopenia. PLX cells were then administered to the patient at the Hadassah Medical Center, Jerusalem, under the Israeli government's compassionate use program. Following the injection of the PLX cells intramuscularly, the woman's clinical condition and blood counts improved to the point where the patient was able to be released from the isolation unit and subsequently discharged from the hospital.
Financials
The company announced first-quarter financial results on May 8 with the following highlights:
| | |
| --- | --- |
| Cash | $40 million |
| Revenue | $0.2 million |
| Net loss | $0.09 per share |
My Analysis
The stock has a $7.50 price target from the Point and Figure chart. I believe that number is achievable during the next 12-24 months.
Disclosure: I am long OXGN, BSPM.