Aerospace and defense companies are still looking good on a valuation basis. With increased inflation looming, many consumers are going to have to cut back on spending in the interim. These cutbacks will hurt many of the United States' sectors and make it difficult to find good stocks to buy. Aerospace and defense is somewhat insulated from this, as much of what is done is through contracts. Many of these contracts are with governments that have already allotted the money to be spent. There is always a chance they will be canceled, but I think there is much less downside.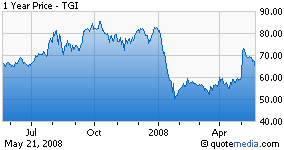 When choosing from this group, you need to find a well diversified company that will essentially not cause you to put all of your eggs in one basket. Triumph Group (NYSE:TGI) has exposure to 44% commercial, 33% military, 10% business, 8% non-aviation, and 5% regional. Of this group, their top ten platforms are the Boeing (NYSE:BA) 737 NG, Boeing 777, Airbus A320, CH-47, Boeing 787, UH60, C-17, V-22, Boeing 747, and CH-53. They are comprised of 33 companies that provide global aerospace parts.
With respect to 2007, their sales increased 26%. EBITDA increased 45%. Cash flow from operations increased from $40 million to $48 million. Backlog was robust and was over a billion dollars for the first time in history. The $1.147 billion dollar backlog increased from $888 million at the end of 2006. Operating income increased 62% year over year.
Their CEO has stated that they plan to continue growth through the same measures that have worked for the last ten years. They are going to add products and services. They are expanding operational capacity, along with make aggressive acquisitions. They want to market their expanded capabilities to take care of more for each customer allowing for international expansion. Not only does this company look better going forward due to the weak dollar, but it will make their expansion internationally that much easier. They just built a new MRO facility in Asia for just this purpose. It also helps decrease costs going forward.
Triumph has been consistent as they have beaten earnings for three out of the last four quarters. Twice they beat by more than 20%. Yahoo Finance has those increasing earnings growth year over year at 9.6% for this quarter. Full year estimates are at 16.2%. There are several reasons that they will beat these estimates. The weak dollar is one, along with their production facility in Asia that should reduce costs. The biggest reason is the upcoming orders over the next 2 years for the Dreamliner, which they are a heavy participant. Look for a consistent guiding upward of earnings and this stock to outperform the overall market substantially.
Disclosure: none