There may be a modest credit-related slowdown in some businesses for Caterpillar Inc.'s (NYSE:CAT) largest dealer in Asia, but demand is still strong for machines and engines in China, as well as in key areas for the region like large infrastructure, industrial, and oil and marine. This suggests more upside for the equipment giant's 2008 Asia-Pacific sales growth forecast, according to Citigroup's David Raso.
After meeting with management from this dealer, which likely accounts for more than 40% CAT's sales in China, the analyst told clients that the dealer is above budget despite the fact that China's machine business is less about market share this year and more about pricing to cover higher input costs. Nonetheless, Caterpillar's inability to figure out how to profitably crack China's enormous wheel loader market, as well as the loss of market share due to the strain on mining truck and engine availability, means it is "not clicking on all cylinders in China as a global market leader with deep pockets should," Mr. Raso said.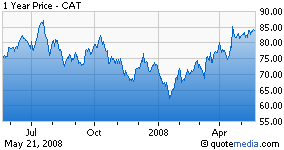 Caterpillar's strength is in larger, higher-end machines, he noted, but China has not made the step up to these for large infrastructure projects due to factors like cheap labor and construction job bidding trends. So some of these challenges appear somewhat beyond the company's control.
Regardless of the lost opportunities, the analyst remains positive on Caterpillar and the sector, rating the shares a "buy" with a $106 price target. However, he said there is still work to do as the company's long-term global dominance will be greatly influenced by its success in China.