Historically, the post second quarter earnings period through October is one of the most difficult times for the markets. The theory is that much of the business world goes on vacation during the summer which reflects in a weak third quarter earnings season culminating in late October. Last year the sovereign debt crisis just added to this uncertainty and the period from August through October certainly lived up to its negative billing.
This year however, there seems to be a renewed sense of optimism. I don't generally like to make market timing calls since my strategy is to take advantage no matter which way the market goes, but my broad market position since earlier this year has been for investors in equity based (at least 66% stock portfolios) high yielding (7% or higher) closed-end funds (CEFs) to overweight the more bullish leveraged CEFs over the more defensive option-income funds for 2012. After Friday's employment number and a more positive tone of the market, this could give a boost to some leveraged equity closed end funds (CEFs) that have lagged in market price recently even though their Net Asset Value (NAV) performances have been excellent.
The following table lists the top equity based CEFs sorted by their total return NAV performances YTD. Green represents total return NAVs that have outperformed the S&P 500, up 12.1% YTD, and red represents funds underperforming the S&P 500, though this is not entirely fair since many funds have global stock portfolios and many leveraged funds include fixed-income bonds in their portfolios. Nonetheless, I wanted to include a common benchmark so readers could have a basis to judge these funds performances.
I have also included "red flags" in other columns for funds which, in my analysis, may have overly high premium valuations, NAV yields or expense ratios. Note: Leveraged funds will generally have higher expense ratios because of the interest on their leveraged debt. All information is as of August 3, 2012, and this table only shows the top 25 or so funds out of about 100 that I follow.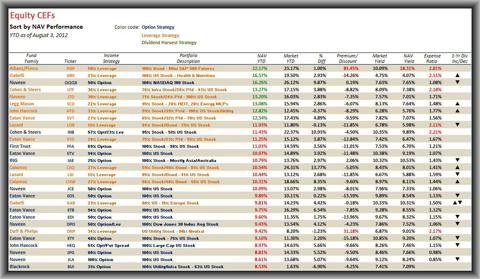 As you can see, most of the top NAV performers are leveraged funds since leverage tends to boost the NAV and market price performances of these funds in strong markets. However, some fund's market prices have stalled out a bit recently and present opportunities in my opinion, particularly if we continue in a strong market environment. Here are three that I would recommend.
Best Buy #1 - Gabelli Healthcare & WellnessRX Trust (NYSE:GRX)
$8.42 market price, $9.82 NAV. I believe GRX is significantly undervalued here at a -14.3% discount with one of the best total return NAV performances of all the equity CEFs I follow, up 16.6% YTD. Because GRX is a very small fund, it tends to go unnoticed for periods of time but can make sharp moves to the upside when a larger buyer steps in. Sure, healthcare has done well, but GRX's portfolio is not just a leveraged portfolio of big name healthcare providers and drug stocks focused on the aging of America. Gabelli, which has one of the best equity research desks on Wall Street in my opinion, manages the fund to also capitalize on stocks focused on the trend toward better nutrition and wellness in America. In fact, GRX's largest sector exposure is in foods. Companies like Whole Foods Markets (NASDAQ:WFM) and Mead Johnson Nutrition (NYSE:MJN) are both in the top 10 holdings of GRX as of March 31, 2012.
However, the biggest reason to own GRX is because prior to June of this year, the fund did not offer a recurring distribution and that was a big reason for GRX's historic wide market price discount, currently still at -14.3%. But on March 5, 2012, Gabelli declared a quarterly distribution policy of $0.10/share, resulting in a 4.75% current market yield. Though this is a modest distribution resulting in an extremely low 4.1% NAV yield, I believe there is room for a "healthy" raise possibly before the end of the year.
For comparison, the BlackRock Health Sciences fund (NYSE:BME), a non-leveraged option-income fund whose NAV is up "only" 9.6% YTD on a total return basis, offers a 5.4% current market yield and yet trades at a 3.6% premium. Even the Hambrecht & Quist healthcare CEFs (NYSE:HQH) and (NYSE:HQL), two non-leveraged funds that focus more on biotech and include up to 40% in riskier restricted securities of private and public companies, trade at much higher valuations than GRX. All of these funds are equity based and do not generally rely on any fixed-income bond securities for income.
Best Buy #2 - Calamos Global Dynamic Income fund (NASDAQ:CHW)
$8.29 market price, $9.17 NAV. One of my favorite global leveraged funds, CHW has been under selling pressure recently even though its sister fund, the Calamos Strategic Total Return fund (NASDAQ:CSQ), is trading at its 52-week high. This is unusual since the funds tend to trade together even though CHW is more global (52% US stocks) and is identified as an enhanced income fund whereas CSQ (80% US stocks) is identified as a total return fund. In actuality, the fund's NAVs don't diverge that much over most time frames since both funds include a lot of overlap in their fixed income corporate bond and convertible securities which represent about 50% of their total portfolio value. Bonds are advantageous in leveraged equity funds because they can reduce NAV volatility and can offer higher and more stable income. Here are the two funds' NAV performances YTD (not including distributions). CHW's NAV is shown in red (MUTF:XCHWX) and CSQ's NAV is shown in blue (MUTF:XCSQX).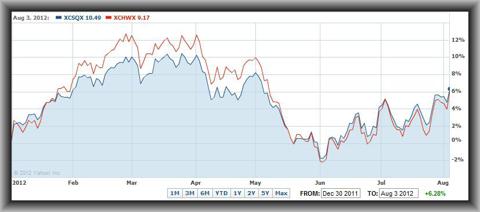 Now compare their YTD market prices and you can see where CHW has lagged. Again, these graphs do not include distributions which would add another 5% to their total returns.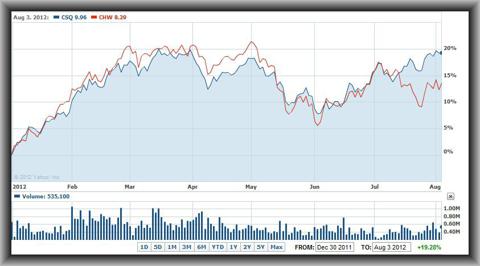 Though this may not seem like a huge difference, when one fund has fallen to about a -10% discount and the other is hitting a 52-week high at a -5% discount, that's a big variation for funds that are similar in many ways with YTD total return NAV performances of over 10% each.
I first identified both funds in an article on February 13th when I wrote...
Two more leveraged CEFs I am recommending are the Calamos Global Dynamic Income fund (CHW) and the Calamos Strategic Total Return fund (CSQ). One reason why I like these funds is that on January 31st of this year, Calamos raised the distribution on CHW and CSQ a hefty 24% and 33%, respectively. Distribution raises are always a positive step for CEFs and both funds responded nicely. But a second reason why I like these two funds is because of their low valuations. Just at the end of 2011, both CHW and CSQ were trading at over -15% discounts. The dividend increases announced just a couple weeks ago have helped reduce those discounts down to the current -10.9% for CHW and -10.1% for CSQ but those discounts are still quite wide and I believe the funds have further upside to go.
Another nice feature of both CHW and CSQ is their monthly pay distribution frequency with the next ex-dividend date this Wednesday, August 8th. This means you would need to own the fund by the market close on Tuesday, August 7th to be entitled to the distribution, annualized at about 9% for CHW and 8.4% for CSQ. Note: I am short some CSQ in an arbitrage position due to a larger holding in CHW. I plan on covering my short before the ex-dividend date.
Best Buy #3 - Cohen & Steers Infrastructure fund (NYSE:UTF)
$17.79 market price, $19.51 NAV. Though more known for their REITs, Cohen & Steers has an excellent global leveraged CEF in UTF. UTF hasn't exactly pulled back much but since this fund's NAV just continues to chug along, it's a buying opportunity whenever the market price falls behind a bit. The fund is 33% leveraged with 78% of its portfolio in global infrastructure stocks (electric utilities, toll roads, pipelines, communication towers, etc.) and 22% in fixed income preferreds. Of its equity portfolio, 57% is in US based stocks while most of the rest is in Europe and SE Asia.
If there is such a thing as a global leveraged fund that you can just buy and forget about, I can't think of a better one than UTF. UTF has been a solid outperformer from inception and a large part of that is a more defensive portfolio of global utility and infrastructure stocks that tend to hold up better in difficult market periods. While most global funds have had a rough go of it over the past couple years, UTF just keeps on adding to its total return NAV performance. As a result, UTF has been steadily narrowing its discount from around -15% during the financial crisis back in 2008 to a current -9%. Though Morningstar only has UTF as a 2 star fund, according to my analysis, UTF has outperformed just about every leveraged global equity CEF since its inception.
Other leveraged equity CEFs I would recommend but haven't really suffered any meaningful pullback in their market prices include the Nuveen Tax-Advantaged Dividend Growth fund (NYSE:JTD), the John Hancock Tax-Advantaged Dividend Income fund (NYSE:HTD) and the LMP Capital & Income fund (NYSE:SCD). For investors looking for pure US based leveraged CEFs, all three of these funds are essentially 100% invested in US stocks in the equity portion of their portfolios, i.e. the funds also include a percentage of fixed-income bonds, mostly preferreds and convertible securities, in their overall portfolios. HTD has the highest percentage of fixed-income securities with about 40% of its portfolio invested in preferreds.
Disclosure: I am long CHW, GRX, JTD, UTF.
Additional disclosure: Short CSQ