Permit me to point to some seemingly arcane (but in fact highly significant) numbers we have lately received as evidence that the worst-case scenarios concerning cumulative subprime losses being thrown around by the rating agencies, among others, are exaggerated.
Yes, you heard that right: the housing world has big problems, but it's not coming to an end, after all.
The piece you are about to read is a follow-up to an article we posted here in February that noted, first of all, that if you want to get an early read on changes in credit quality in subprime, don't pay attention to the number too many mortgage-industry watchers obsess over: the past-60-day delinquency rate. It is a lagging indicator of changes in credit quality.
Instead, look at two other metrics: 1) the inflows, in dollars, of newly delinquent loans, and 2) the roll-rates of problem loans from early-stage delinquency, to later-stage, to foreclosure. And on those numbers, I said at the time, the subprime picture seems to be showing signs of improvement. In particular, I made the point that dollar inflows to early-stage delinquency buckets had been falling for months.
What's new
The new news now is that the trend has continued, and that—based on an early look at a sample of the April data we've been able to get our hands on—roll rates are improving, as well, on a seasonally adjusted bases.
To the numbers. The charts below are updated versions of the charts we posted in February. They show the dollars of mortgage loans that moved from "current" to 30 day's past due for each of the four ABX indices of subprime mortgage debt. To the surprise of some, the level of new problem loans has declined for six straight months in the ABX 06-1 index, and has fallen for three consecutive months in the other three relevant indices (06-2, 07-1, and 07-2).
images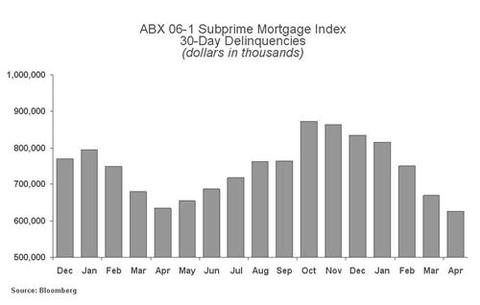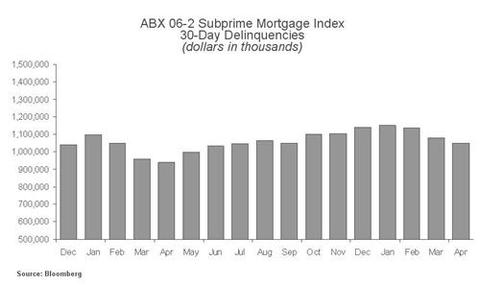 That's good news. Fewer problem loans going into one end of the pipeline will mean fewer foreclosures and chargeoffs coming out the other.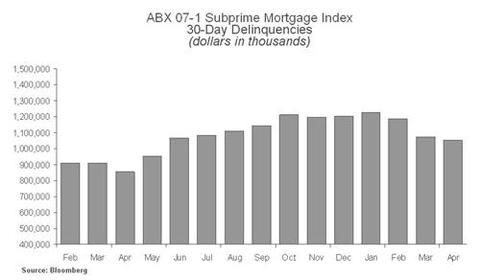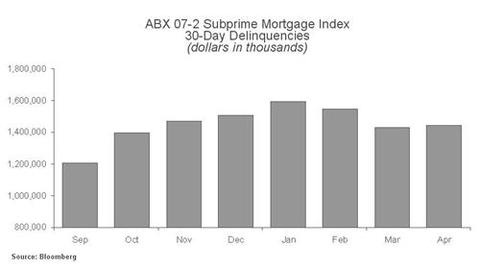 Skeptics have dismissed the improvement as just a seasonal phenomenon. (Consumers tend to be in better shape financially during the early part of the year since Christmas is finally over, and their tax refunds are in the mail.) The skeptics predict the April mortgage servicer reports, to be released May 25th, will show significant deterioration in credit quality.
And the bears may have a point. For example, last year's the April reports showed a 3% increase in dollar value of 30-60-day past due loans in the 06-1 ABX trusts, and a 6% increase in the 30-60-day past due loans in the 2006-2 ABX trusts. In addition, last year's reports for April showed a discouraging increase in the rate at which early-stage delinquencies were rolling into later-stage buckets.
Roll rate news
But new numbers we've looked at provide a strong indication there's something more than seasonality driving the numbers. They have to do with the other leading indicator of credit quality change I mentioned: the roll rate of early-stage delinquencies into later stage buckets.
The data (which we've analyzed in excruciating detail) comes from a third-party service that monitors a very high percentage (38%) of outstanding subprime mortgage loans that have been securitized. We believe the data indicates that the servicer reports to be released next week will show that deterioration in roll rates this year is running significantly lower than it was at this time last year.
Based on the very large sample size we've been able to look at, here's how the numbers shake out: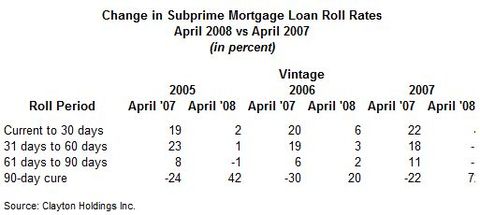 Make no mistake, the level of delinquent subprime mortgage loans increased last month. But based on the data, things are getting worse at a sharply lower pace. The April 2007 data showed, for instance, that the rate at which 2006-vintage 30-day-delinquent loans became 30-to-60 days delinquent had risen by 19%. In April of 2008, by contrast, the roll rate rose by just 3%. Similarly, last year's April data showed an 18% rise in the rate at which 2007-vintage 30-day delinquencies rolled into the 31-60 day bucket. This year (again, according to our sample) the roll rate increased by just 1%.
Now, take a look at the last line in the table. It shows the change in the rate at which past-90-day delinquencies cured—that is, became no longer delinquent. In April 2007, the rate loans cured fell 30% from the previous month; in April 2008, the rate that debt cured actually improved by 20%, and rose for each of the other vintages as well!
My bottom line: The skeptics who chalk up any recent improvement to seasonality are in denial. Things really do seem to be getting better.
Three drivers of problem
It's not hard to imagine why, either. We believe the huge boost in subprime delinquencies last year had three main causes. First, speculators who bought at the peak of the bubble walked away from their loans as home prices declined and their equity evaporated. Second, borrower-occupiers defaulted after their teasers reset and they couldn't refinance or profitably sell their properties. Third, tighter underwriting standards hurt the ability of stressed borrowers to refinance, and reduced the pool of eligible home buyers.
Those three problems are no longer getting worse. Most speculator-related debt went delinquent last year; this year (ceterus paribus), the in-flow of new speculator-related delinquent loans should be lower. In addition, new reset-related delinquencies should be down sharply this year, since short rates are way down so that the new reset rate isn't so different from the original teaser. And tighter underwriting standards have been in place for awhile by now.
Implications
All the April servicer reports will be released next week for the world to see. Based on the large sample of data we've had a chance to analyze, we believe the numbers will show subprime mortgage credit quality deteriorating, but at a significantly slower pace than last year and than many anticipate.
That's a very big deal. It further calls into question, I believe, some of the outrageously high forecasts for estimated cumulative losses on the 2006 and 2007 vintages held by the rating agencies and others.
I believe that investors in companies with the most at stake--bond insurers, private mortgage insurers, and subprime mortgage servicers, for instance--should feel a little more comfortable when they see next week's reports.
Tom Brown is head of BankStocks.com.