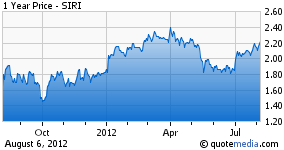 There is a lot of excitement surrounding Sirius XM's new On-Demand service that launched this weekend. Within minutes of the launch we at SiriusBuzz covered the news and outlined a first blush look at the new capabilities. Certainly this is a big and bold move for Sirius XM (SIRI), but does it level the playing field or redefine it? That is the burning question.
The app is great, but does not go so far as to totally redefine the playing field. In order to do that we would need to see On-Demand music a-la Spotify. Sadly, at this point, the On-Demand feature only encompasses select talk content.
"In addition to great OnDemand content, this new app also features the ability to "download" and store select shows for offline listening - heavy data users rejoice! Unfortunately, this feature is only available for select shows and while you can download The Howard Stern Show itself, certain specials like "Best of the Week" and other Howard 101 niche programming seem to be off limit. What I can see is that you can store other great talk shows like The Jason Ellis Show, Cavino & Rich, and Jay Thomas as well as a plethora of Sirius XM Town Hall specials." - Charles of SiriuisBuzz
The Advantages For Sirius XM
Sirius XM has long maintained an advantage of content. There are plenty of services that offer music, but none that come close in terms of talk, news, and sports. Slacker is likely the closest. They have offered fully customizable ESPN and ABC news for over a year already and recently added customizable public radio and business news in a deal announced with American Public Media. Sirius XM does leapfrog Slacker now with this latest addition of On-Demand capability.
Sirius XM also carries an advantage over iHearRadio, which offers a massive news and talk line-up. With channels on both coasts and everywhere in between, it is pretty easy to find some content that you want to hear, but downloading and storing that content for listening later is not the easiest task. For that you will want the Tune-In radio app, or a service like Stitcher or DAR.fm, which all let you record content for later listening.
The real advantage for Sirius XM is that the On-Demand service makes a subscription to the company more valuable. A passionate fan like myself has been a frequent user of Slacker simply because I am working on projects in New York City at the moment and Sirius XM does not work on the subway. Slacker, with the ability to cache (store) radio stations was a great solution. Now I can listen to Sirius XM content and not be forced into drifting away to another service.
This latest advantage cannot be overstated. Keeping listeners loyal is HUGE! With more and more options out there it is plenty of things for consumers to choose from. I myself am a Sirius XM-Slacker-Spotify user. Why do I use all three? Because I like the ability to cache stations on Slacker, I like the superior overall content of Sirius XM, and I like the ability to hear what music I want when I want on Spotify. The more one service can be the de facto solution the better. Sirius XM has now taken a big step in that direction. If the company can add even more On-Demand content, it will be an even better situation.
Perhaps the biggest factor for Sirius XM is that they are finally having a meaningful presence in the mobile arena. While some will argue that data costs are a hindrance, the data proves different. Spotify is proof that consumers are willing to have data plans to get the functionality and content they want. Sirius XM can now capitalize on these consumers.
The Shortcomings For Sirius XM
As yet the company does not offer "personalized radio" in the area of music a-la Pandora (P) or Spotify. Sirius XM has promised a personalized service this year, so that should allow it to leapfrog Pandora, but alas, true music On-Demand is still a ways off. The reason is that Sirius XM lacks the direct deals with the record labels that will allow this. Currently Sirius XM has deals with 85 labels, none of them the major 4. The direct deals Sirius XM does have account for about 5% of the plays on the service. Until the company can get direct deals, it will be difficult at best to match Spotify on the music front.
Spotify has been on fire. It now boasts 4 million subscribers, and has added 1 million in the last 6 months. If you were impressed by Sirius XM's addition of 1 million in that same time-frame, then you must concede that Spotify does have something consumers want. Perhaps Spotify has found the secret to a business model in IP delivered radio. If you want mobile, you have to subscribe. In comparison, Pandora only boasts about 1 million paying subscribers, but is available to all on the mobile platform. The secret is that you need to offer something consumers want and being "commercial free" is not all that it is hyped up to be. Sirius XM boasts commercial free music, but the ad-like bumpers actually mean less music than some other services. Lately Valerie Bertinelli has been "promoting" the Hits-One channel with a monologue of how wonderful Sirius XM is. This is technically not an ad, but consumers may feel different.
Why do I bring this up? Sirius XM is walking a fine line with consumer preference. Some like radio DJ chatter for the companionship it offers. Some want a total commercial free experience. Sirius XM's disadvantage here is that it can not be all things to all people over the satellite. Make those consumers that like companionship happy and you alienate the ones that want pure music. A happy medium is difficult to find. The company could offer pure music on the IP side, but the royalties cost more. It will take some time before Sirius XM can truly be a one stop shop. Perhaps the ease of use factor that Sirius XM has will win the day, but for me, I will still be a three service user (although Slacker just took a bit of a back seat with Sirius XM's latest move).
I understand that what I am writing will not be popular with some investors. I know that we all want the great news that sets the stage for the company to dominate. I try to keep it real. This news is a great advancement for Sirius XM and that is noteworthy. It is an added benefit for existing subscribers that should make retention easier. That is a huge plus. It simply is not yet the all-in-one solution. That day may be coming, and it will get closer with the personalized radio set to be offered by the end of the year, but it is not there as yet.
Celebrate the advancement, but understand that the audio entertainment landscape is more competitive than ever.
"In just the seven months that have elapsed since my written direct testimony, new agreements have been reached between digital service providers and automakers that will reshape the competitive environment in which Sirius XM operates. For example, in the midst of the direct phase hearing of these very proceedings in June, Verizon Wireless announced the formation of the 4G Venture Forum for Connected Cars, which Toyota, Honda, BMW, Hyundai, and Kia joined, to collaborate and explore ways to directly install connectivity into those manufacturers' vehicles and obviate the need for a user smartphone to receive internet-delivered content. As part of the effort, Verizon also announced plans to purchase Hughes Telematics, a leading in-dash technology provider. Just a few weeks ago, it was reported that Apple had successfully patented a remote "click wheel" that would allow drivers to operate an iPhone from the steering wheel. These are not upstart companies, but the leading wireless provider and electronics device manufacturer in the country, and they are moving aggressively to provide content in the vehicle." - David Frear CFO Sirius XM - Testimony in Copyright Royalty Board Hearings
Yes, Sirius XM is the leader in content, and yes, the business will prosper in the years to come. We cannot discount the fact that technology is evolving though and Sirius XM needs to keep pace. That is what these moves in On-Demand and personalization are all about. The key is keeping pace. With these recent developments Sirius XM is on the right track
Disclosure: I am long SIRI. I have no position in Pandora