The Walt Disney Company (NYSE:DIS), a household name in the entertainment industry, is a safe investment due to its diversified streams of revenue. Based on the valuations discussed in the thesis given below, as well as the positive future outlook for several business segments, we have a buy rating on the stock.
Disney is a diversified entertainment company with operations around the world. It has five business segments: amusement parks and resorts, media networks, studio entertainment, interactive media, and consumer products. Disney resorts in Florida and California -- along with management of operations at Disneyland Paris and Hong Kong, and the licensing of the Tokyo Disneyland Resort -- all come under the umbrella of the parks and resorts segment. The media network segment includes radio networks like ESPN and Radio Disney, along with various other radio stations. This segment also contains TV stations and the ABC and ESPN TV networks, which are two of the largest networks in the U.S.
ABC provides access to its content through websites like ABC.com. Studio entertainment encompasses the production and distribution of films under the brand names of Pixar, Walt Disney Pictures, Touchstone Pictures, and Dimension. The interactive media segment comprises of Disney-branded games for different platforms, including mobiles and online. This segment's revenue also comes from licensing, advertisement, and mobile phone businesses in Japan. Lastly, the consumer products segment consists of a variety of operations. These range from licensing Disney characters to earn royalties to making and selling products like toys and apparel. The publishing business, Disney Publishing Worldwide, is a part of the consumer products segment and publishes books (including digital), magazines, and comics in multiple languages.
Financial Performance
Financial results have been strong for Disney over the years. The company has a history of beating analyst estimates. Below are the results for the last four quarters:
Click to enlarge images.

Source: Yahoo Finance.
46% of revenues come from media networks, 30% from theme parks and resorts, 12% from studios, 7% from consumer goods, and the remaining 2% from interactive media (as of the last quarter). Operating margins for media networks have shown the largest increase year over year (a 5% increase in March 2012 as compared to the same quarter last year) because of advertisement revenues and fees from cable and satellite companies. Profitability in the first quarter (profit margin of 13%) was impacted due to negative operating income for studios and interactive media segments, as well as lower contribution from theme parks and resorts. This was because of bad performance by the movie "John Carter," coupled with higher park operating expenses, infrastructure investment, resort expansion, and content cost for ESPN. Interactive media segment's revenues fluctuate with performance and releases of games.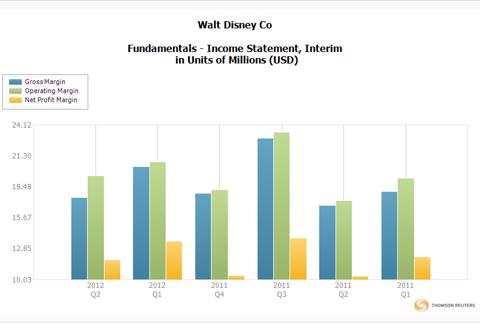 The company's long-term debt-to-equity ratio is 33% compared to 30% by the last fiscal year's end. Roughly $1.5 billion is due in 2012 and $1.1billion is due in 2013. The cash flow from operations has been increasing over the years, from $5.3 billion in 2009 to $7billion for the year ended October 2011. The cash and equivalents stand at $3.73 billion as of the last quarter. Therefore, Disney is in a comfortable position to pay off the debt.
Disney is a safer investment compared to its peers, even in times of economic slowdown. Below is a graph showing the company's performance during the financial crisis. It outperformed the S&P 500 index, as well as it peers, with a decline of roughly 32% compared to the S&P 500's 40%, Time Warner's 54%, and Viacom's 45%.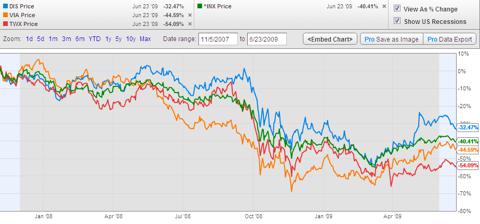 Bullish Scenario
Disney has engaged in a lot of profitable acquisitions over the last few years, including Marvel, Playdom, and the Mobile Gaming part of UTV software communications. These further diversify its business and provide growth opportunities and a larger revenue base for the future. Disney, being so diversified, also has the ability to sell parts of its businesses without hurting its other businesses -- e.g. News Corp buying ESPN's stake in the Asian joint venture of "ESPN Star Sports" for $350 million.
It has also taken positive steps, like increasing its Internet presence in line with the online business trend. The fees that satellite and cable companies pay for Disney programming are a stable stream of revenue in all economic situations. Producing films like "Pirates of the Caribbean" would be a source of revenue for many years to come. Sequels of successful films can drive revenues up. Disney has a reputation of understanding consumer trends, in addition to having a brand name that is known globally among customers from all age brackets.
Bearish Scenario
The entertainment industry can be adversely affected by the prevalent economic condition. Current economic uncertainty in Europe and the U.S. can negatively impact Disney's profits. Consumers are more discrete in their spending, which can result in fewer visits to resorts, hotels and cinemas, coupled with fewer sales of Disney merchandise and consumer goods. Moreover, piracy has increased over the years, which could impact the company's revenues from licensing and royalties, as well as from film sales. The TV networks face stiff competition from the likes of Amazon's (NASDAQ:AMZN) instant video service, Netflix (NASDAQ:NFLX), Viacom (NASDAQ:VIAB), and other TV networks like NBC Television Network. Disney Studios (the makers of "Avengers") face competition from peers like Warner Bros. (NYSE:TWX) (makers of "The Dark Knight Rises"). The company might be required to spend more on promotions to counter the aforementioned issues. The company also derives significant revenues from advertising, which may drop if ABC programming does not get good ratings. Losses from the interactive gaming segment continue to pull profits down.
Catalysts
Profits from upcoming movies, many of which are sequels to large grossing films like "Avengers," "Spiderman," "Iron Man," "Toy Story," etc.
Sales of consumer products driven by success of movies.
Ad revenues from ESPN because of higher ratings of NBA finals.
Continued good performance from Cars Land (a themed area in Disney California Adventure of the Disneyland Resort), which opened recently, improving attendance at parks and occupancy rates of hotels.
Increased revenues from cable and satellite companies like Comcast.
Valuation
Disney has a dividend yield of 1.2% (past five-year average of 1.3%), a $1.08 billion annual dividend (50% increase year over year). This constitutes a payout ratio of 22%, signaling that the company is retaining the bulk of its earnings to pursue growth opportunities like acquisitions. Peers like Viacom and Time Warner have dividend yields of 2.4% and 2.7%, respectively.
Disney also repurchases its stock. In the first two quarters of fiscal year 2012, Disney repurchased shares worth $1.7 billion (45 million shares). It still has authorization to repurchase an additional 260 million shares.
The stock is trading near its 52-week high value, which it reached earlier this month, because Bank of America upgraded the stock to a buy, citing the profit estimates to be low. Disney's YTD performance has been far better than its peers, as well as the S&P 500 index, as seen in the graph below. The stock is up 30%, while the S&P 500 index is only up 8.5%.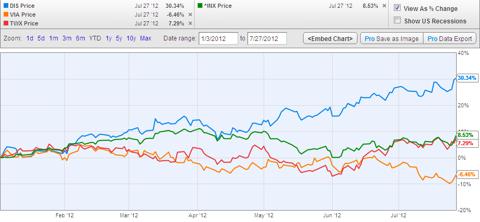 Disney is a safer investment because of its diversified streams of revenue. We recommend buying the stock based on the valuations below, as well as the healthy outlook for the coming months of its media network, theme parks, and studio segments. The forward P/E of the stock is 14 times (this is also roughly the average P/E over the last five years), compared to Viacom's 9.5 times, Time Warner's 11 times, and Dreamworks Animations SKG's (NASDAQ:DWA) 20.1 times.

*Calculated on 13% long-term growth rate for earnings.
Disclosure: I have no positions in any stocks mentioned, and no plans to initiate any positions within the next 72 hours.