Keeping in step with my two previous articles, here is another thesis on a small company that I have been watching for a while and have written about on my blog.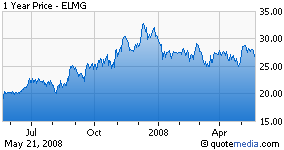 EMS Technologies (NASDAQ:ELMG) is a leader in the design, manufacture, and marketing of wireless communication solutions addressing the enterprise mobility, communications-on-the-move and in-flight connectivity markets for both commercial and government users. EMS focuses on the needs of the mobile information user and the increasing demand for wireless broadband communications. The company continues to be an innovative leader in the development and commercialization of wireless communication technologies.
For the first time, the year 2007 saw EMS ship antennas and avionics to enable cell phone use for commercial airplanes in Europe. Air France was the first to test in-flight text messaging and e-mail service in December 2007.
In 2007, EMS was awarded a multi-year contract on the F-22. This three-year buy is a contract for the company's Defense & Space System divisions F-22 Intra-Flight Data Link.
Inmarsat's selection of EMS as prime contractor to design its 2nd generation satellite and GSM mobile phone expands the company's proven satellite technology into a substantial new market. The Inmarsat High-Speed Data Terminal provides worldwide access to corporate networks and the Internet using the Inmarsat satellite system. Such systems are used in military transport; customers include The U.S. Army and the Canadian Department of National Defense.
EMS is equipping the B-2 Stealth bomber with a high performance, secure communications system, enabling improved situational awareness and national security. EMS has been under this contract since the program's inception, which began in 2004. In 2007, EMS had $6 million in revenue from B-2 work.
On April 30, EMS Technologies reported 1st quarter net income of $4.16 million, up from $2.88 million from the 1st quarter 2007, a rise of 44.4%. Total revenue for 1st quarter 2008 was $75.49 million vs. $66.57 million from 1st quarter 2007, an increase of 13.40%.
The rise in total revenue can be attributed to a strong increase in the revenues of each of the company's three segments, especially in the firm's SATCOM division, which showed a revenue increase of 27.1%, compared to 1st quarter 2007. (Each of the three segments is described below).
Profit margins were also higher in 1st quarter 2008 vs. 1st quarter 2007. The profit margin for this most recent quarter was 5.5% vs. 3.6% a year earlier. All profitability measures that are used in my analysis were higher in the 1st quarter 2008 vs. 1st quarter 2007. Looking at Return on Net Operating Assets [RNOA], 1st quarter 2008 stood at 1.6% vs. .7% for 1st quarter 2007 (Full year-over-year profitability numbers are listed below in the Profitability section).
On April 30, EMS also announced that it had received orders for $13 million in B-2 work. EMS estimates that for full year 2008, revenue related to B-2 work will reach $20 million.
Company Overview
EMS operates in three segments: Defense & Space Systems [D&SS], SATCOM, and LXE, each of which is focused on a different application of wireless communications. These three segments share a common foundation in broadband and other advanced wireless technologies, which provides technical synergies and allows the company to continually develop and commercialize new products for use in wide array of mobile communications.
D&SS (20.5% of 1st quarter total sales, 20.5% of 2007 total sales) supplies highly engineered subsystems for defense electronics and sophisticated satellite applications – from military communications, radar, surveillance and countermeasures, to commercial high-definition television, satellite radio, and direct broadcast TV for airlines.
SATCOM (34.2% of 1st quarter 2008 total sales, 48.2% of 2007 total sales) supplies terminals and antennas that enable end-users in aircraft and other mobile platforms, such as military command, service vehicles and transport trucks, to communicate via satellite networks at a variety of data speeds. SATCOM has 90% market penetration for high-speed data in the military/defense market.
LXE (45.3% of 1st quarter 2008 sales, 31.3% of 2007 total sales) is a leading provider of rugged computers and wireless data networks used for logistics applications such as distribution centers, warehouses and container ports. These products allow for effective and efficient inventory control and management, in any climate. Products include wearable and vehicle mounted computers.
Competitive Strengths
EMS prides itself in its technological leadership. The company has developed technology that they believe were the first such developments in their respected markets. These include: airborne terminals for high speed, two-way data transmission via satellite for the communication of voice and data in military, business and air transportation markets, as well as antenna systems allowing commercial airlines to provide satellite TV to passengers.
EMS is committed to research and development. By devoting significant resources to R&D, EMS is able to enhance and maintain their technological advantages.
Although EMS operates in three segments, their shared knowledge base and core expertise in wireless technology creates synergies among their various businesses. These synergies provide the company advantages in R&D, manufacturing, and sales and marketing.
Throughout the company's existence, they have developed and maintained important ongoing relationships with both commercial and government customers. By anticipating and recognizing customers' needs, EMS has been able to continuously build and strengthen customer relationships.
A diverse global customer base will provide the company ample opportunity to grow the business and dampen the effects of a downturn in any one of the company's markets.
Financial Overview
Growth: For the year ending 2007, total sales were $287.9 million compared to $261.1 million for the year ending 2006, an increase of 10.3%.
The majority of this revenue increase came from the SATCOM division, which posted a 27.2% growth in revenue from 2006-2007. This is on top of the 37.7% revenue growth from 2005 -2006. In 2001, SATCOM recorded revenues of $15.224 million and in 2007 SATCOM had revenues of $89.968 million, an increase of 490%. This impressive growth shows the strength of the company's R&D and the ability of the company to obtain long-term customers who are committed to having the best technology possible. Year-over-year revenue growth was also impressive in the D&SS division. In 2007, revenue grew 12.7% over 2006, and this after a small revenue growth of 1.99% from 2005-2006. Sales were relatively flat in the LXE division, growing a mere .6% in 2007. However, from 2001 to 2007, revenues in this division have grown over 89%. Next generation handhelds, which include Bluetooth technology and the ability to wirelessly print, as well as purchases from such new customers as Circuit City, GAP, Food Lion, and Adidas should help to increase revenues in the LXE division in the future.
It is worth noting that 2007 international revenues topped $100 million for the first time.
At the end of 2007, EMS had a backlog that totaled $127 million, up from $94 million the previous year. Customers of the LXE and SATCOM divisions have a short delivery cycles so these orders are almost always turned into revenue within a short period of time. However, D&SS have longer delivery cycles, so there is uncertainty as to whether these will be turned into firm revenues in any one quarter. The backlog for this division stood at around $65 million at the end of 2007. EMS believes that 60% of these orders will be completed and booked as revenue in 2008.
Profitability
EMS has been able to increase its Return on Net Operating Assets [RNOA] from 4.2% in 2001 to 7.5% in 2007. Year 2006 showed an RNOA of 18.3%, the highest of the historical years analyzed. A lower 2007 Net Operating Profit After-Tax [NOPAT] caused the decrease from 2006 to 2007. Both Return on Invested Capital [ROIC] and Return on Equity [ROE] has increased historically. From 2001 to 2007, ROIC has increased from 4.2% to 7.5%, and ROE has increased over the same period from 3.7% to 7.5%. The company's profit margin has also increased over the years 2001 – 2007 starting at 2.5% and increasing to 6.5%. EMS was able to achieve a profit margin of 12.6% in 2006, almost double that of competitor L-3 Communications and about 9% higher than competitor Intermec. Sales growth has been strong historically for EMS Technologies. As stated earlier, 2007 saw a 10.3% increase in revenue over 2006, and 15.5% increase from 2005 to 2006.
Risks
A continued weakening in the global economy could lead to continued weakness in the airline industry, especially in profitability. In fact, we are seeing this with yesterday's announcement by AMR that they are cutting capacity. This continued weakness could dampen the demand for continued spending on in-flight entertainment, which could adversely affect the revenues of the D&SS division.
Although Air France has been testing in-flight text messaging, e-mail, and cell phone use, demand for such service may not warrant the spending by airlines. Also, government regulation domestically may keep such service grounded, thus destroying another source of revenue for the company.
Sales to various customers for U.S. government end use accounted for 24.6% of the company's net sales in 2007. Therefore, many of the government contracts are subject to funding review. If there are any cutbacks in defense spending or other government cutbacks, the company could see revenues decline.
Competitors
EMS Technologies competes with many larger and better-known companies. I have chosen two of its closet competitors as comparables for this analysis. As a comparison for the Defense & Space Systems division, the closet competitor is L-3 Communications, a much larger company than EMS Technologies. As a comparison for the LXE division, the closet competitor is Intermec. Both companies are compared to EMS Technologies below.
The company also competes with Boeing, Lockheed Martin, Motorola, Raytheon, and Harris Corporation.
Customers
It is interesting to note that some of EMS Technologies competitors are also the company's customers. In the SATCOM division, both Boeing and L-3 Communications are customers for the company's Aeronautical Terminals which provide aircraft operators with two-way high-speed data capability.
Other customers include such companies as Gulfstream, Bombardier, Honeywell, U.S. Department of Defense and NATO, not to mention over 18 governments worldwide.
Valuation
I have calculated a fair value price of EMS Technologies of $32 per share using the Adjusted Present Value [APV] DCF model. Using historical growth rates for each segment, managements estimates going forward, and continued strong growth in international markets, I have modeled sales growth at 13% for 2008, 14% for 2009, 15% for 2010-2011, 6% in 2012 and 5% for 2013 through the Terminal year of 2014. The growth rate in the SATCOM division has been historically high, averaging around 30%, but to be conservative, I have this division's growth rate somewhat lower. In my opinion, I believe that my own valuation for EMS is low given the fundamentals and direction of the company. I have modeled sales growth conservatively, and costs aggressively. I believe that with the product line the company has, as well as continued R&D spending which should enable the company to be at the forefront of technology, they will differentiate themselves from competitors and be able to increase their margins.
I have calculated EMS's Weighted Average Cost of Capital [WACC] at 8.3%. However, since I have used the APV method to value this firm, I used the Unlevered Cost of Equity (Rue) to discount the future free cash flows. This has been calculated at 8.68%.
The firm's 2007 Return on Invested Capital [ROIC] stood at 7.2% and its Return on Equity [ROE] was 7.9%.
I am not impressed by the fact that both of these ratios are below the firms Cost of Capital, but I am more impressed by the future prospects and growth ability of EMS. With the contracts they have signed, and the global movement towards allowing e-mail and instant messaging on commercial airlines, as well as the possibility of cell phone use, I am excited about the future profitability of EMS Technologies. A strong product line, a strong and intelligent management team, and impressive Research and Development spending will, in my opinion, turn this company into one of the top firms in wireless communications.
Industry Peers

If this company is as exciting to you as it is to me, please check out the company's website for further education of the company's product line and customers. I would also suggest you read the company's 2007 Annual Report.
Disclosure: Author has a long position in EMS Technologies.