Google Inc (GOOG) and Apple Inc (AAPL) are both trading at paltry P/E multiples considering their growth rates, operating margins, and balance sheets. Based on Bank of America's recent S&P 500 earnings estimate for 2013, the S&P 500 is currently trading at 12.76 times next year's earnings. As indicated by the table below, Google is trading at a slightly higher multiple and Apple is trading about one point lower than the S&P 500 for next year.
| | | |
| --- | --- | --- |
| | Google | Apple |
| 2013 | 12.99 | 11.72 |
| 2014 | 11.04 | 10.16 |
Each company has experienced dramatic P/E compression over the last five years despite accelerating top- and bottom-line growth. GOOG and AAPL are trading at significantly cheaper '13 and '14 multiples than AT&T (T), Coca-Cola (KO), Procter & Gamble (PG), and many other blue chips. They are both trading at very attractive valuations, which must be the result of traders discounting their future growth and profitability potential.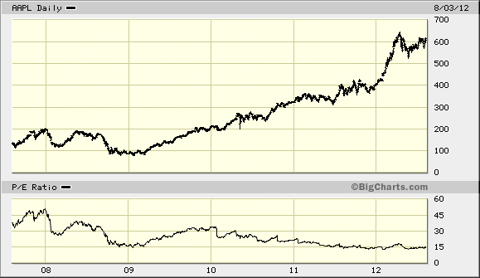 (source: bigcharts.com)
AAPL Revenue, Operating Income, and Operating Margin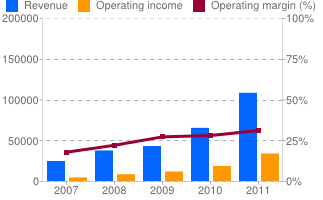 (Source: Google Finance)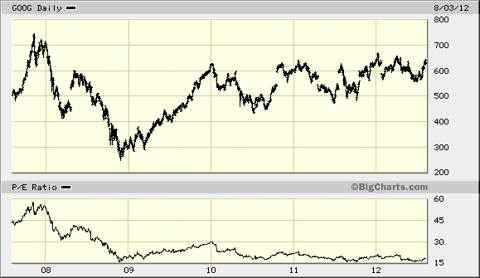 (source: bigcharts.com)
GOOG Revenue, Operating Income, and Operating Margin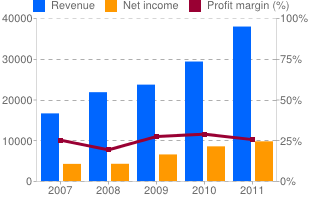 (source: Google Finance)
Research and Development
Although its difficult to predict how innovative Google and Apple will be in the future, it is informative to examine their spending on research and development in their five most recent fiscal years.
| | 2007 | 2008 | 2009 | 2010 | 2011 |
| --- | --- | --- | --- | --- | --- |
| R&D (in millions) | $2,120 | $2,793 | $2,843 | $3,762 | $5,162 |
| R&D as % of Rev. | 12.78% | 12.81% | 12.02% | 12.83% | 13.62% |
| | 2007 | 2008 | 2009 | 2010 | 2011 |
| --- | --- | --- | --- | --- | --- |
| R&D (in millions) | $782 | $1,109 | $1,333 | $1,782 | $2,429 |
| R&D as % of Rev. | 3.18% | 2.96% | 3.11% | 2.73% | 2.24% |
In absolute terms, Google invested 213% more than Apple in research and development in 2011. As a percentage of revenue, Google spent 608% more on R&D than Apple. Google is likely to continue the R&D ramp-up. The company stated in its most recent 10-Q that "[they] expect that research and development expenses will increase in dollar amount and may increase as a percentage of revenues in the remainder of 2012 and in future periods because we expect to continue to invest in building necessary employee and systems infrastructures required to support the development of new, and improve existing, products and services."
Apple's last 10-Q doesn't suggest the same increase in R&D. The company stated the following: "To remain competitive, the Company believes that continual investment in research and development and marketing and advertising is critical to the development and sale of innovative products and technologies."
Product Pipeline
Research and development doesn't necessarily translate into innovation and growth sustainability (Microsoft (MSFT) spent $9,811 million, 13.31% of revenue, in its last fiscal year). Its important to look at the pipeline of products produced by the R&D.
In addition to improvements to and new iterations of existing products, the two companies have recently launched, or are developing, the following products that have not yet materialized into meaningful monetization:
Google: Nexus 7 tablet, Driverless cars, Google Glass, Home accessories with wifi (such as coffee pots or lightbulbs operated remotely), Google's fiber optic service, Google Drive (cloud storage product), Google wallet (payment system on cell phones), and others.
Apple: Smaller iPad, Apple television, Apple maps, Additional educational products, and others.
Google and Apple are very secretive about product development, so each company undoubtedly has many developmental products that remain publicly unknown. Clearly, however, Google has a much broader ecosystem and is willing to invest in many bad ideas for the few gems.
Apple is very disciplined with product releases and isn't willing to damage the brand with risky launches. On the other hand, Google has released many innovative products that it pulled after poor consumer response. Apple only swings for home-runs, while Google doesn't mind if some of its hits are singles.
Conclusion
Even after Google's acquisition of Motorola in the 2nd Quarter, 86.2% of Google's 2Q revenue was generated by web advertisements. In my view, this is a compelling reason why Google's growth is more sustainable than Apple's. Google's revenue growth is not primarily dependent on new product launches. Google's online advertisement business is a mostly invisible online toll booth benefiting from increased traffic from all sources, including desktops, laptops, tablets, smartphones, televisions and other household devices, and (eventually) Google Glasses. In addition, as noted above, Google is outspending Apple by more than two times in research and development, which will result in new products to promote continued growth.
Disclosure: I am long GOOG.