In this installment of the My Mad Method series, I'm going to tell you how my personal rating and ranking method has led me to pick the next stocks that I'm going to add to my growing IRA portfolio, as well as which ones to sell to fund that shopping spree.
How Am I Going To Pay For All Of This?
As part of my conversion to a full-throttle Dividend Growth Investor [DGI], I realized that the precious metals stocks that my former broker included in my IRA when he set it up back in July 2010, may not be the best use of the capital those shares represent. I understand the function of gold and silver stocks in a portfolio to provide a certain degree of diversification, but looking through a DGI lens, these stocks aren't generating any income (or very, very little, relatively). I've noticed that what tends to happen is that as "other" stocks go down, precious metal stocks trend up, and vice versa. So, while the net balance of my IRA is "protected," these metal stocks are not generating any dividends, therefore they are not generating income, therefore they don't have a place in my IRA.
I therefore decided to sell off Alamos Gold, Inc. (AGIGF.PK) and Central Fund of Canada (NYSEMKT:CEF), which I did on July 30, while prices were decent. Also, I have set a limit order to sell my remaining position in Endeavor Silver Corporation (NYSE:EXK) at a price that is a bit higher than it currently is (which is the lowest I've seen it since I started managing my own investments back in October, 2011). EXK has done well for me, and is currently up over 100% in my portfolio; I could just sell half of it and play with "house money," but I really don't see any reason to hold onto it once it hits the limit price I've set for it.
In addition, I've decided the time has come to shave off a bit more of my profits from my remaining shares of Apple, Inc. (NASDAQ:AAPL). So I've set a limit order a bit higher than its current price, which means the remaining shares will represent an allocation of about 3% of my IRA's portfolio, which is just dandy. I have a feeling that, despite the conviction of some "enthusiastic" Apple fans, AAPL may not go much higher than it currently is. If it does, I'll still have some shares and can enjoy the gains, but in the meantime, it currently only yields 1.7%, which isn't enough to guarantee it a seat at my DGI party.
And finally, there's Abbott Laboratories (NYSE:ABT). Abbott has been great for me since I picked it up last October as one of the first stocks that I knew I wanted to add to my IRA after shedding some of the International losers that were in it at the time. Its price is up over 21%, the recent yield is 3.1%, and my Yield on Cost (YOC) has grown to 3.7%, all in about nine months. However, I have come to agree with SA contributor David Van Knapp that the company's decision to split itself into two companies is not a wise move, at least from a DGI shareholder's perspective. So I've taken a similar approach to what Dave has espoused and set a limit order at 2% above the August 1 closing price. If it doesn't sell at that price by September 1st, I will change the limit price to be 1% above what it is at that time, and then if it doesn't sell at that price by the ex-dividend date in October, I will sell it at the price it is at once I've secured the latest dividend.
All of these actions, plus the regular inflow of dividends from my existing positions, will provide me with a nice stash of capital with which I can improve my portfolio by adding companies that are either Dividend Champions, Contenders or Challengers (per David Fish's CCC list), such as Johnson & Johnson (NYSE:JNJ) and Hasbro, Inc. (NASDAQ:HAS); or which generate a very high yield at this time, such as my second mREIT American Capital Agency (NASDAQ:AGNC) and the royalty trust MV Oil Trust (NYSE:MVO).
What Next To Buy, And Why
Using My Mad Method, I've updated my watchlist and combined it with my portfolio list, resulting in a "super list" of contenders for my cash. If you're unfamiliar with My Mad Method [MyMM], it is my way of using the following 17 metrics to evaluate a list of stocks to possibly add to my portfolio, or to add to an existing position in my portfolio.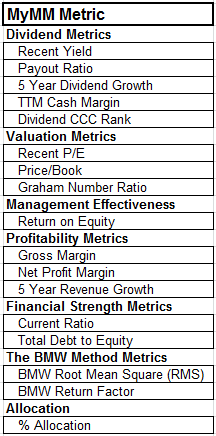 Using MyMM, I can weight any metric(s) that I want to at any given time to skew the results towards those metrics. In this case, I've left all of the metrics evenly balanced, assigning the best rank (which is the lowest, or 1) to one of the metrics, "% Allocation", for those stocks that I don't yet have in my portfolio.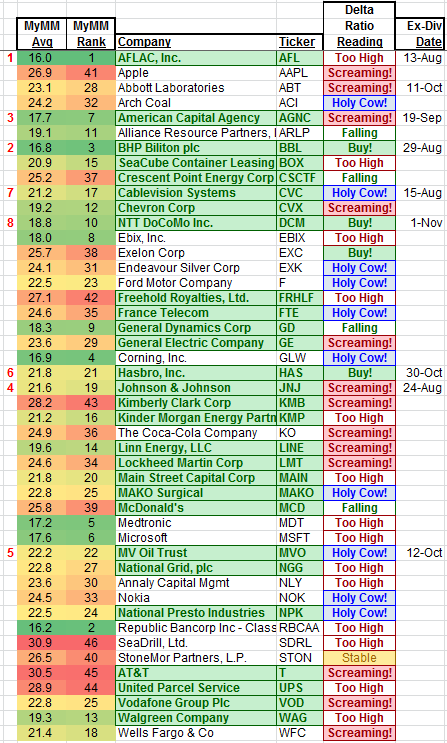 The green highlighting of the Company name and Ticker is the result of those companies meeting the criteria of being able to yield at least 3% with at most a one-eighth (1/8) allocation of the funds I anticipate having to work with soon. An explanation of the "Delta Ratio Reading" can be found here, but basically, it indicates whether a stock's current price is significantly lower than the average between its 52 week high and low (such as "Buy!" or, better yet, "Holy Cow!"), is just about at that average ("Stable"), or is higher, or even significantly higher than that average ("Too High" and "Screaming!").
In the first column above (the one containing the red numbers) I've indicated the priority in which I'd like to purchase these stocks, and in the far right column, I've listed the ex-dividend date of those stocks (plus ABT's). My goals in selecting the stocks to purchase next are:
Of the stocks that pass the >3% yield at < 1/8th of available funds (near-term future),
Try to add to some of my newer positions that don't yet have a very high % Allocation of my IRA's total balance, and
Try to pick the best (lowest) MyMM Ranked stocks, and
Try to pick the stocks with the best Delta Ratio Readings [Reading], and
Try to buy them in time to make their next ex-dividend date.
Out of this entire list of 46 stocks, the ones with a red number in the first column above are the "winners," and here's why:
#1 AFLAC, Inc. (NYSE:AFL) - Ever since I added AFL to my watchlist, it has been ranked #1 in MyMM in both the watchlist and the combined "super list" of my watchlist stocks and portfolio stocks. With an ex-div date coming up soon, I wanted to add this Dividend Champion to my stable as quickly as possible. So, with the proceeds from AGIGF.PK and CEF fresh in my account and the market taking a downturn this past Thursday (August 2), I went ahead and picked some up. AFL now enjoys a 2.17% allocation in my IRA, and I'm sure I'll be adding to that. Despite its "Too High" Reading, I picked it up on a dip and, most importantly to me, got it in time for the upcoming ex-div date.
#2 BHP Biliton plc (NYSE:BBL) - I just added my first purchase of BBL to my portfolio about two weeks ago (can you say "mid-year bonus"?), but it was a relatively small position, and with a MyMM Rank of 3 and a Reading of "Buy!", this was the clear winner for next-in-line behind AFL. A "Buy!" Reading means its current price is already below its 52 week hi-lo average, so I picked up some moreon August 2 as well. BBL now holds a 3.17% allocation in my IRA with a cost basis that is exactly $3.00 below this past Friday's (August 3) close.
After these two purchases, I'm presently out of dry powder, but as I mentioned above, I expect to get some more in the coming weeks, so I've prepared the remaining list of What Next To Buy:
#3 American Capital Agency - I need to increase and accelerate the income generated by my portfolio in any way that I can in order to get where I need to be by the time I retire. Even though AGNC has a "Screaming!" Reading, it's Ranked very well at #7, and I've been tracking it and other mREITs for a while now and have seen that, despite what the rest of the market does, these Dividend Monsters just keep going up in price. So with a September 19 ex-div date, this is going to be my next purchase when the funds materialize. This is the stock that may cause me to lower my limit sell price on EXK in order to have the funds to purchase it, since the dividend I will collect from the number of shares I expect to purchase should make up for any loss of capital from my current limit price.
#4 Johnson & Johnson - JNJ also Reads "Screaming!", but I've currently got less than a 2% allocation of it in my IRA, I'd like to have more, and its ex-div date is looming. However, I really don't want to overpay for it, as my current cost basis for what I have is $63.03, well below recent prices. I'd like to catch that next dividend, but at a yield of (merely) 3.5%, I'm willing to let it slip lower in the batting order if I can't muster enough cash in time to pick some more up at a decent price before the next ex-div date. It's a priority to add to my position in this Dividend Champion, but not so much that I'm willing to buy it "at any cost."
#5 MV Oil Trust - MVO barely makes it into the top 50% in terms of its MyMM rank of 22 out of 46, but with a "Holy Cow!" Reading and an 11.1% yield, I'd like to flesh out my current 3.5% allocation in it to the full 5% that I've set as the threshold for any one position to take up in my portfolio. I don't need to add as much MVO as I do of some of the other choices in order to get to that threshold, which means there's more cash to spread around to my other picks. With an ex-div date of October 12, there isn't the same sense of urgency to acquire it as there was with AFL, but I do want to "fill up" on it before that date.
#6 Hasbro, Inc. - I've liked this stock since I first researched and wrote about it in a head-to-head MyMM comparison of it with Mattel, Inc. With a 4.0% yield and a "Buy" Reading, HAS edges out some other contenders that are close to it in terms of their MyMM Rankings. I've got some time to acquire it, as I just missed the most recent ex-div date, and the next one isn't until October 30. Hasbro is a Dividend Challenger that is on the cusp of becoming a Contender, which makes it even more attractive to me.
#7 Cablevision Systems (NYSE:CVC) and #8 NTT DoCoMo, Inc. (DCM) - These two companies make the Top Eight in that they both have good-to-great MyMM Ranks (17 and 10, respectively), they both yield close to or over 4%, and their Readings are "Holy Cow!" and "Buy!" respectively. I'll most likely run out of cash before I can add either of these to my collection, but they make the cut and stand ready to be bought in case I can't get the price I want for JNJ or HAS.
Summary
Well, that wraps up this edition of "What Next To Buy, And Why." In closing, I'd like to say a few words about the MyMM Ranking numbers. You probably noticed that some of my higher priority choices had worse Rankings than some of my lower priority choices, or other possible choices. That's because the MyMM Rank is really just the starting point from which I begin making the hard choice of where to put my available funds next. Having a great, low Ranking doesn't guarantee that a stock is going to get picked next; there are other criteria that have to be considered, not the least of which is how much it yields, whether it's a CCC stock, and its Delta Ratio Reading. The ex-div date just gives me a clock against which I can work, and then shuffle things around if I can't pick up the next stock in time to get its next dividend payout and there's something just as good on deck.
Disclaimer: I am not a professional investment advisor or financial analyst. I'm just a guy who likes to crunch numbers and can make an Excel spreadsheet do pretty much whatever I want it to do, and I'm doing my best to manage my own portfolio. This article is in no way an endorsement of any of the stocks discussed in it, and as always, you need to do your own research and due diligence before you decide to trade any securities or other products.
Disclosure: I am long AAPL, AFL, AGNC, BBL, JNJ, MVO. Additionally, I will be selling ABT by the middle of October, and I am short EXK.