Shares of Kaiser Aluminum Corp (NASDAQ:KALU) are up more than 15% so far in 2012. However, as shown by the chart below, KALU's performance so far in 2012 is very impressive relative to its peers. Other leading Aluminum companies such as Alcoa (NYSE:AA), Century Aluminum Co (NASDAQ:CENX), Alumina Ltd (AWC), and Aluminum Corp of China (NYSE:ACH) are all down so far in 2012.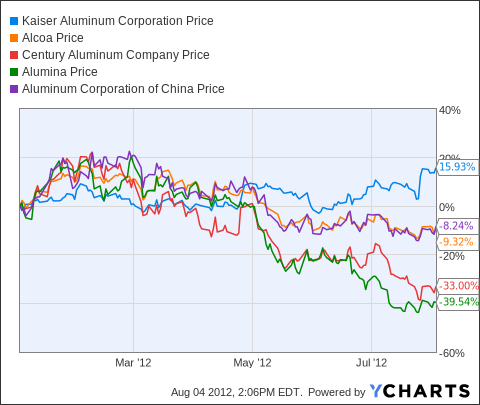 KALU data by YCharts
Fabrication vs Production
Unlike its peers, KALU is focused on the fabrication side of the aluminum business, not the production of primary aluminum. Because of this, KALU has not been hurt by weak aluminum prices. To the contrary, lower aluminum prices have helped KALU report record earnings for the first half of 2012. Since KALU is in fabrication business, this means that the company sells finished aluminum products to companies in the aerospace and automotive sector. Primary Aluminum is an input cost for KALU. While some companies such as Alcoa do have significant fabrication businesses, KALU is the only pure play on aluminum fabrication.
Balance Sheet
In addition to being in a slightly different business than most aluminum companies, KALU is also in a different financial state. Currently, KALU has $65 million in net debt and just over $1 billion in equity. Alcoa has $7.8 billion in net debt and equity of $8.9 billion; Century Aluminum has $101 million in net debt and equity of $540 million; Alumina has $470 million in net debt and equity of $1.76 billion. Compared to its peers, KALU is in a much stronger financial position. The weak financial position of other aluminum companies has probably played a role in the weak performance so far in 2012.
Short Interest
Despite the rally, many investors are still skeptical of KALU. Short interest currently stands at 1.84 million shares or 11.5% of the float. If the company continues to report strong numbers, the potential for a short squeeze is high.
My Take
Right now, KALU is the best trade in aluminum. The company is in a unique position to benefit from the oversupply of aluminum coupled with strong end-market demand. However, KALU does trade at a higher valuation than other aluminum companies. For example, KALU trades at 1.06 times book value compared with Alcoa, which trades at just 0.64 times book value. For long-term investors, it might make sense to buy a primary producer such as Alcoa because of the valuation. However, short-term investors should buy KALU for a few reasons. KALU is the only aluminum stock with any momentum and KALU is the only aluminum company reporting strong numbers. Despite this, short interest still remains very high in KALU leaving the door open to more upside.
Disclosure: I have no positions in any stocks mentioned, and no plans to initiate any positions within the next 72 hours.