The Street is buzzing about the imminent phase III trial results for bapineuzumab. Developed as a collaboration between Pfizez (NYSE:PFE), Elan (NYSE:ELN), and Johnson & Johnson (NYSE:JNJ), the drug promises to be the first treatment with the potential to prevent the progression of Alzheimer's (instead of just treating symptoms like Aricept or Namenda).
The market is convinced phase II data for bapi isn't promising enough. In an informal survey by Mark Schoenebaum at ISI, just 29% of investors thought bapi would be approved by the FDA within 2 years. The consensus is missing the point, though, and here's why:
Investors clearly aren't making educated bets on this. When the first set of phase III results suggested bapi wouldn't work for a subset of Alzheimer's patients with a risk factor (ApoE4) for the disease, ELN shares plummeted.
Click to enlarge.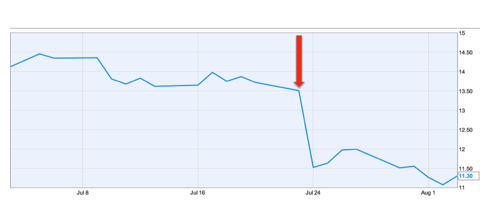 If investors were paying attention to the data from phase II, they would have known bapi had virtually no hope of success for these patients. The assumption that this portion of the trial would fail should have been built into the market. So...let's take a look at the data and see what Wall Street is missing.
First off, the ApoE4 non-carrier data is pretty good. This patient cohort had slightly more than a 4 point improvement over placebo in the ADAS-cog assessment used to determine the severity of Alzheimer's symptoms. Aricept, a drug already FDA approved for treatment of Alzheimer's, only showed a 3 point improvement over placebo in phase II. Cerebrospinal fluid levels of a modified tau protein, which marks disease progression, were significantly lower in bapi patients with no ApoE4. Not only that, but toxic amyloid-beta protein levels were significantly lower in the brains of patients treated with bapi.
A drug with these stats has much better prospects for approval than the Street has estimated. Pfizer stock in particular is a bargain. Trading lower than its peers, it has a strong pipeline with many candidates nearing phase III and/or approval--and that's before the billions in profit an approval of bapi would bring.
A major caveat to look out for is the increased risk for vasogenic edema brought about by bapi. However, the risk was most prevalent in ApoE4 carriers, and we already know they won't be receiving this drug on the FDA's watch. Given the ubiquity of ApoE4 screening tests, this shouldn't be a major problem if the phase III data suggests bapi is effective for non-carriers. No patients in the bapi trials experienced long-term damage or sustained edema symptoms once taken off the drug. Close monitoring of patients would therefore be sufficient to avoid complications.
The real wild card here is the FDA panel's final interpretation of the data. But with no new Alzheimer's treatments in the last 10 years and no drugs available with the same potential as bapi to actually stall progression of the disease, it's likely the panel will approve anything with even modest potential for benefit. An aging population and growing Alzheimer's numbers make this disease a major social/economic issue. The panel will be aware of this and act accordingly. I anticipate solid phase III data for bapi in the coming months and (relatively) quick approval.
Disclosure: I have no positions in any stocks mentioned, and no plans to initiate any positions within the next 72 hours.