Financial markets continued to climb in July, and followed through with a strong rally at the start of August. Markets rallied after a report on a rise in U.S. employment in July. The U.S. Bureau of Labor Statistics reported that employment rose by 163,000, with the unemployment unchanged at 8.3%.
The figures imply that investors should be more bullish on markets. This warrants further investigation on the health of the U.S. market. There are two caveats that limit the strength of the job figure. First, labor force participation rate stood at 63.7%, a three month low. Second, the job figure was adjusted for birth/death by 52,000. In the July 2011 employment report, the figure was adjusted by just 5,000. Since the employment report is not as strong as the headline suggests, investors should continue to approach the markets with skepticism and conservatism.
When it was last discussed in July, a practice portfolio created on kapitall.com matched the performance of the S&P 500. This portfolio is managed concurrently with real money. The purpose of this approach is to test and track investing ideas before entering real-life trades.
Over the past month, performance slipped:
(click image to enlarge)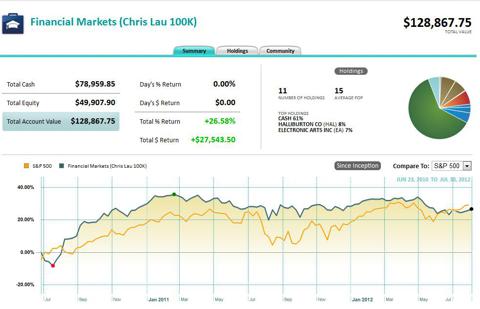 (Chart Source: Kapitall.com)
| | |
| --- | --- |
| Top 5 Company Holdings | Allocation |
| Cash | 61.27% |
| HALLIBURTON CO | 7.60% |
| ELECTRONIC ARTS INC | 7.25% |
| CLIFFS NATURAL RESOURCES INC | 5.88% |
| RIVERBED TECHNOLOGY | 5.34% |
Discussion of Portfolio Allocation:
Cash remains the largest holding in the portfolio, at 61% of assets. There are many reasons to raise cash. The reasons cash levels were raised throughout the year were:
1. To reduce exposure to risk
2. To wait for fully-valued assets to drop
3. To raise the funds available for better opportunities in the future
Discussion of Holdings:
The cash level rose after Breitburn Energy Partners (BBEP) was sold entirely. Shares were sold because it reached its target price, and may fall in the near-term. Shares bottomed at $16 in June, and rallied to close recently at $18.70. The company increased distributions to $0.4550, or $1.82 per share annually, yielding 9.7% and payable to shareholders at the close of business on August 10. Breitburn is scheduled to report earnings on August 7.
The position on Halliburton Company (NYSE:HAL) was increased to 8% of holdings. In its quarterly earnings report, Halliburton said it expected downward pressure on natural gas to continue in the summer. The bullish reasons to add to Halliburton come from its management discussion. During the call, management said it experienced a larger reserve in guar inventory at a higher average cost of sales. Management recognized its mistake in buying too much guar and paying too much for it. Halliburton will work through the inventory by the end of the year.
Halliburton's shares were depressed up until late-June. If the monsoon season pushes guar prices higher, this will be beneficial for the company.
In the Gulf of Mexico, Halliburton is now operating at pre-moratorium levels. Investors should expect margins to improve incrementally.
Electronic Arts (NASDAQ:EA) represented 7.25% of holdings, as a position was added almost every month throughout 2012. During that time, EA continued its steady decline. At one point, Zynga (NASDAQ:ZNGA) had a market share greater than that of EA. The market had decided, erroneously, that social media and mobile games at Zynga would grow faster than earnings at EA. During its conference call, EA reported an EPS loss of $0.41.
During the quarter, the company continued to be hurt by the release of Star Wars: The Old Republic, a game that cost too much to make and sold too few copies. EA experienced a slowdown in social network games, but benefited from a more diverse product portfolio than Zynga. For example, EA saw mobile games grow in the double-digits, and continued to generate strong revenue from sales of Battlefield 3 Premium. Digital revenue increased 69%, while sales from Origin contributed to nearly 60% of the digital downloading revenue.
EA shares may be close to a bottom. The company now holds $4.50 per share ($1.4 billion) in cash, and will be buying back $500 million shares. The company will continue to release sports titles throughout the year, and expects to generate free cash flow of $300 million in fiscal 2013. This is three-fold higher than the cash flow generation generated in fiscal 2012.
Finally, Crysis 3, SimCity, and Dead Space 3 in Q4 should help bolster shares of EA later this year for investors who buy now.
Cliffs Natural Resources (NYSE:CLF) was the worst performer, dropping 33.3% and contributing to a 3% loss in the overall portfolio. Cliffs was added to the portfolio last year because the company demonstrated solid management and made conservative acquisitions to generate growth. When the company reported Q2 results, they could not have been worse. Management continues to demonstrate competence and conservatism, but investors should not expect shares to perform well in the short-term. In Q2, Cliffs pointed out:
- One of its U.S. Iron Ore customers filed for bankruptcy
- A 20% decline in seaborne pricing
- Expectation of China's slowing growth of under 8% to be temporary
- Strong steel production despite weakness of China exports to Europe
- Higher coal sales (up 21%) for North America coal
Cliffs' earnings of $1.81 per share are well below last year's $2.92 per share. Cliffs is still maintaining its U.S. Iron Ore pricing and sales outlook of $115 - $120 in revenue and $60 - $65 for cash cost. The company has $159 million in cash and equivalents, and $4 billion in debt.
On the upside, the company recently increased its dividend distribution, and will maintain its current dividend rate. Cliffs said that the dividend was stress-tested under a variety of pricing scenarios for iron ore. Finally, the company's cash flow guidance of $1.3 billion comes mostly from EBITDA, not from working capital.
In the technology sector, Riverbed Technology (NASDAQ:RVBD) made up some lost ground after reporting earnings that surprised the markets. During its management discussion, Riverbed said it had completed three top deals for WAN optimization during the quarter. Investors who missed the 34% bounce from its 52-week low should expect Riverbed to meet heightened expectations in the quarters ahead. The company is expected to grow 15% for the year. Riverbed also realigned its sales and marketing, and partnered with Juniper Networks (NYSE:JNPR) and Akamai Technologies (NASDAQ:AKAM).
During the quarter, the company said one-third of its revenue comes from repeating service contracts. Big deals of over $500,000 were also completed, helping the company to beat expectations.