Pharmaceutical company share prices tend to experience a quick surge following final FDA approval of drugs in their pipeline. We studied the stock performance of three pharmaceuticals and also noticed that the quick surge is often followed by a decline soon after, perhaps as the markets rationalize away from their initial exuberance. Based on these observations, we posit that acting immediately after FDA approval may be the best strategy - whether by selling the stock or shorting it.
Arena Pharmaceuticals (NASDAQ:ARNA) got FDA approval of the first anti-obesity drug on June 27, 2012. Stock prices for the company surged that day to a high of $11.39. Today, the stock is down 35% to $7.38.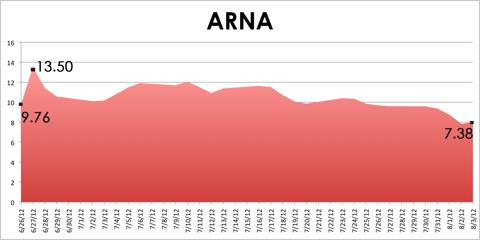 The second FDA approved anti-obesity drug on the market was developed by Vivus Inc. (NASDAQ:VVUS). After the FDA approved the drug on July 17, 2012 ,after the markets closed, with VVUS ending the day at $26.46. The stock peaked the next day to $30.89 (up 17%). Interestingly, several significant insiders sold their stock immediately after. Today the stock is trading at $20.94, a drop of 32% from the high on July 18, 2012.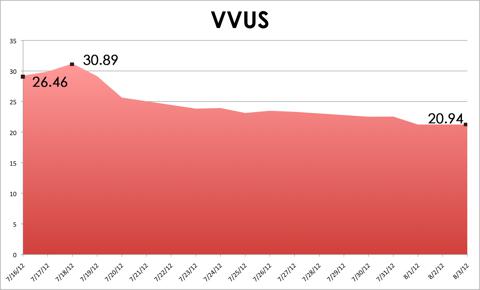 More recently, Onyx Pharmaceutical's (NASDAQ:ONXX) Kyprolis (carfilzomib), a next-generation treatment for multiple myeloma, received FDA-accelerated approval on July 20, 2012, seven days before its scheduled approval date of July 27, 2012. Many insiders sold their shares in the company quickly, around July 25, 2012. The stock peaked on the 20th to $78.76 and has since dropped 10% to $70.66 today.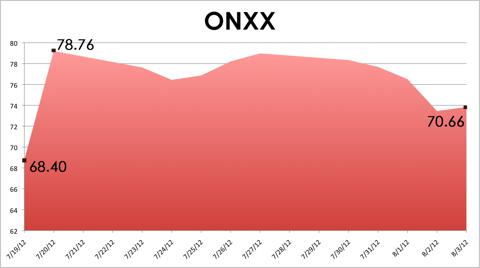 Why does this pattern of volatility occur with pharmaceuticals? The reason boils down to the long journey required for a drug to become successful in the market. Though FDA approval is an exciting event and excites the market immediately, the market quickly comes down to a reality tempered by the fact that approval is only the first step.
After the drug is approved, a lot is still left to chance. Will the company's marketing strategy work? Will doctors prescribe your drug? How many people will use the drug? Are there any side effects that didn't surface beforehand? What are the chances of a lawsuit? All of this uncertainty casts doubt on the future of the company's shares.
In these situations, the insiders seem to have the right idea. If you bought stock at a good price point in a pharmaceutical company, FDA approval of the latest drug is a good signal to cash out of a risky investment. Alternately, another investment strategy would be to short the stock immediately after a company announces FDA approval of a drug in its pipeline. Either of these strategies will prove more profitable than holding on to pharmaceutical stocks for the long term.
Disclosure: I have no positions in any stocks mentioned, and no plans to initiate any positions within the next 72 hours.