Equinix (NASDAQ:EQIX) is opening its brand new NY5 data center in the New York metro area, a facility that is expected to respond to strong market demand from its financial customers at a time when the other IBX data centers in the region have reached full capacity.
In this article, we'll go through the background of Equinix's presence in the NY area and strength in the financial vertical, as well as examine what the new opening may mean for the company in the long term.
Equinix's Presence in the New York Metro Area
Excluding the new NY5 facility, the company is operating seven data centers in the New York metro area, located both in Manhattan or in the so-called New Jersey doughnut -- a 30 kilometer to 70 kilometer circle around New York.
Here is a summary of the existing locations in the area:
NY1 Newark IBX Center: ~46,500 ft² (4300 m²)
NY2 Secaucus IBX Center: ~184,000 ft² (17000 m²)
NY4 Secaucus IBX Center: ~338,967 ft² (31490 m²)
NY7 New Jersey IBX Center: ~163,537 ft² (15193 m²) -- former S&D facility
NY8 Hudson IBX Center: ~18,236 ft² (1694 m²) -- former S&D facility
NYX Broadway IBX Center: ~16,853 ft² (1565 m²) -- former S&D facility
NY9 111 8th IBX Center: ~55,721 ft² (5176 m²) -- former S&D facility
The former NY3 peering point at 111 8th Avenue, the carrier hotel now owned by Google (NASDAQ:GOOG), is now incorporated into the NY9 facility, inherited through the Switch and Data acquisition.
Equinix's NY4 Facility Success Within the Financial Community
Equinix opened its NY4 facility in November 2007, with a leading investment bank as anchor tenant and almost half of its phase I available cabinets reserved by customers mostly in the financial vertical. The facility was expected to have a total capacity of approximately 4,700 cabinets, with an annual revenue expectation of between $95 million and $110 million -- we'll soon see that the revenue forecast has probably been exceeded by now.
The second phase of expansion of the facility was also opened with very high bookings and a couple of magnet customers, as noted by the following headlines:
Equinix Opens $82 Million Expansion of New York Area Data Center with ACTIV Financial and Direct Edge as Initial Customers

Second Phase of the Company's NY4 IBX Center is Currently 50% Reserved by Customers, Driven by the Continued Strong Demand for Data Center Services from Financial Services Customers
Here is short summary of the main openings of the NY4 facility, with the number of cabinets added and an indication of the capex invested:
Click to enlarge images.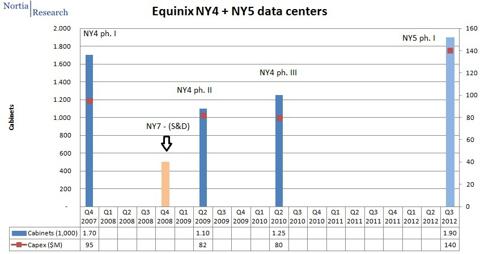 This chart also includes the indication of the opening of the Switch and Data facility, which was successively acquired by Equinix following the 2010 merger with S&D. The NY7 facility is now mainly targeting disaster recovery needs and the enterprise vertical. In total, and including some minor expansions of less than 400 cabinets made successively, we estimate that the facility has now about 4,400 to 4,500 cabinet equivalents for sale.
During the company's Q2 2011 conference call, Equinix's management shared with investors the performances obtained, at that time, from the NY4 data center: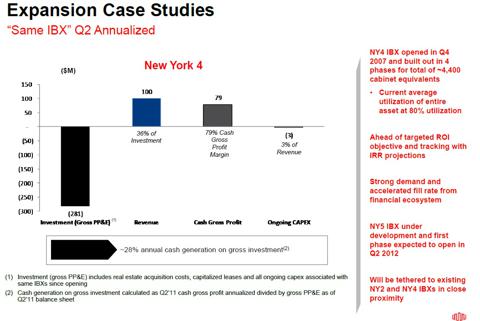 Source: Equinix's Q2 2011 conference call presentation.
Equinix invested in the facility a total capex of about $280 million, to generate revenues of about $100 million at 80% utilization and 79% cash gross profit margins. After the recent June 2012 analyst meeting, we were given the opportunity to visit both the NY4 facility and the new NY5 center. As we expected, NY4 looked at full capacity, with just a few installations going on at the time of our visit in what mostly seemed like space nearby reserved by existing customers.
At full capacity, we expect the facility to be able to generate about $120 million in revenues, with room for improvement as existing customers keep adding high-margin services (cross connects, etc.), and Equinix manages the facility at its best (maximizing installations). We also expect cash gross margins to exceed 80% at this facility because of scale.
Here are a few NY5-related comments from CEO Stephen Smith from the Q2 2011 conference call:
Prior to approving our New York 5 build, we compared the fill rates and pricing at New York 4 to our original business plan from 2006. We evaluated our pipeline, the current pricing environment and input from customers on their expected growth plans in the market.

Despite the success in New York 4, we continue to apply significant discipline on our capital allocation plans by designing and building in multiple phases. We expect to build the New York 5 data center in 6 phases. This approach de-risks expansion projects and enables a just-in-time delivery of capacity.
Does the NYSE Euronext Data Center Offering Represent a Risk for Equinix's Expansion?
Even if it may sound counterintuitive, there are several reasons why the opening by NYSE Euronext (NYSE:NYX) of its own data center facilities around the world often results in more demand for Equinix's services.
First, a quick look at Equinix's historical performance in the financial vertical in its main markets, Chicago and New York: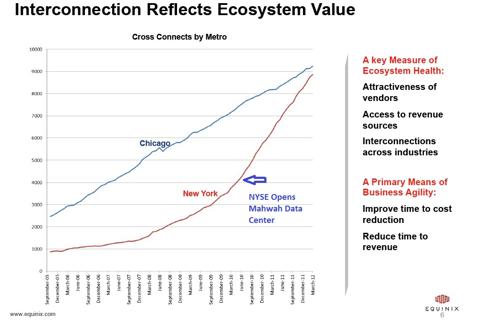 The slide is taken from Equinix's recent analyst meeting; we've taken the liberty to add to it the timing of NYSE's opening of its trading hub in Mahwah, N.J.
As you may notice, the fact that NYSE is now offering customers the possibility to collocate at its facility for high-speed access to the matching engines hasn't stopped Equinix from growing its business -- it actually looks as if there's been an acceleration since that time. NYSE is offering limited space in its facility; it is expected to open a total of 100,000 square feet of colocation space to customers, through the opening of 20,000 square foot pods in several phases.
While Equinix isn't cheap, the NYSE is even more expensive. Another good reason to keep at its premises just the essential servers needed to interconnect with its exchange, while the networking gear is better located at a close by facility like Equinix, with a very high number of networks accessible at a cross-connect distance.
In addition, the high number of potential partners and/or customers -- and additional trading platforms in the facility -- makes it a "must be there" location for most financial institutions despite the NYSE offering, more specific to accessing that single exchange only: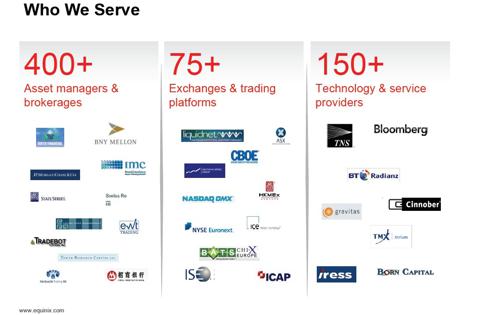 Source: Equinix's analyst meeting.
Conclusion
We expect that the opening of the new NY5 facility will be like uncorking a bottleneck for Equinix -- with a strong financial ecosystem already established in NY2 and NY4, great customer demand, and full occupancy in the existing facilities, the company needs additional space to keep up with potential growth. The combined importance of the financial vertical and the large opportunity represented by NY5 in terms of additional space will be a key driver of Equinix's growth in the next few quarters.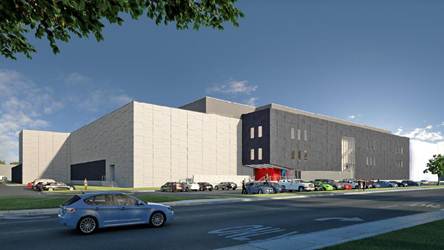 The new 3 floor NY5 facility is impressive, for its total size and for the attention to several details, such as larger trays in the cable tray system from overhead to allow for the expected strong interconnection needs that the new data center will generate.
In terms of sales strategy, we do not expect Equinix to sign large anchor tenants for this facility, like in the past, as market demand remains strong and the company is now more focused on higher returns on its available space rather than reaching breakeven in a short period of time. That's something which makes a lot of sense since most "magnetic" customers have already been acquired.
In line with our thinking, the recent news about this facility has more been focused on presenting it as a hub for interconnection with key exchanges like NYSE, with the announcement of a specific SFTI Access Center for direct connectivity access to a range of financial markets, market data, and post-trade services, or BATS, with the announcement of a point-of-presence connection offering connectivity to BATS' primary data center in Weehawken, N.J., for all of its U.S. markets.
Disclosure: I am long EQIX.