Last week on Thursday evening, Immersion Corporation (IMMR) delivered disappointing Q2 2012 results, below consensus and management's expectation as far as revenues. The company widened its guidance for 2012, to incorporate both the possibility of a result inferior to previous expectations, as well as potential upside from Basic Haptics royalty agreements/settlements before year's end.
First, a quick look at some of the highlights from Q2 2012 earnings:
Total revenues for Q2 2012 were $6.5 million, compared with $6.7 million for in Q2 2011;
Royalty and license revenues of $5.9 million in Q2 2012 were slightly higher than in the same quarter last year ($ 5.8 million);
Net loss for the quarter was $(2.2) million, or $(0.08) per share, compared with a net loss of $(1.3) million or $(0.05) per share, for Q2 2011. As a reminder, this year's quarter included litigation related costs of about $1.5 million;
Adjusted EBITDA for the second quarter of 2012 was a negative $(938,000), as compared to positive $442,000 in Q2 2011;
Management broadened revenue expectations for 2012 to $32 million to $38 million (with the midpoint remaining the same), while continuing to expect positive adjusted EBITDA for the year;
Analysts expected, on average, revenues of $ 7.8 million, while consensus for EPS was in line with the result delivered by the company;
Cash and cash equivalents were $52.4 million at quarter end, compared to $56.3 million as of December 31, 2011. During the Q2 2012, the company used approximately $2.0 million to purchase 387,288 shares of its common stock;
Immersion also announced the launch of the first smartphone containing its HD Haptics, the Raku-Raku F12 D produced by Fujitsu.
Here is a complete view of how Immersion performed in the last few quarters (royalty and license revenue only):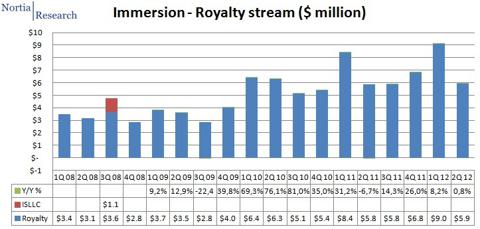 During the conference call, we also learned that the inclusion of Immersion's Reverb technology into Samsung's new flagship Galaxy S III phone should generate higher royalties per unit for the company. Reverb monitors audio applications and translates them into haptic effects in real time, allowing for a more intense experience, for example in gaming, etc.
Several new Android apps incorporating Immersion's haptics were announced during the conference call, a sign that the technology is appreciated by game developers, although this new market will not be generating any revenue to the company until 2013.
An interesting device that will also benefit from the implementation of Immersion's haptic technology is the new Moga by PowerA - a peripheral for Android devices due to be launched later in the year. Not dissimilar, in concept, from the Mophie Pulse, adding haptic vibration to Apple's (AAPL) iPod Touch.
While the move from console gaming to mobile devices may be seen as a long term positive trend for Immersion, as consumers will be looking for the same user experience they are accustomed to, as a side effect the company experienced a soft quarter in its gaming vertical, that came well below management's expectations (for about $ 1 million).
After a negative quarterly report, investors could have expected a drop in the share price. Unexpectedly, the shares rebounded on Friday and closed up 6.36%. The market seemed relatively concerned about the revenue miss, and more interested in the fact that management hinted at potential settlements for its Basic Haptic technology:
We are expanding our 2012 revenue guidance to a range of 32 million to 38 million. In determining this range, we have made certain assumptions based on our existing business, plus for the high end of our range potential revenue from the licensing of our basic haptics intellectual property to new and/or existing customers. This potential 2012 basic haptics revenue includes payments for prior shipments of unlicensed and infringing basic haptics products.

Our current and ongoing settlement and licensing discussions lead us to believe that prior to December 31, 2012 it is possible we may conclude one or more basic haptics agreements that would lead to our achieving the higher end of our guidance.
Another reason for this unexpected positive post-earnings performance may probably be found in Capstone's upgrade from sell to hold (which may have been translated into: "cover your shorts" by some investors).
If we look more closely at Immersion's ITC lawsuit, the procedural schedule gives all parties two remaining opportunities to settle, at the end of August 2012 and at the end of January 2013. As a reminder, the trial has a target date of October 2013.
During the conference call, management hinted at about 200 million devices already shipped using Immersion's basic haptic technology, with potentially another 100 million being produced every year. The list of potentially infringers is obviously bigger than just the two companies Immersion is suing, Motorola Mobility [now a Google (GOOG) company] and HTC.
Having always been a fan of a settlement, which may be in the best interest of all parties, also from an economic point of view (we expect royalties for basic haptic to be just a few cents per unit), the recent words from management have lifted our expectation about a positive outcome.
The market, however, isn't usually very patient, so we hope that the company will soon be able to communicate a positive conclusion from their negotiations.
A lack of positive news could turn very negative for the stock, in the long term, as investors would lose faith in management's credibility.
Here is a quick look at the revenue mix per line of business: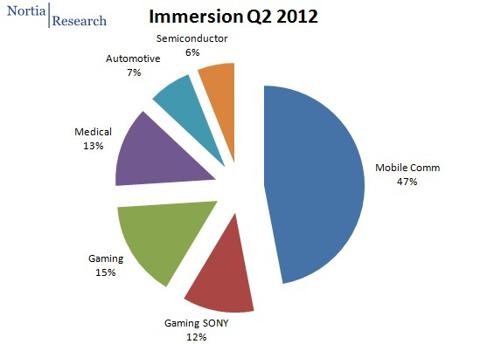 Conclusion
After delivering several quarters of high Y/Y growth in its royalty and licensing revenue stream (see our first chart), Immersion seems to have hit a road bump - time will tell if it's just a hiccup in its growth trajectory or a brick wall.
The main drivers of its growth, gaming and mobility, seem a bit weaker today than they were a few quarters ago. While the company keeps adding new products in the other lines of business, they still do not represent, in absolute numbers, such a strong revenue generator to compensate any weakness in the two main business lines.
While we remain confident in the long term potential of the business model, we also need to underline that, absent good organic growth, the company (and its stock) appear more dependent on the expectations of the outcome of the basic haptics litigation/negotiations rather than Immersion's capacity to execute in the market. For this reason, we wouldn't be surprised to see some volatility in the company's share price going forward.
Disclosure: I am long IMMR.