The Japanese Economy

Japan is an archipelago of more than 6,800 islands that grew rapidly after the World War II. It now has the world's third-largest economy by GDP and is the fourth-largest exporter. Japan has the lowest homicide rate in the world, along with the longest life expectancy and the third lowest infant mortality rate. It has the world's largest electronics goods industry, and is ranked as the most innovative country in the world. Japan is also the world's largest creditor nation, with a considerable annual trade surplus. After an "asset price bubble" of the 1980s, the Japanese stock market crashed in 1990-92, and stocks never really recovered after that.
Japan's stock market is second to only the United States, and it is home to numerous electronics, financial and manufacturing conglomerates. In this article, I introduce a few Japanese companies worthy of closer inspection for investment opportunities. My personal goal is to diversify my portfolio globally -- have a large percentage in foreign stocks, and not just U.S. companies, that get significant portion of sales and profits from abroad.
Dividends As Stock Screen
I firmly believe that dividends are real cash and hard to fake. They are paid out of positive cash flow, and while accounting gimmicks (and even fraud) can be used to window dress earnings per share, dividends are typically honest. I use inconsistent dividend history and/or big cuts to exclude stocks. I prefer stocks with increasing dividend amounts in native currency. I do understand that the U.S. dollar amount may vary due to conversion rates, but since I don't use dividends as income, that does not bother me at all.
I have included a simple chart for each company that shows the dividends distributed by the company (in Japanese yen). I was pleased to find that each company has an English website with easy access to the Investor Relations section. Some companies make it straightforward to collate dividend history, whileI had to sift through previous annual reports in PDF format for others. The latest dividend distribution and yield is quoted in U.S. dollars.
Withholding Tax On Dividends
Japan withholds tax on dividends at the rate of 10% for non-resident investors. An individual investor can file for tax credit on Form 1040 if the shares are held in a regular brokerage account, subject to certain limitations. Amounts up to $300 ($600 for joint returns) can be claimed directly on the 1040 but greater amounts or carry-forward/backward requires Form 1116. If the shares are held in a tax deferred account, like an IRA or 401(k), then there is no mechanism to recover the withholding foreign tax and it is lost. This reduces the effective dividend yield. As always, consult your tax advisor on all tax-related matters, since each individual case is different and I am definitely not qualified to give advice.
Stock

Ticker

ADR
Ratio

Price
(yen)

EPS
(yen)

P/E
(yen)

Price
(NYSEARCA:USD)

Div Amt

Yield

Payout Ratio

Div Growth
1-Yr

Div Growth
3-Yr

Div Growth
5-Yr

Num Clicks
to Div Info

Asahi Group

ASBRY.PK

3

1747

118

14.81

64.5

0.9555

1.48%

21.19%

8.70%

7.72%

5.64%

4

Canon

CAJ

1

2665

204

13.06

33.91

1.5925

4.70%

61.27%

0.00%

3.23%

8.70%

3

Hitachi

HTHIY

10

449

76.77

5.85

57.73

1.0192

1.77%

10.42%

33.33%

38.67%

5.92%

3

Honda Motor

HMC

1

2399

117

20.50

30.29

0.7644

2.52%

51.28%

11.11%

-1.61%

-2.18%

3

Komatsu

KMTUY.PK

1

1611

190

8.48

20.67

0.61152

2.96%

25.26%

14.29%

44.22%

2.71%

3

Mizuho Financial

MFG

2

132

20

6.60

3.33

0.15288

4.59%

30.00%

0.00%

-15.66%

-3.04%

3

Mitsubishi UFJ Financial

MTU

1

368

68

5.41

4.7

0.15288

3.25%

17.65%

0.00%

0.00%

1.76%

3

Nidec

NJ

0.25

6280

213

29.48

19.6

0.28665

1.46%

42.25%

5.88%

11.46%

10.35%

3

NTT

NTT

0.5

3625

365

9.93

23.25

1.0192

4.38%

43.84%

14.29%

10.06%

12.20%

4

NTT DoCoMo

DCM

0.1

130400

11187

11.66

16.65

0.764

4.591%

53.63%

7.14%

4.89%

4.56%

4

Panasonic

PC

1

562

-333

n/a

7.3

0.1274

1.75%

n/a

0.00%

-30.66%

-19.73%

4

Sony

SNE

1

886

-455

n/a

11.24

0.3185

2.83%

n/a

0.00%

0.00%

0.00%

5

Sumitomo Mitsui Financial

SMFG

0.2

2490

337

7.39

6.41

0.2548

3.98%

29.67%

0.00%

3.57%

7.39%

3

Takeda Pharma

TKPYY.PK

0.5

3610

157

22.99

22.92

1.1466

5.00%

114.65%

0.00%

0.00%

1.39%

4

Toshiba Corp

TOSYY.PK

6

252

32.55

7.74

19.6

0.3822

1.95%

15.36%

n/a

-25.31%

-5.11%

4

Toyota Motor

TM

2

3070

90

34.11

77.03

1.274

1.65%

55.56%

0.00%

-20.63%

-16.06%

3
Canon (NYSE:CAJ)
Canon is a Japanese company that specializes in imaging products for office, consumer and industrial applications. It manufactures multifunction devices (MFDs), copier machines, laser and inkjet printers and cameras. Canon also makes broadcasting equipment, semiconductor lithography equipment, ophthalmic equipment and mask aligners for LCD panels. It operates through three segments: Office, Consumer, Industrial Equipment and Others. Canon's biggest competitor is Nikon (OTCPK:NINOY). It gets about 32% of annual revenues from Europe, 28% from Americas, 21% from Asia and Oceania, and the rest from Japan. The Office Business Unit contributes about 54% to revenues, while the Consumer Business Unit contributes 38%. Canon is a great innovator, and was fourth in the 2010 list of largest number of patent holders (after IBM, Samsung and Microsoft).
The dividend growth has definitely slowed down, but the yield at 4.7% is great and the demand for Canon's product remains strong. The stock has been unusually weak over the last few months, and is at multi-year lows. I recently added to my position at $36, but the stock has fallen further to $32 after the company issued a warning for weak global demand for cameras and laser printers.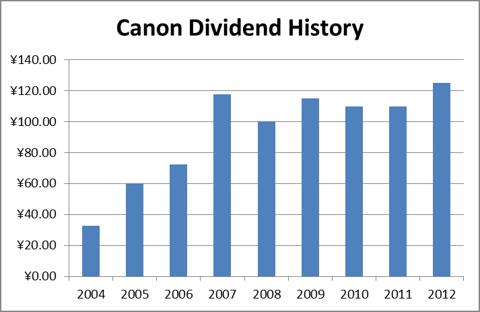 Hitachi Ltd. (OTCPK:HTHIY)
Hitachi is a typical Japanese conglomerate that operates in diverse areas. It was established in 1910 and has great brand recognition around the world. It operates in multiple business segments -- the Information and Telecom Systems segment manufactures and sells computers, servers and telecommunication systems. The Power Systems segment makes equipment for thermal, nuclear and hydro-electric power generation. The Industrial Systems segment makes elevators, escalators, and railway systems. The Construction Machinery segment sells excavators, mining dump trucks and loaders. It has many other business segments, which include functional materials, components for the electronics industry, financial services and consumer electronics and home appliances.
The company has struggled to maintain top-line and bottom-line growth over the last two decades, as the Japanese economy has largely stagnated. Most recently, it has had challenges due to the strength of the Japanese yen compared to the U.S. dollar. However, the dividends have been increased in the most recent couple of years, and that is encouraging, even though the yield is only 1.8% right now. I plan to watch the company, given its long history and huge diversification into capital goods segments that are cyclical but provide good entry barriers.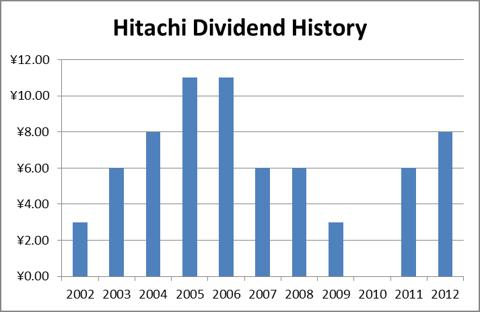 Honda Motors (NYSE:HMC)
Honda probably does not need an introduction. It is an automotive giant that manufactures and sells automobiles, motorcycles and other power equipment around the world. It was the seventh largest automobile manufacturer in the world last year, despite the fact that Honda makes a limited range of vehicles compared to General Motors, Ford and Nissan. Honda owns the Acura brand as well. It is the largest motorcycle manufacturer in the world, and also makes the largest number of internal combustion engines, including small engines used in power equipment, boats, etc.
Honda had great financial results and excellent dividend growth history until 2008, when the company took a beating along with most during the 2008-09 housing bust. The dividend was cut drastically in 2009, though it has since increased rapidly and the stock yields 2.4%. I drive a Honda and use a Honda lawn mower as well. I love its products, and i have the stock on my watch list. I will most likely initiate a position in the stock if it falls to $26 level, at which point it will yield 3%.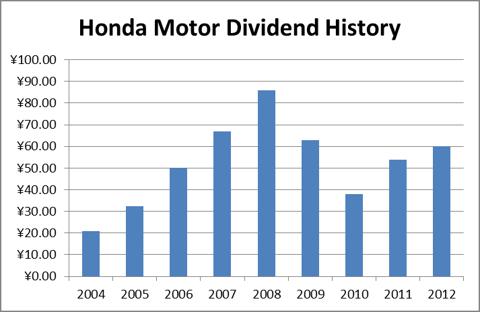 Komatsu Ltd. (OTCPK:KMTUY)
Komatsu makes construction, mining and utility equipment. Its hydraulic excavators, backhoe loaders, grading equipment, dump trucks and various hauling equipment is often seen at construction sites around the world. It is the world's second largest manufacturer of construction equipment after Caterpillar (NYSE:CAT). The company has done reasonably well recently since it had a larger market share in China compared to Caterpillar, though the Japanese market has been a bit of a drag. The company also has an industrial machinery segment that sells metal forging presses, millers, and saws. Komatsu also makes complex machinery used in the semiconductor manufacturing processes.
The company has a good dividend growth history and yields an attractive 2.8% right now. However, it is a bit thinly traded on the OTC exchange. The company may face difficulty if the world economy continues to falter and growth in emerging economics of India, Brazil and China slows down any further. The stock yields are similar to Caterpillar, but the price has almost always lagged. As such, I will probably not invest in this company in the near term.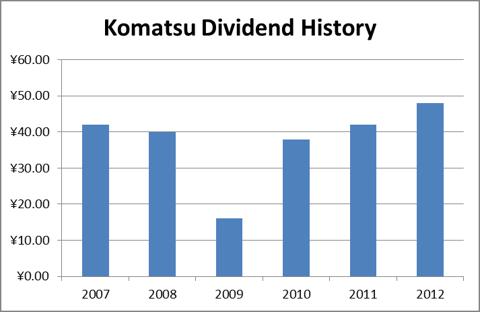 Mizuho Financial (NYSE:MFG)
Mizuho Financial Group was formed in 2003 after an agreement between three banks -- the Dai-Ichi Kangyo Bank, Limited; The Fuji Bank and The Industrial Bank of Japan to consolidate their businesses in 1999. It is now the second largest financial group in Japan, with assets in excess of U.S. $2 trillion, held in Mizuho Bank and Mizuho Corporate Bank. The group has a significant retail presence in Japan and a few other countries.
The current dividend yield is approaching 5% after the recent weakness in Japanese stocks. The dividend growth was attractive from 2004 till 2009, when there was a substantial cut. I would have added the stock to my watch list if the dividend had not been frozen in the most recent financial year.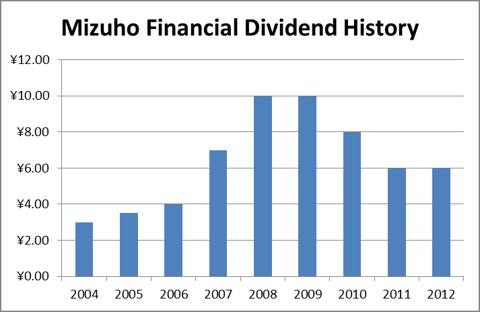 Mitsubishi UFJ Financial (NYSE:MTU)
Mitsubishi UFJ Financial is a giant bank holding group with assets of about US $2.5 trillion. It is the world's second largest bank holding company. The core banking unit is comprised of Bank of Tokyo-Mitsubishi UFJ. Other prominent group companies include Mitsubishi UFJ Trust and Banking, and Mitsubishi UFJ Securities Holdings. It also owns the Union Bank of California, which is the third largest bank in the state (by deposits).
The dividend has been flat for the last few years, and the stock currently yields just 3.3%. Since the Japanese economy is not growing much, and there has been no growth in dividends at Mitsubishi UFJ in the last few years, I decided not to monitor this stock any further.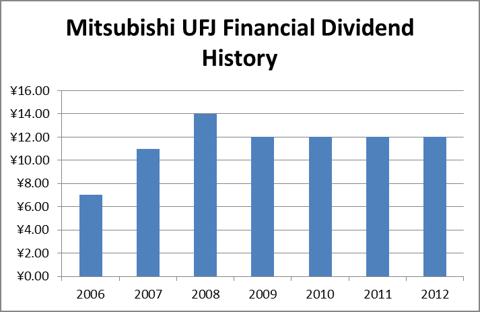 Nidec Corp (NJ)
Nidec is one of the largest manufacturers of electrical motors in the world. Its small precision motors are used in hard-disk drives, laser printers and copiers, scanners, automobiles and other products. It also makes motors for home appliances like washing machines, refrigerators, and dishwashers, along with industrial motors for machine tools, heat pumps and elevators.
Nidec is one of the few Japanese companies with a consistent dividend growth history. The growth in the most recent year was only 5%, but for the previous five years, the growth was an attractive 10%. Unfortunately, the dividend yield is only 1.5%, but the stock is definitely worth watching. I have found that Nidec still has some technological lead over the Chinese, and its products are still in high demand.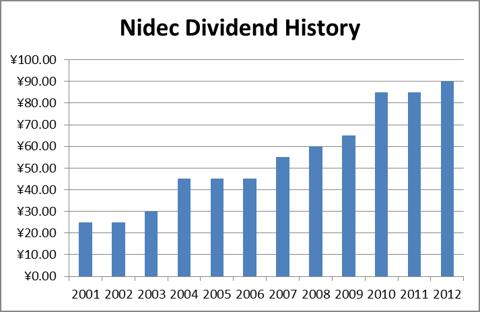 Nippon Telegraph (NYSE:NTT)
Nippon Telegraph and Telephone Corp is a Japanese telecommunication giant that was established in 1953 and subsequently privatized in 1985. The Japanese government still owns about a third of the company's shares. NTT Group consists of five major subsidiaries -- NTT East, NTT West, NTT Communications, NTT DoCoMo and NTT Data. Through these subsidiaries, NTT provides regional communications, long-distance and international communications, mobile communications and data communications.
Like most Japanese companies, its stock price hasn't moved in the last 10 years, stuck between $19 and $25. This isn't a good sign, but I like the dividend growth and the current yield. I plan to buy the stock if it falls below $20. I want to invest in Japan, and at present, I only own Canon. In the meantime, I will continue to search for other strong dividend growth companies from this nation.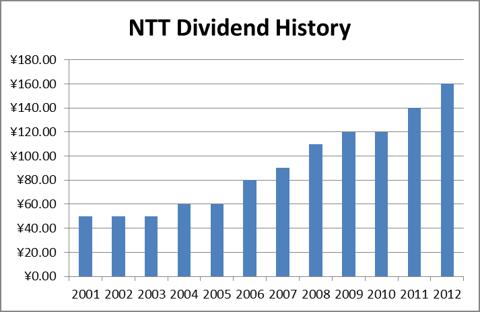 NTT DoCoMo (DCM)
NTT DoCoMo is the biggest mobile phone operator in Japan. It was spun off from Nippon Telegraph and Telephone in 1991. It provides 3G and 4G LTE services to more than 50 million customers in Japan. DoCoMo (DO COmmunication over the MObile network) is an interesting play on the Japanese word pronounced as "dokomo" which means "ubiquitous" in Japanese. However, it does not have any successful investments outside Japan. The company recently bought a 26% stake in Tata Teleservices, which is the number six mobile operator in India. It has minority interests in a few other telecom operators in Asia-Pacific region -- Hong Kong, Taiwan, Korea, Philippines, Guam and Bangladesh.
NTT DoCoMo is one of the better Japanes dividend growth stocks, with a consistent history, even though the growth has only been approximately 5% over the last 5 years. It is still a commendable achievement, with a current payout ratio less than 55%. However, I suspect that the company may find it progressively harder to grow the dividend at more than 5% in the coming years due to a lack of growth drivers and focus on the saturated Japanese market.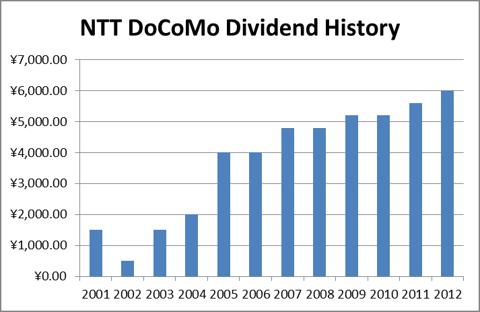 Panasonic (PC)
Panasonic, like Sony, is one of the world's largest electronics manufacturers. It was founded in 1918, and was earlier known as Matsushita Electric Industrial Company. Panasonic acquired Sanyo in 2009. Its other brands include National, Quasar, Technics, and JVC. It produces a large range of products, ranging from consumer electronics to industrial products. The operating segments are -- Digital AVC Networks, Appliances, Automotive Systems (Panasonic supplied batteries for the Toyota Prius), Industrial Devices, Energy (rechargeable batteries, solar panels), Systems and Communication (mobile equipment), Eco Solutions (lighting, wiring, power distribution) and Healthcare.
Panasonic is currently losing money, and it is unclear to me what business segment(s) will help turn around the slowly sinking ship. It has a lot of great products and a great history, but I think there are much better investment options out there. The company does have a dividend yield close to 2%, even though it had losses last year.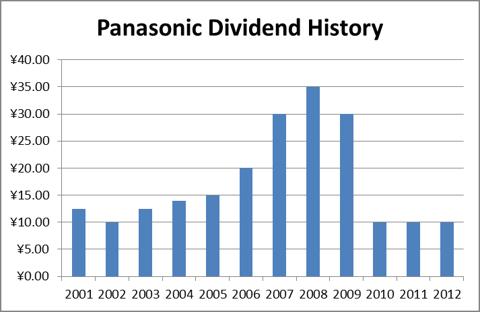 Sony (NYSE:SNE)
Sony is one of the most recognized electronics brands in the world. As a company, Sony Corporation is the second largest electronics company in the world after Samsung. It has four major operating business units -- Electronics (including network, medical and gaming), Motion Pictures (Sony Pictures Entertainment, TriStar Pictures, Columbia Pictures), Music (it is the second-largest music company in the world) and Financial Services (Insurance and Banking). The electronics products include digital TVs, audio systems, photography (including SLRs purchased from Konica-Minolta), computers (VAIO series) gaming consoles, and cellphones (Sony now owns the erstwhile joint venture Sony-Ericsson).
I believe that Sony is facing serious problems in most of its big businesses, and headwinds in the current technological world. Pressure from Samsung, Apple and various other smaller cheaper Chinese and Taiwanese players will not allow Sony to return to its former glory. I do own a Sony PS3, but I intend to stay away from Sony stock. The current yield is more than 2.5%, paid out of retained earnings since it had losses in the most recent financial year.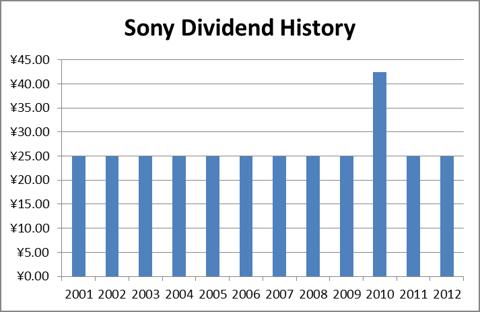 Sumitomo Mitsui Financial (NYSE:SMFG)
Sumitomo Mitsui Financial is a giant financial services holding company that provides loans, deposits, securities transaction, credit cards, insurance, business consulting and many other related allied services. The group has done reasonably well despite one financial crisis after another around the world in the last five years. The dividend has been stable, and the current yield is 4%. I am not looking to invest in any banks right now, especially Japanese financial service giants, so I do not plan to watch it closely for now.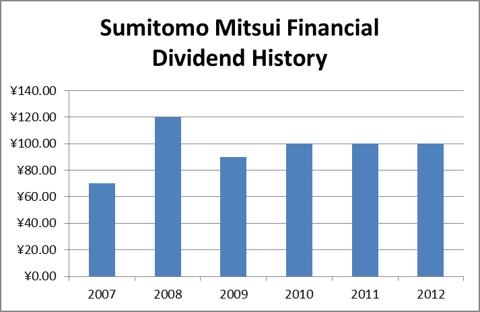 Takeda Pharma (OTCPK:TKPYY)
Takeda Pharma is the largest pharmaceutical in Asia, and one of the biggest in the world. It was founded in 1781, though it was incorporated in 1925. It has focused on oncology (cancer drugs), gastroenterology, metabolic disorders, neurology, and inflammation. Takeda's bestselling drug was Actos, which was launched in the late 1990s and used for treating diabetes. In Japan, the company has built a strong OTC drug business as well. It has acquired a few small to medium-sized companies in the last 10 years, including Syrrx in 2005, Japanese operations of Amgen in 2008, Massachusetts-based Millennium Pharmaceuticals in 2008, Switzerland-based Nycomed in 2011 and URL Pharma in 2012.
Unfortunately, Takeda does not seem to have a robust pipeline of drug candidates, and it has seen slow growth in the recent years. The dividend grew rapidly from 2001 to 2008, but there has been no growth in the last four years. The dividend yield is attractive at 5%, so I have added it to my watch list for now. The Nycomed acquisition should give it access to larger markets in Europe and emerging markets in South America, China and Russia.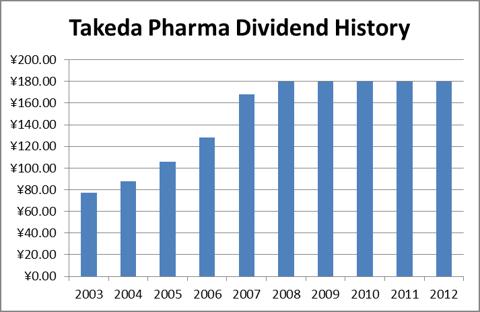 Toshiba Corp (OTCPK:TOSYY)
Toshiba is yet another Japanese conglomerate with interests in electronics, electrical, information technology and industrial products. It was formed via the merger of Tanaka Seisakusho and Hakunetsusha in 1939. It is one of the top-five personal computer vendors in the world, as well as the fourth-largest semiconductor manufacturer after Intel (NASDAQ:INTC), Samsung and Texas Instruments (NYSE:TXN). It is second-largest player in the NAND (Flash memory) market. Toshiba actively pushed HD-DVD against the Sony-backed Blu-ray camp, but threw in the towel in 2008 to the more powerful group and now makes Blu-ray players along with flat-panel TVs. Toshiba also operates silicon foundries for fabless semiconductor design companies around the world. The list of Toshiba products is almost endless -- it makes home appliances, air-traffic control systems, railway systems, medical equipment, lighting equipment, elevators, automotive systems, and power systems, including nuclear power.
Toshiba had a respectable dividend growth history till 2008, but saw huge operational losses in 2009. As a result, there was a drastic dividend cut. The dividend was restored last year, but is still not close to the amount paid out before the cut. The current yield is less than 2%. I am not excited by the wide range of Toshiba's businesses, and was unable to determine its future growth drivers.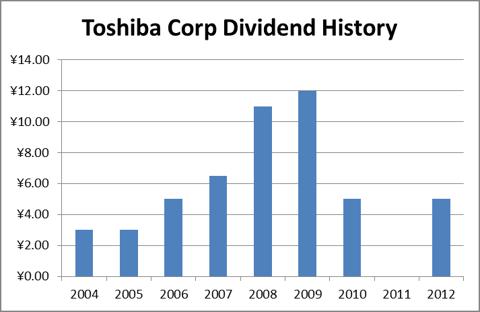 Toyota Motor (NYSE:TM)
Toyota Motor Corporation is one of the largest automobile manufacturers in the world. It was the largest manufacturer by production in 2010, though the volumes fell in 2011 due to various disruptions in its supply chain caused after the tsunami and flooding in Japan in 2011. The group of companies includes Toyota, Scion, Lexus, Daihatsu, and Hino. Toyota produces a wide range of vehicles. The company has been hurt by the strength of yen against the U.S. dollar, which makes it unfavorable for Toyota to export cars and parts manufactured in Japan. It also suffered after a number of recalls that tarnished its image as well. It is facing serious competition from Volkwagen (OTCPK:VLKAY), Ford (NYSE:F) and GM (NYSE:GM) in the value segment around the world and from BMW (BAMXY.PK) and Audi in the luxury segment especially in the fast growing Chinese market. I do not find Toyota interesting or exciting enough. I plan to dig deeper into BMW to take advantage of the ongoing European sale.
The current yield for Toyota is approximately 1.75%, with negative dividend growth over the last 5 years.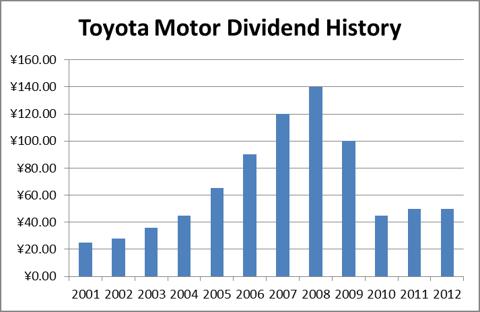 Other Japanese Stocks
The following stocks did not make it onto my short list of stocks for further due diligence. I went through more than 50 Japanese stocks that can be bought on the U.S. exchanges. I list only the interesting ones that did not make it to the due diligence phase for reasons discussed below.
Asahi Group (OTCPK:ASBRY) manufactures and sells alcoholic beverages and soft drinks, including Asahi beer. The dividend has grown over the last decade, though at a slow rate. The current yield is approximately 1.5%.
Aisin Seiki Co. (OTCPK:ASEKY) is an automobile parts manufacturer. The dividends decreased in 2009 from 2008, and then again in 2010. The 2011 dividend is still less than in 2008.
Ajinomoto Co. (OTCPK:AJINY) makes food products, amino acids and pharmaceuticals. It is often remembered for MSG (mono-sodium glutamate). The dividend has been the same for last four years, and the current yield is approximately 1.5%.
Alps Electric Co. (OTCPK:APELY) manufactures electronic components. The dividend has varied widely over the last 10 years, though it does yield an interesting 2.8% right now.
Asahi Glass Co. (OTCPK:ASGLY) manufactures glass, electronics and ceramics. It yields 4%, but the dividend has not grown over the last few years.
Kyocera (NYSE:KYO) is an electronics and industrial components giant that makes ceramic components, semiconductor processing equipment, LCD panels, image sensors, and cellphones. It yields less than 2% right now.
Marubeni Corp (OTCPK:MARUY) is a huge general trading house that imports and exports various industrial and consumer goods worldwide. The current yield is approximately 4%.
Mazda Motor (OTCPK:MZDAY) is an automotive company that bled red ink on its books recently. It suffers from a strong yen, since most of its production is in Japan, with few factories outside.
Nikon Corp is a global leader in optical instruments, especially cameras and sporting optics for amateur and professional use. It is also a leader in semiconductor manufacturing equipment. The current dividend yield is less than 2%.
Sharp Corp (OTCPK:SHCAY) is another Japanese electronics giant that was founded in 1912. The name comes from its Ever-Sharp mechanical pencils. It is a world leader in flat panels, especially LCD screens, but has been in trouble due to pressure from Samsung, LG, and various Chinese manufacturers.
Concluding Remarks
Japan was a great investment story in the 1980s and early 1990s, but stocks have stagnated since then. There are a few companies that are still doing reasonably well, and are definitely worth further due diligence. I own Canon shares and plan to invest in a few more Japanese stocks (perhaps NTT and DCM) as and when funds are available.
Disclosure: I am long CAJ.