As Coach (NYSE:COH) struggles to find footing after its Fiscal Q4 earnings announcement, the stock is beginning to trade in line with historical price multiples. Coming off a high of just under $80 in late March, the stock has fallen over 37% to trade in the low $50 range.
The run up in Coach appeared to be justified, as the company had a very impressive FY2011, and appeared to be on track for continued growth in FY2012. However, the recent slowdown in North America that seemed to affect markets immediately following the first quarter of 2012 has cut into Coach's growth. Overly optimistic investors and analyst that had price targets as high as $90 prior to the earnings release are now scrambling to lower their estimates given the recent news.
Following the earnings announcement and based upon the current price in the low $50 range, you can see we are traded down to a much lower price/earnings multiple.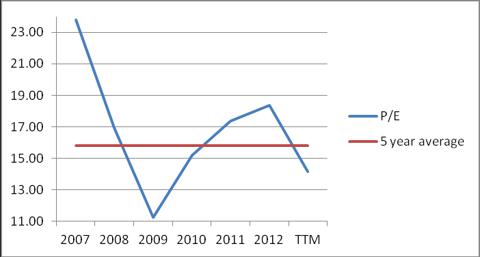 Coach reported $3.53 per diluted share for fiscal 2012 (just under 21% EPS growth from 2011). Using an earnings multiple of 15.5x (5 year average) you would arrive at a price of just under $55.
Price-to-earnings can be somewhat misleading as the "E" can be the easiest number to manipulate on the income statement. Another way to value the company is to observe the Price-to-Operating Cash Flow. This multiple looks at how well the core business is performing. In FY2012 Coach generated over $1,200,000 in operating cash flow, just under 20% growth in operating cash flow per share versus the prior year. The chart below shows Price/Operating Cash Flow per share, again we can see that Coach is trading very close to its five year average. To put this in perspective, at the March 2012 high of $80, shares of COH were trading just under 20X operating cash flow per share!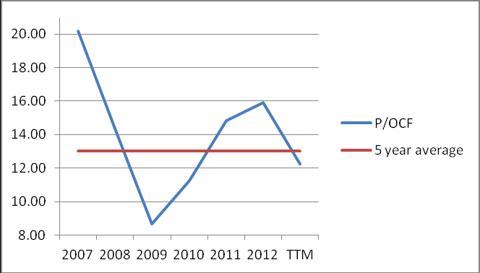 Looking at the Enterprise Value-to-EBITDA multiple we see a similar story. Below is a table showing the EV/EBITDA multiple for the past five years, the average is 9.77x. At the March 2012 highs Coach traded at 14.43x!
| | | | | | | |
| --- | --- | --- | --- | --- | --- | --- |
| 2007 | 2008 | 2009 | 2010 | 2011 | 2012 | TTM |
| 14.23X | 10.78X | 6.50X | 8.94X | 10.94X | 11.70X | 9.03X |
Assuming the company has EBITDA growth of 6% a projected share price of $55 would give us an EV/EBITDA multiple of 9.37x. Using a projected share price of $60 we would come up with an EV/EBITDA multiple of 10.21x. Based upon historical averages this method would place the fair value of Coach shares somewhere in the high $50 range.
Although Coach does not give specific guidance for FY13, on the earnings call CFO Jane Nielsen spoke a good deal about expenditures:
As noted, FY '13 will be an investment year for us as we amplify our actions to drive long-term growth.

… on SG&A, international acquisitions alone will cause our expenses to rise at least 150 basis points. In addition, the in-store enhancements and marketing programs for Legacy will have a more pronounced impact in the first quarter.

Therefore, when you're modeling out the quarters, I would like you to remember that the first quarter will be the most challenging in terms of both top line as we're up against very strong North American comp and a larger currency benefit…
Depending on your investment goals and objectives would dictate whether or not Coach is a good value at present levels. The company is projecting $250 million in capital expenditures during FY13 in what they see to be tremendous growth opportunities moving forward. For a long term investor this appears to be a favorable entry point. Short term or technical traders can clearly see the downtrend this stock has been in for the past few months. Coach has been setting lower lows and lower highs since March of 2012. A breakout from this pattern could warrant a favorable entry point. However given managements emphasis on Q1 spending, the market may be stuck in a mentality of "show me" before scooping up shares.
Note: All data reported and graphed is pulled directly from Coach SEC filings (10K's and 10Q's) and recent press releases then ran through proprietary valuation models. The stock price used was from 7/31/12.
Disclosure: I have no positions in any stocks mentioned, and no plans to initiate any positions within the next 72 hours.